This comprehensive travel guide presents an ideal 1-day itinerary to Nakhon Pathom tailored for first-time explorers. Nakhon Pathom, a hidden gem just a stone's throw away from bustling Bangkok, holds a treasure trove of experiences waiting to be uncovered. From cultural wonders to picturesque landscapes, this day-long adventure promises to leave you with memories that will last a lifetime.
First time in Bangkok? Check out our Bangkok Travel Guide for First Timers
and Read the 20 Things We Wish We Knew Before Traveling To Bangkok
Getting around Nakhon Pathom
Opting for a private car charter is the most convenient way to traverse Nakhon Pathom. Alternatively, guided tours via Klook offer curated experiences, often including transportation and entrance fees.
Bubble in the Forest Cafe
Your journey commences at the whimsical Bubble in the Forest Cafe, a place that seamlessly blurs the lines between reality and fantasy. Picture a floating cafe, nestled above serene waters, where inviting hut-like villas beckon you to enter. Accessible by charming elevated bridges, these cozy villas boast comfortable beanbags, ensuring a truly relaxing experience.
As hammocks gently sway in the breeze, it becomes the perfect oasis to unwind. To ensure a seamless experience and avoid the crowds, it's wise to consider reserving your spot in advance. Additionally, the convenience of booking through Klook extends the allure with the added perk of complimentary drinks, elevating the enchantment of this dreamlike cafe even further.
Check out our 2023 Bangkok Bucket List (+ new things to do in Bangkok)
Wat Sam Phran 
From there, the mystical allure of Wat Sam Phran, beckons.  No Nakhon Pathom exploration is complete without a visit to Wat Sam Phran, famously known as the Dragon Temple. Behold the sight of a majestic dragon winding around a towering 17-story structure. The aura is nothing short of magical, transporting you to a world of myths and legends.
A tip for optimal experience: plan your visit on a weekday to ensure access to the upper floors and fully immerse yourself in the marvel of the Dragon Temple.
Phra Prathon Chedi
As the day unfolds, embrace the spiritual essence of Nakhon Pathom with a visit to Phra Prathon Chedi. This temple complex houses the iconic Bell, a revered spot for both locals and visitors to offer prayers. Amidst the serene surroundings, you'll find a moment of tranquility and connection with the heart of the city's spirituality. The temple welcomes guests from 6 AM to 7 PM, offering a serene escape from the everyday.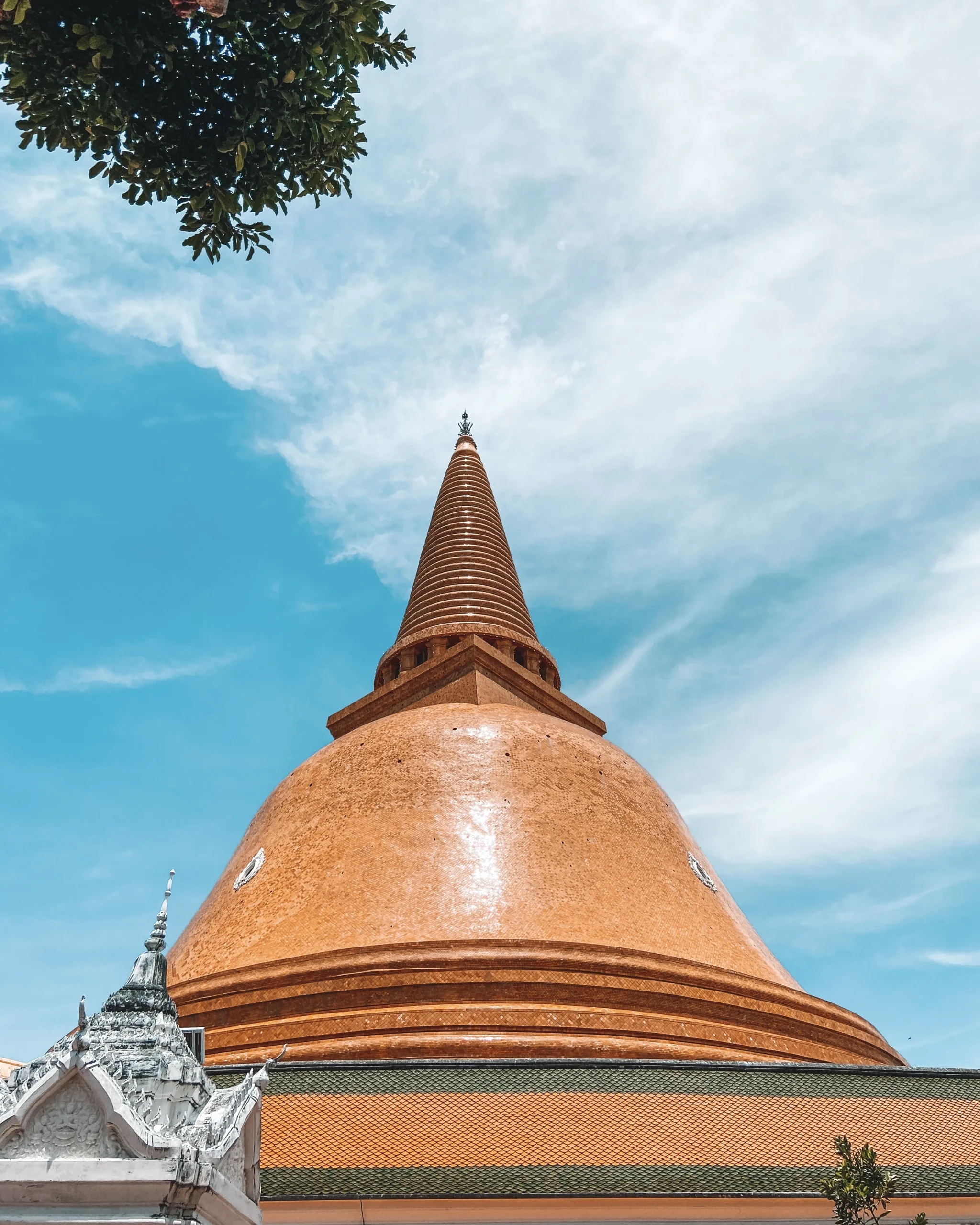 Memory House Cafe
Before bidding adieu to Nakhon Pathom, allow yourself a leisurely visit to the captivating Memory House Cafe. The surroundings are a haven for Instagram enthusiasts, with vibrant flower fields creating the perfect backdrop for stunning photos. Step inside for delightful fare, and as the sun sets, explore the outdoor charm to create memories you'll cherish forever.
Click here for more Instagrammable places in Bangkok
Also, check out our Bangkok Itinerary for First-Timers
How much does a 1-day trip to Nakhon Pathom cost?
Cost-wise, a full-day private car charter in Nakhon Pathom could range from approximately 1,500 to 3,000 Thai Baht (THB). The total expense depends on factors such as the type of vehicle you select and any additional services you might require. This option grants you autonomy over your journey, ensuring you can immerse yourself fully in the city's wonders.
Alternatively, guided tours in Nakhon Pathom, often inclusive of transportation and entrance fees, can range from around 1,000 to 3,000 THB per person. The price variations hinge on factors such as the duration of the tour, the attractions covered, and any special features included.
And if you're already planning to explore Nakhon Pathom, why not extend your adventure with a captivating day trip to Kanchanaburi? Read our Kanchanaburi Travel Guide here!
Where to Stay in Nakhon Pathom
Please click here for a list and the latest pricing of places to stay in Nakhon Pathom.
For a list and the latest prices of places to stay in Bangkok, click here.
The Final Verdict: Nakhon Pathom's Allure
Now, for the million-dollar question: is a day trip to Nakhon Pathom worth it? Drumroll, please – absolutely! Your day kicks off at 9 AM sharp, returning to Bangkok by 7 PM, a journey that packs a punch. The blend of unique attractions, cultural encounters, and delectable flavors is a testament to Nakhon Pathom's charm. So, heed the call of the unknown, and venture forth into this enchanting city. Your memories await, and they're bound to be as rich and diverse as the tapestry of Nakhon Pathom itself.
Until next time,
Sue + Renesh
* Disclaimer: As an Amazon Associate, I earn from qualifying purchases. Some links included in this description are affiliate links. I may receive a small commission if you purchase a product or service with my links. There is no additional charge to you! Thank you for supporting my blog so I can continue to provide you with more free each week!
OUR MUST-HAVE BANGKOK TRAVEL ESSENTIALS
Anti-Theft Messenger Bag – Anti-Theft Classic Essential Messenger Bag is the perfect solution to keep your belongings secure while exploring a new city. With its slash-resistant body and lockable zippers, this bag protects your essentials from pickpockets and thieves.
Universal Adapter – Universal All in One Worldwide Travel Adapter is the ultimate solution to all your charging needs while on the go! With its compact size and compatibility with over 150 countries, you can now travel worry-free without the fear of running out of battery or being unable to charge your device.
Sunglasses – MEETSUN Sunglasses are more than just an accessory – they're your ultimate beach companion. Protect your eyes from the sun's glare while showcasing your style. Elevate your beach outings with the perfect sunglasses with UV-ray protection.
Outdoor UV Hat – FURTALK Sun Visor Hats combine fashion and function seamlessly, providing elevated sun protection and an extra dash of style. Crafted for comfort and designed to shield you from the sun's rays, these hats are perfect for outdoor excursions.
WHERE TO STAY IN BANGKOK
BY THE RIVER
SHANGRI-LA BANGKOK: A luxurious haven on the banks of the Chao Phraya River with some of the most fantastic sunset views. Perfect base for those who want to explore the Grand Palace and the city's amazing Wats by the river. Check the latest prices and book the Shangri-La Bangkok here.
IN THE HEART OF THE CITY
SO/ SOFITEL BANGKOK: A visually stunning luxurious urban hotel designed by Thailand's top five designers and Christian Lacroix. The hotel is uniquely designed; it's like a modern art gallery. Perfect for all art and design enthusiasts who want to explore every part of the city. Check the latest prices and book the SO/ SOFITEL BANGKOK here.
MODERN HIP AREA OF THONGLOR
VOLVE HOTEL BANGKOK: A warm, chic designer hotel located in the hip district of Thonglor. Perfect for travelers who want to explore a less touristy side of Bangkok. And to food lovers, Thonglor is known to have some of the best restaurants, cafes, and bars in Bangkok! Check the latest prices and book the VOLVE HOTEL BANGKOK here.
For other places to stay in Bangkok, click here for a list and the latest prices.
MORE ON TRAVEL TIPS
TRAVEL LIKE A LOCAL: INSIDE TIPS FOR EXPLORING SOUTHEAST ASIA
20 THINGS WE WISH WE KNEW BEFORE TRAVELING TO BANGKOK
MALAYSIA INSIDER TIPS: WHAT LOCALS WANT YOU TO KNOW BEFORE TRAVELING TO MALAYSIA
KUALA LUMPUR TRAVEL GUIDE FOR FIRST-TIMERS
A GUIDE TO VISITING MALAYSIA DURING RAMADAN
TIPS FOR ISLAND HOPPING IN THAILAND
KOH LIPE TRAVEL INFORMATION FOR FIRST-TIMERS
BALI TRAVEL GUIDE FOR FIRST-TIMERS (UPDATED JULY 2023)
BALI'S STRICT RULES THAT WILL AFFECT YOUR NEXT TRIP (AS OF JULY 2023)