With 35 million tourists in 2017, Bangkok ranked the world's top tourism destination (beating Singapore, Paris, NYC and Tokyo)! And it's no wonder, this energetic, beautiful yet crazy city is perfect for exploring for every kind of traveler —cultural temples and sights, shopping, amazing food, bustling markets and a buzzing nightlife. We've curated a guide on things you must know when visiting Bangkok. Our Bangkok Travel Guide for first-timers will help you navigate through this fun yet crazy city with useful information and our secret tips, including staying healthy and safe, common tourist scams and cultural nuances and etiquette. Now, you can go have an unforgettable adventure discovering Bangkok.
THE BASICS
CURRENCY: Thai Baht. About THB33 to USD1 (as of Nov 2018)
LANGUAGE: Thai. English is relatively widely spoken in Bangkok.
VISAS ETC: You must have a valid passport with at least 6 months validity to enter Thailand. Nationals of 55 countries fall under the 'Visa Exempt Rule' otherwise, you will need a tourist visa. Check here for more on visa requirements.
Thai authorities have recently taken serious measures for those who overstay their visas. The new penalties include being banned from entering Thailand for up to 10 years as well as detention and arrests.
VACCINATIONS:  There are no compulsory vaccines required for entry into Thailand, just the usual travel vaccines – Typhoid, Hepatitis A and Tetanus – are recommended. Note that if you have recently traveled in South America or sub-Saharan Africa the Thai immigration authorities will usually ask you to present your vaccination certificate against Yellow.
CULTURAL FESTIVALS: Songkran Water Festival / Thai New Year (13 – 15 Apr), LOI KRATHONG, Festival of Lights (Nov), Chinese New Year (Jan/Feb)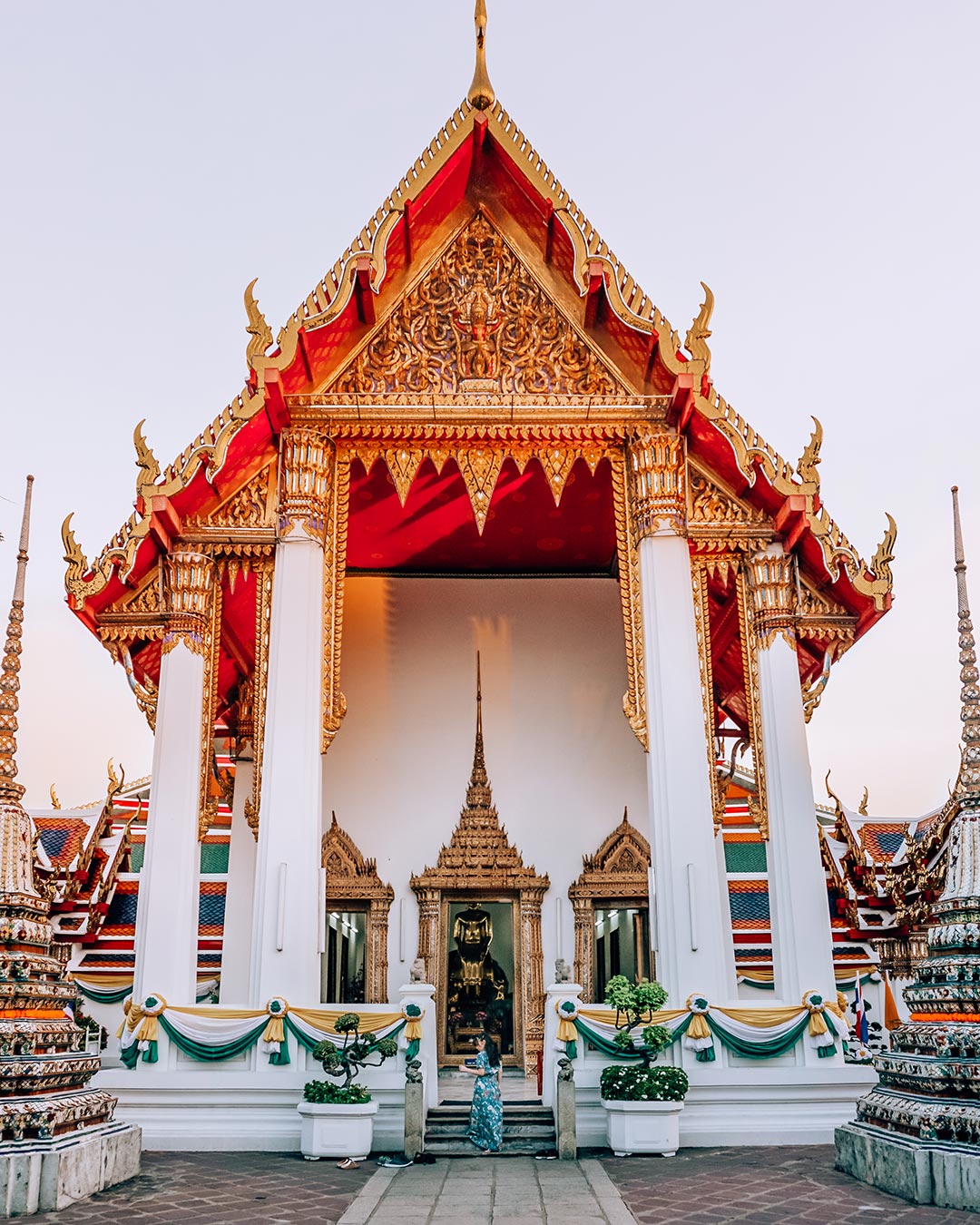 WEATHER
Best time to go: November to April. It's not raining, slightly less humid and cooler.
The weather differs slightly from north to South Thailand, but you can pretty much expect tropical, humid and hot weather in Bangkok and around the beaches in the south. The monsoon season usually hits from May to October.
HEALTH, SAFETY AND LAWS
We spent a bit of time with this in this Bangkok Travel Guide for first-timers. Keeping healthy and safe is one of the top things to keep in mind when traveling to Bangkok. It is generally quite safe to travel to Thailand, but just take note of a few things:
Crime
Crime overall is quite low, though theft and petty crimes are relatively high, especially pickpocketing and bag snatching.
Keep close tabs on your wallet, credit cards, passport and mobile phones. Hold on to your personal belongings or place your bag in front of you in busy tourist places as well as public transport. In Bangkok, it isn't an uncommon ploy for motorcyclists to snatch bags from people as they ride by.
Tourist Scams
Unfortunately, tourist scams are fairly common and definitely one of the things to know when traveling to Bangkok. The scams are generally harmless and will usually just cost you money (sometimes costing more money than others) rather than pose a threat to your personal safety. One of the most common tourist scams is the taxi/tuk-tuk driver or a stranger on the street tells you the Wat you want to visit is closed and offers to take you to another place instead. We read about this when planning our trip to Bangkok and the first taxi we got into gave us exactly that line. It was a good thing we were very sure of the Wat opening and closing times so we insisted to go (and yes, it was open). Be sure to do your research, generally, know where places are and what time/day they open and close.
It is said that a general rule of thumb is to be slightly wary of someone who approaches you in the streets with kind advice or offering to take you somewhere.
Water
Water from the tap is not safe for drinking. It is recommended to drink bottled water from sealed water bottles or drinks from cans or bottles. Avoid drinking water from the jugs in restaurants or street stalls. Though very tempting in the heat, avoid ice as a precaution if you are concerned about upset stomachs or any water-borne diseases and illnesses.
Food
Generally, the level of food hygiene throughout the country is relatively high and shouldn't be a problem in restaurants but take more care when it comes to street food. When trying street food, of course, look at the cooking and water conditions and opt for only cooked food. In addition, make sure the food is cooked right there and then. As an extra precaution, bring along anti-diarrhea medication and carbon pills.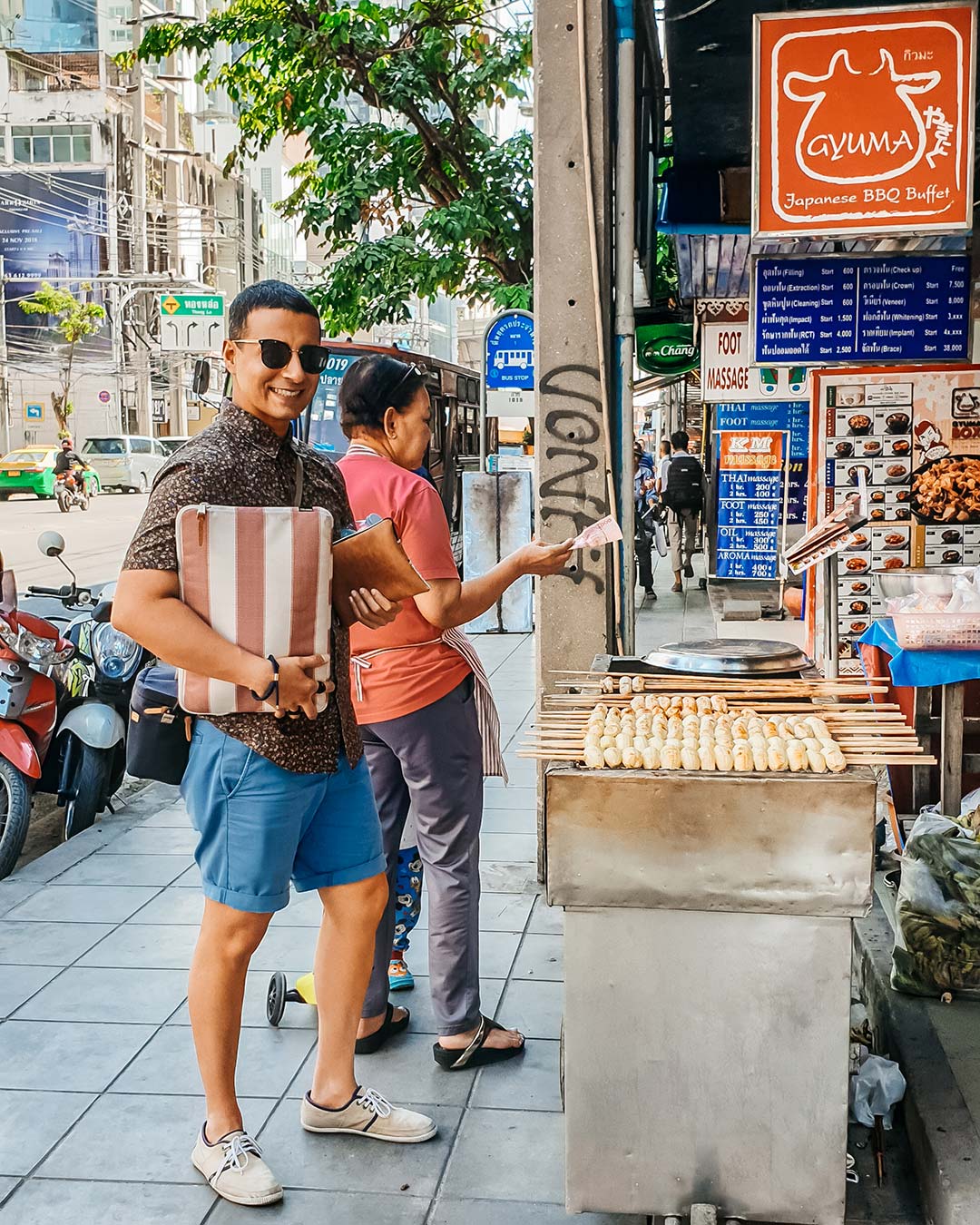 Travelers watching their sugar intake take note: sugar is surprisingly a staple ingredient of Thai cuisine. Thai food is based on a balance of salt, sweet, spicy and sour, so it's common to add a spoon or two of sugar to cook each dish.
Heatstroke
Heat stroke is also fairly common for visitors of Thailand as it can take a while for people to adapt to the hot, tropical climate. The symptoms include nausea, weakness, fever, dizziness, disorientation and even collapse and loss of consciousness.
Medical Treatment
Thailand has good medical facilities and hospitals and is easily accessible for tourist. For minor health issues –food poisoning, flu or infected cuts/abrasions, travelers can seek out a pharmacist at a pharmacy or an English-speaking local clinic. Clinics and Pharmacists are generally affordable and offer reliable healthcare.
For more serious or critical medical issues, travelers can opt for either a 'government hospital' or an 'international hospital'. Note that the government hospitals are generally very crowded and may require hours of waiting. International hospitals are the best option, although significantly more expensive. Be sure to triple check your travel insurance details prior to your trip so that you're well aware of all the options available to you.
Laws
Penalties for the possession, distribution and consumption of drugs in Thailand are severe. The possession of even what some may regard as small quantities can be punishable by imprisonment.
TOP ATTRACTIONS – THINGS TO SEE AND DO 
Here's a list of the must-visit places in Bangkok for first-timers. Check here for our full Bangkok Bucket List
Wat Arun
Grand Palace
Wat Pho
Chatuchak Weekend Market
Asiatique Night Market
China Town
Sunset dinner by the River
MONEY
Cash, Card, ATMS
When using a foreign ATM card, there will be an additional charge of about THB160-220 depending on the banks each time you withdraw. If you must withdraw money from the ATM, also note that the ATMs will also give you an option to accept their conversion rate or 'Continue without Conversion'. If you click 'OK' you will be given an unfavorable exchange rate. Be sure to select 'Continue without Conversion'.
The best thing to do if you need to get money in Thailand is to take your debit card and passport to a bank and you will not have the ATM charge plus exchange rate is based on the bank's daily exchange rate.
Tipping
Tipping is not expected in Thailand. A 10% service charge and VAT is usually already included in the bill at restaurants and bars.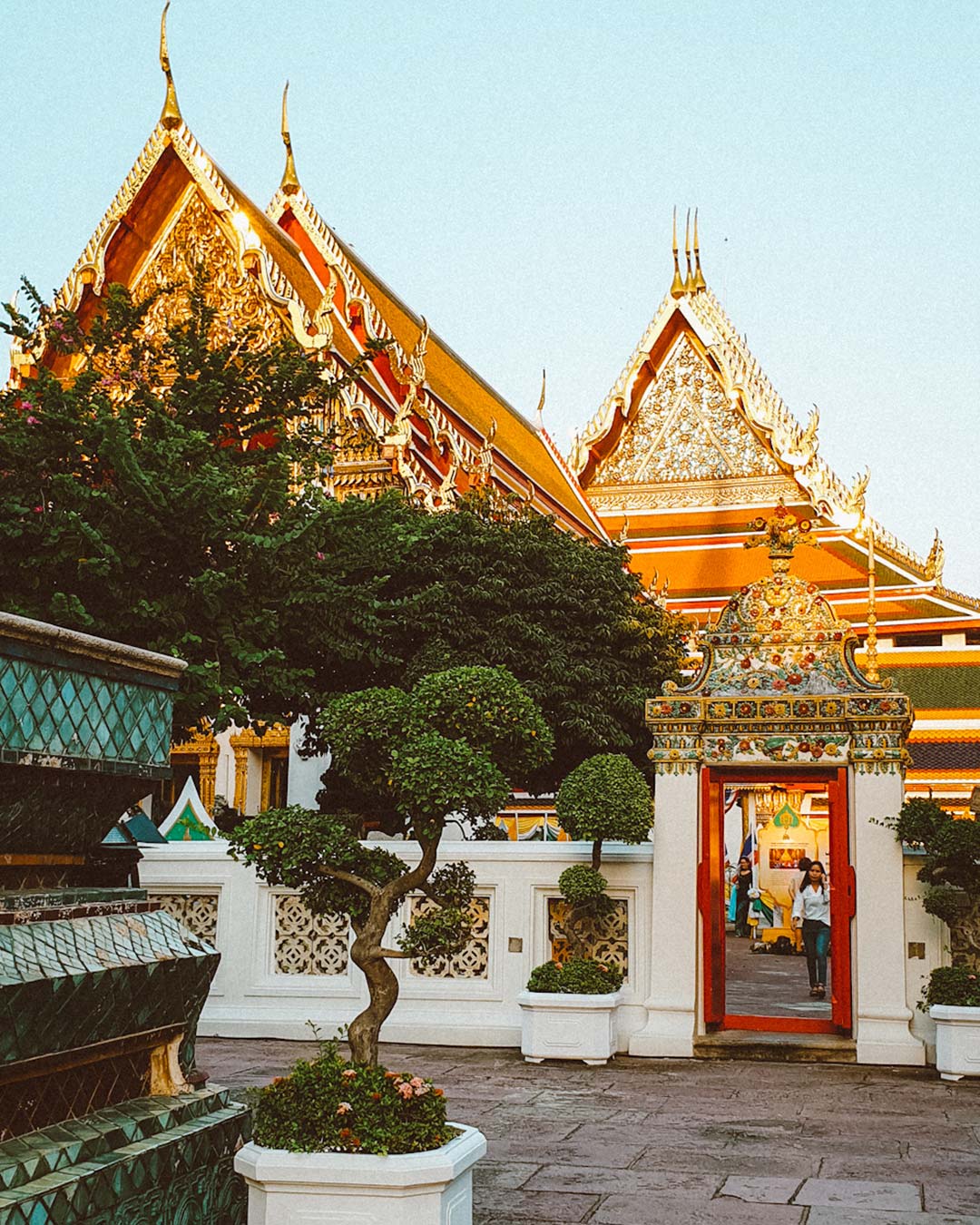 Bargaining
Bargain anywhere from 20-40% when you're at any market. The more upscale tourist markets will pretty much only give you a 20% or so discount. There is a very obvious 'tourist price' and 'local price' in Thailand. Although you can't always avoid being given the tourist price, if you have time, you can compare a few places ahead of time to know what is a good price. Or you can decide how much you're happy to pay for the item, get it down to that price and be done with it. Sometimes, when you do the conversions, you realize that you're haggling for something like a mere USD0.50!
Our Secret Tip – Don't bargain on food! It's considered impolite.
TRANSPORT
Taxi / Grab
Knowing about how transportation works are quite high on our list of things to know when traveling to Bangkok. It is a little stressful taking a taxi as a visitor in Bangkok. Though it's actually against the law to ride without the meter, many taxis will tell you they don't follow the meter and will give you their ride 'fare'. The fare is usually outrageous and up to you to bargain it down or try to insist that they follow the meter. This is especially difficult when you're in a very touristy area with not many transport options, like the Grand Palace.
We opted to take GrabCar (the equivalent to Uber in Southeast Asia) around Bangkok instead of taxis for 2 reasons:
You can Google map exactly where you want to and won't have to worry about miscommunicating with the driver.
There's no need to deal with fare negotiations.
For GrabCar, you will need to have either a local sim or roaming data on. Download the Grab app and just follow the booking instructions. You get upfront rates and you can choose to pay the rides with cash or credit card via the app. The downside to Grab is that it's still having legal issues in Thailand, so when there are police around, GrabCar drivers will pick up or drop off to that location.
BTS Skytrain & MRT
The BTS and MRT run smoothly and beats the traffic, so it's a great option for transportation. The lines and stops are a little limited and aren't always near the sights but it's a good option to get you closer.
River Taxi
This is a relatively quick way to get to areas along the river (Wat Pho, Grand Palace, etc) especially if you're going during peak traffic hours or if you're connecting from the BTS to the tourist sites. They have single trips or whole day fares.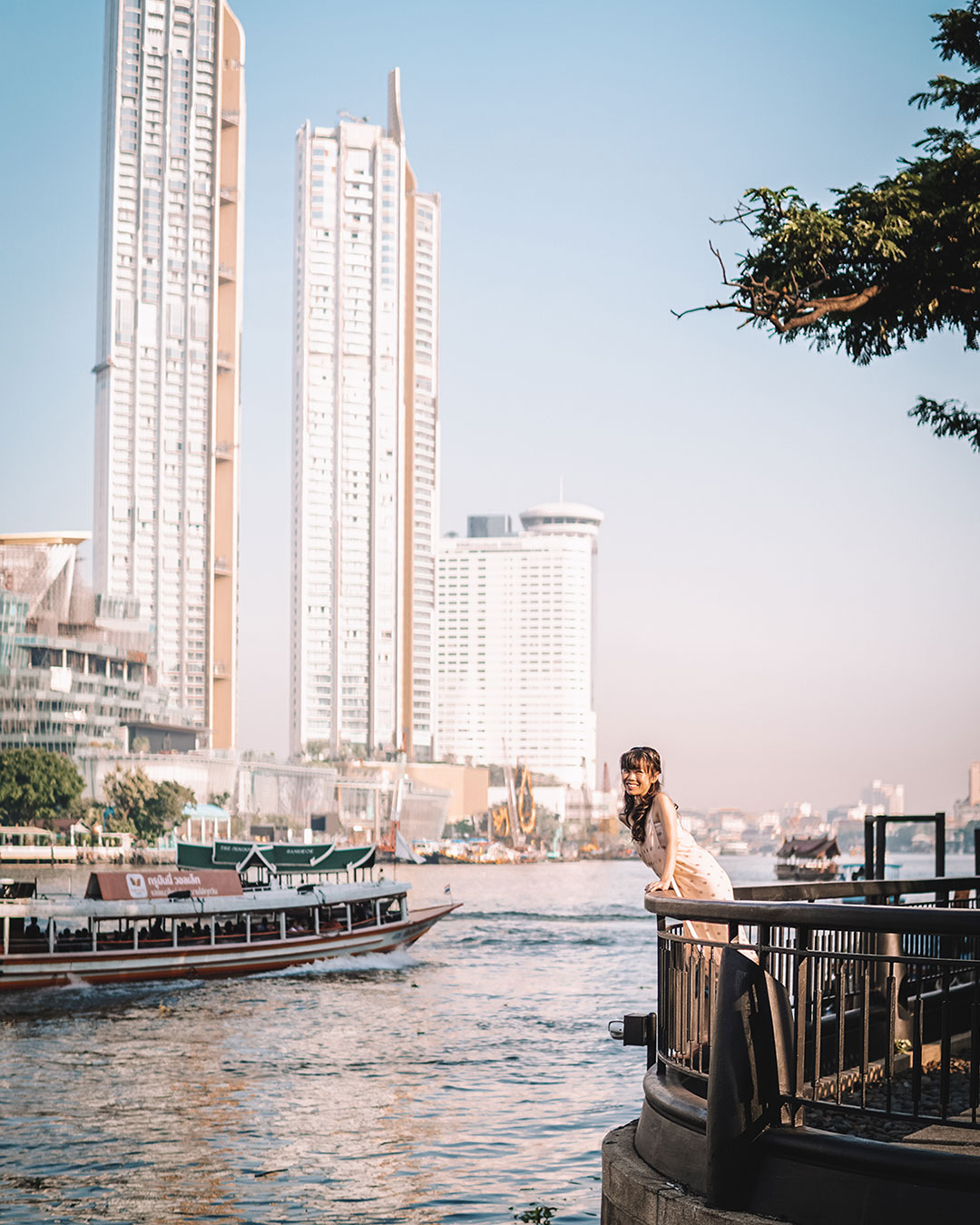 Tuk-Tuk
Tuk-tuks are fun to try at least once and is often easy to get, especially when you can't get a Grab or taxi. Same rules apply about the fare negotiations. And take note that many times, taking a tuk-tuk may turn out more expensive than a Taxi or Grab.
CULTURAL ETIQUETTE AND CUSTOMS IN THAILAND  
The Culture of Food
Like most of Asia, food is a big part of the culture and family in Thailand with underlying customs. There are a few things to know about the customs around food. Thai meals are served 'family style' and it may look 'greedy' if you place all 'your' portions on your individual plate all at once.
We also learned that in Thai culture, the host must make sure there is way more food than is necessary for his or her guests, meaning often times there is a good portion of leftover food. If all the dishes are all finished at the end of the meal, it implies that the guests may still be hungry. This will be an embarrassment for the host. Unfinished food indicates that everyone has eaten till full. Leftover food is seen as a high sign of respect to the restaurant's owner.
So if you invite a Thai for a meal, make sure that you order plenty of food!
The Royalty
In Thailand, it is a criminal offense to make critical or defamatory comments about the King or the Royal Family. Even if it's just a joke or a harmless comment in passing between your travel mates. It is a law under the Criminal Code and you can be imprisoned for doing so.
Greetings
You will see Thai's greeting by raising both hands, joining the palms (like a prayer) and bowing the head slightly. This is called 'Wai' and is the common form of greeting in Thailand.
The Sacred Part of the Body
Thai's consider the head a sacred part of the body, so touching the top of someone's head is frowned upon. Even playfully ruffling a child's hair may be considered as an uncomfortable violation of the person's personal space.
Religion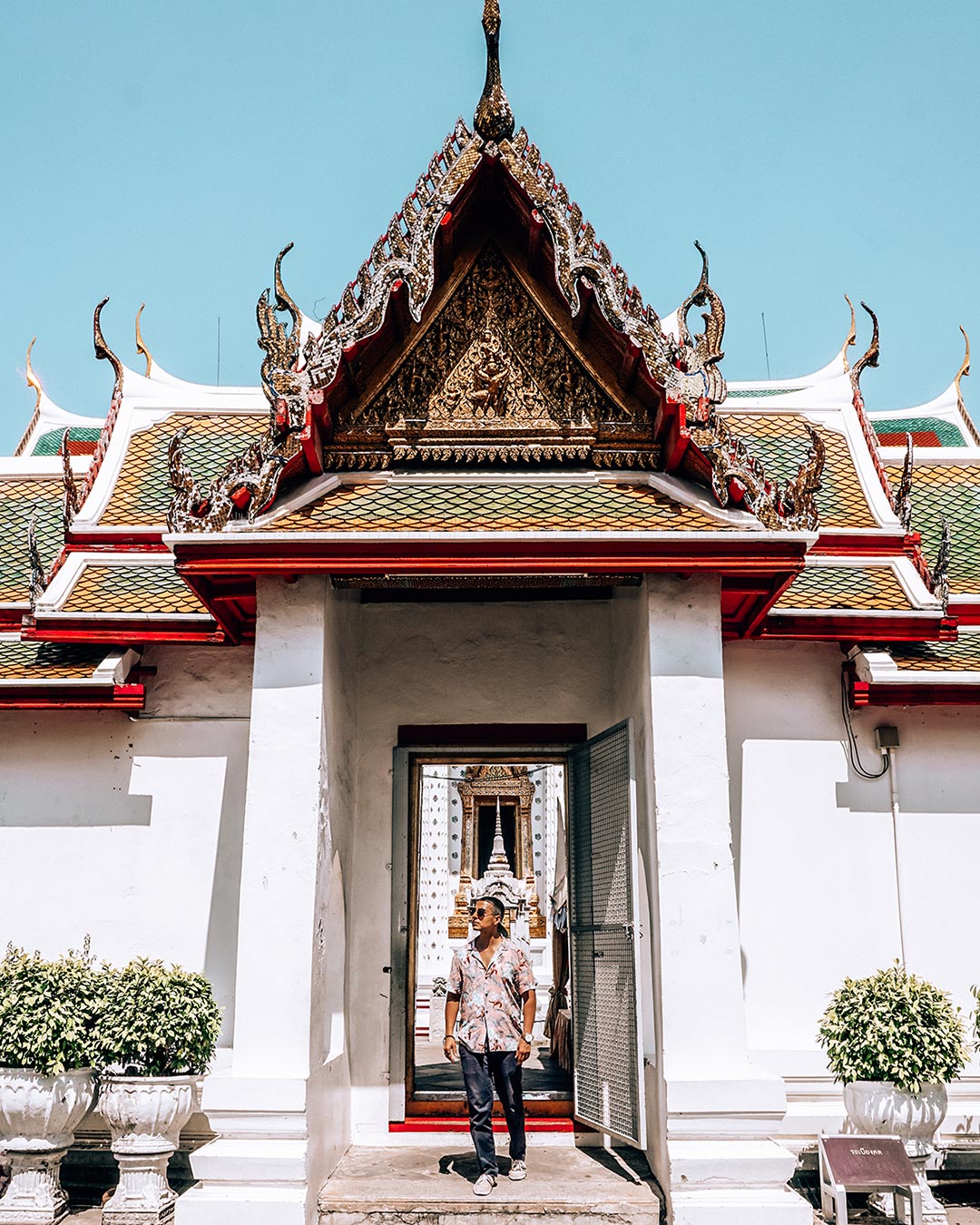 With over 400 Wats in Bangkok, it's no wonder that over 90% of the population in Thailand is Buddhist. The Thai's take religion seriously and appreciate the respect towards the religion from visitors. That includes dressing and acting respectfully when visiting Buddhist temples or other sacred sites. Also be aware using images of the Buddha as decoration (including tattoos) is considered disrespectful.
No Alcohol on Buddhist Holidays/Celebrations
We included this in this Bangkok Travel Guide for first-timers because we had no idea until we were in Bangkok during this period. No alcohol is allowed to be sold in Thailand on Buddhist holidays, but it can be consumed. Alcohol sales are prohibited on these five specific religious days: Makha Bucha (Feb/Mar), Visakha Bucha (18 May), Asarnha Bucha Day (Jul), and the start and end days of Buddhist Lent.
Most locals will stock up the day before and will abstain or be discreet about drinking out of respect.
WHERE TO STAY IN BANGKOK 
By the River
BY THE RIVER
SHANGRI-LA BANGKOK: A luxurious haven right on the banks of the Chao Phraya River with some of the most amazing sunset views. Perfect base for those who want to explore the Grand Palace and the city's amazing Wats by the river. Check the latest prices and book the Shangri-La Bangkok here.
IN THE HEART OF THE CITY
SO/ SOFITEL BANGKOK: A visually stunning luxurious urban hotel designed by Thailand's top five designers and Christian Lacroix. The hotel is uniquely designed, it's as if it's a modern art gallery. Perfect for all art and design enthusiasts who want to explore every part of the city. Check the latest prices and book the SO/ SOFITEL BANGKOK here.
MODERN HIP AREA OF THONGLOR
VOLVE HOTEL BANGKOK: A warm, chic designer hotel located in the hip district of Thonglor. Perfect for travelers who want to explore a less touristy side of Bangkok. And to food lovers, Thonglor is known to have some of the best restaurants, cafes and bars in Bangkok! Check the latest prices and book the VOLVE HOTEL BANGKOK here.
For other places to stay in Bangkok, click here for a list and the latest prices.
This Bangkok Travel Guide for first -timers is just the basics that we found important to know about the place, culture and getting around just before you head out to explore. Drop us a note or comment if you have any questions and we'll be happy to help. Enjoy BANGKOK!
Wishing you amazing experiences,
Sue + Renesh
MORE OF BANGKOK
---
LIKE THIS? PIN IT FOR LATER!