Sawasdee Krab/Ka! Welcome to the captivating city of Bangkok, where tradition and modernity unite in a seamless dance. This meticulously crafted 4-day Bangkok itinerary aims to provide an unforgettable experience for first-timers like yourself. Having trodden the paths of Bangkok ourselves, we comprehend that the city's plethora of attractions can be overwhelming. But fret not – with these four days, you'll be able to immerse yourself in the highlights while savoring the essence of the City of Angels.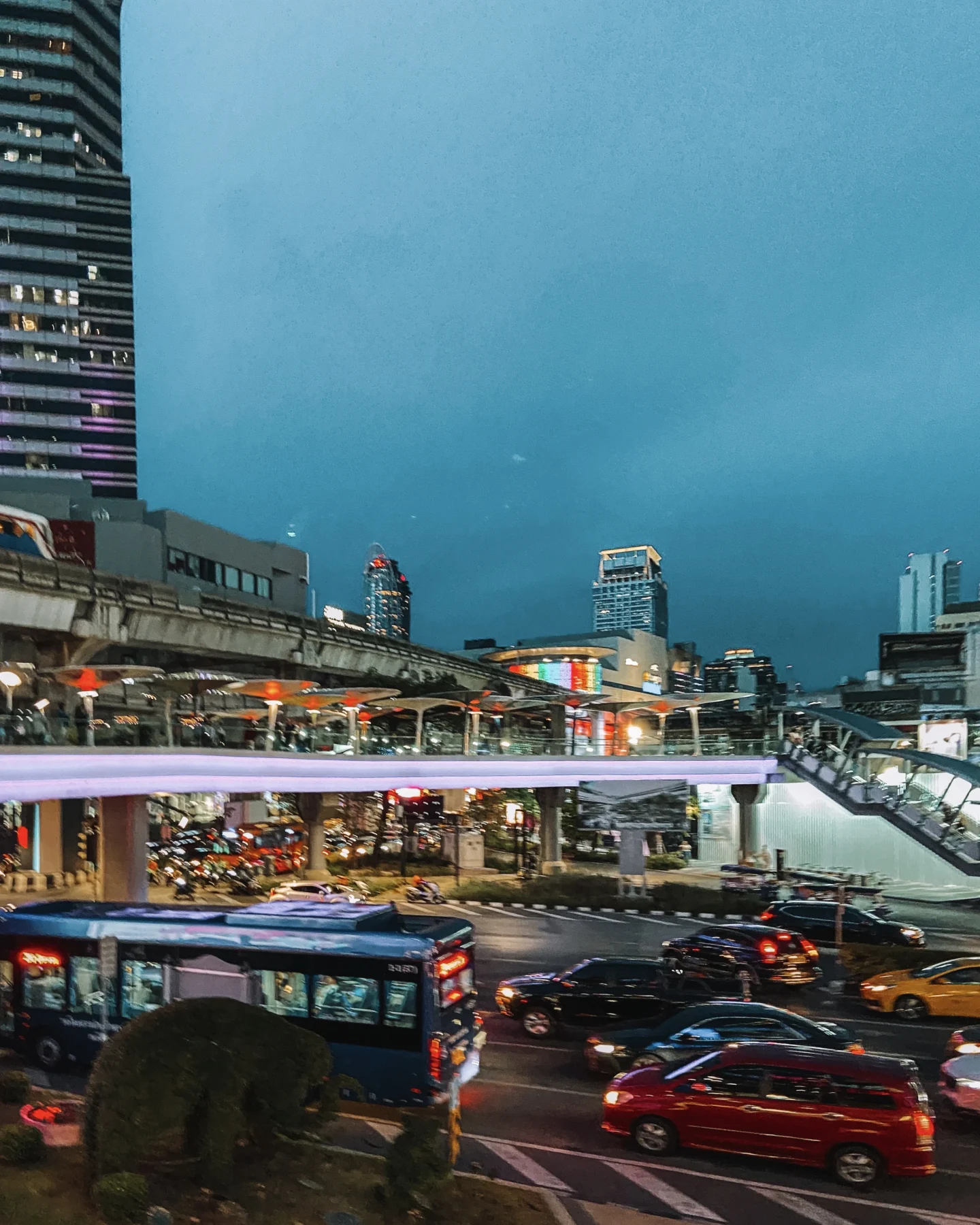 First time in Bangkok? Check out our Bangkok Travel Guide for First Timers
Day 1: Journey to the Floating Market and Railway Market
Damnoen Saduak Floating Market
As the sun graces the sky, kickstart your Bangkok itinerary by immersing yourself in the enchanting world of the Damnoen Saduak Floating Market. Time seems to slow here, and the waterways come alive with the vibrant energy of vendors navigating their boats. Stepping into this lively tapestry, you'll feel like you're gliding through a living painting, surrounded by a symphony of colors and the enticing aroma of delectable street food. The vendors' skillful boat maneuvers are a spectacle, offering a shopping experience that transcends the ordinary.
Pro Tip: While indulging in the bustling ambiance of the markets on your Bangkok itinerary, remember that things can get lively. You can opt for light, breathable attire to ensure your comfort throughout the day. The Thai sun shines brightly, especially in vibrant marketplaces, so dressing appropriately will help you make the most of your experience.
Read our 20 Things We Wish We Knew Before Traveling To Bangkok
Maeklong Railway Market
Moving on, transition seamlessly to the next leg of your Bangkok itinerary as you immerse yourself in the captivating ambiance of the Maeklong Railway Market. Here, Bangkok's unparalleled ingenuity takes center stage as market stalls swiftly vanish at the distant sound of a train horn. This remarkable coordination between commerce and transportation is a sight, exhilarating you on an entirely different plane.
Pro Tip: For those considering visiting these intriguing markets on your Bangkok itinerary, arranging a return driver in advance is very important. The markets' distance from Bangkok's city center can pose a challenge when finding transportation back. Platforms like Klook offer a convenient way to book your tour in advance, ensuring a seamless and stress-free experience.
Day 2: Expedition to Kanchanaburi, Thailand
Safari Park Kanchanaburi
On your second day exploring Bangkok, a captivating expedition awaits as you venture into the remarkable realm of Kanchanaburi. Prepare yourself for a wild ride at Safari Park Kanchanaburi. Imagine being in the company of majestic creatures such as elephants and tigers, and don't overlook the graceful giraffes stealing the spotlight. One particular gem, the iconic Jeep giraffe, demands a booking in advance and a bit of extra investment – a camera magnet that guarantees jaw-dropping shots as souvenirs.
Pro Tip: Snag some animal snacks at the entrance before embarking on the Safari Park bus. As the bus halts, windows open, providing the perfect opportunity to snap pictures while feeding the animals. It's a two-in-one deal – creating memories for you and sharing snacks with the delightful creatures.
Walking the Old Death Railway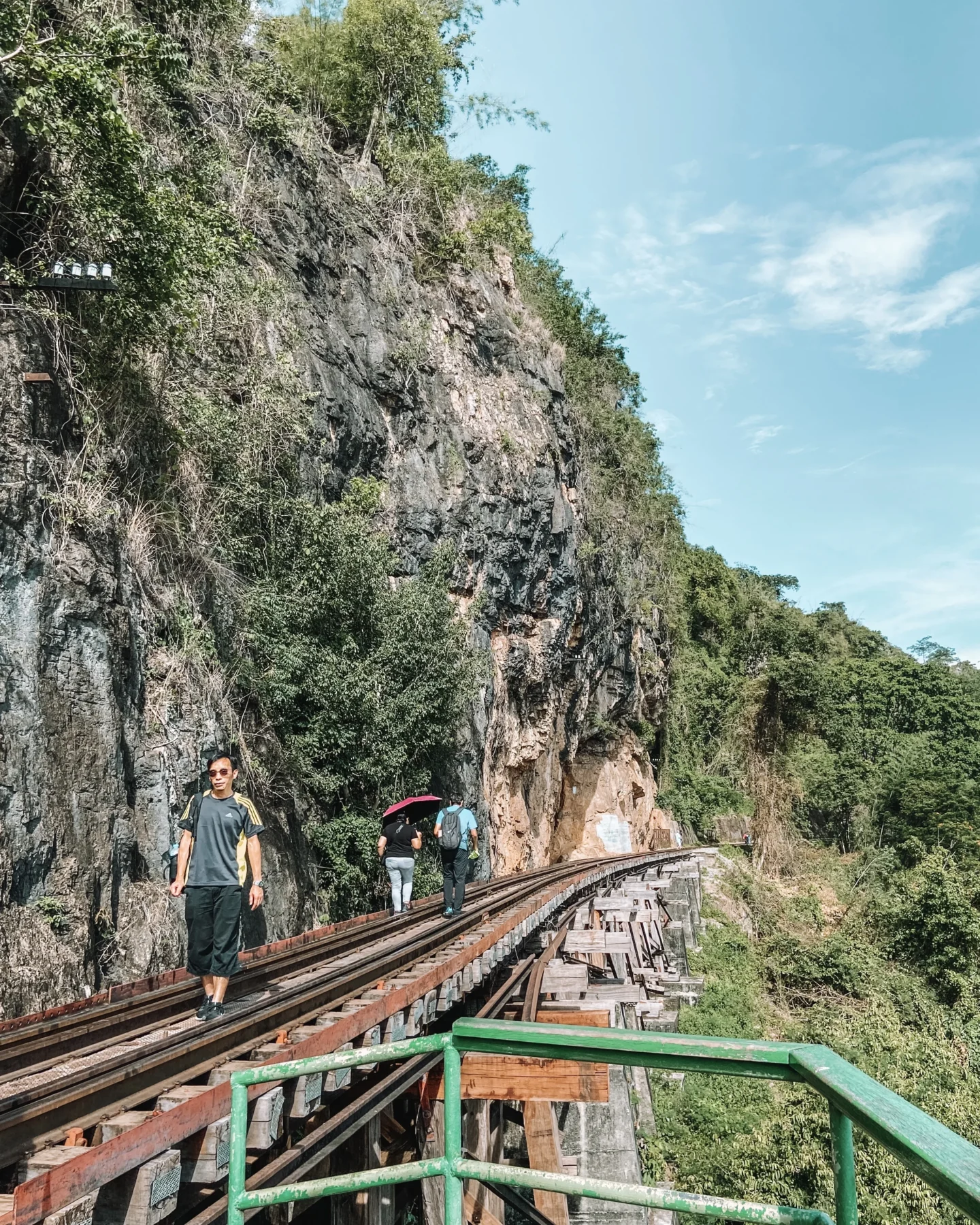 But the intrigue doesn't stop there. Your expedition takes a captivating turn as you embark on a poignant journey through history by walking along the historic Old Death Railway. This path is not merely a route; it's a living testament to the remarkable tales of bravery, resilience, and survival that echo through the annals of time.
Day 3: Exploration of Nakhon Pathom, Thailand
Bubble in the Forest Cafe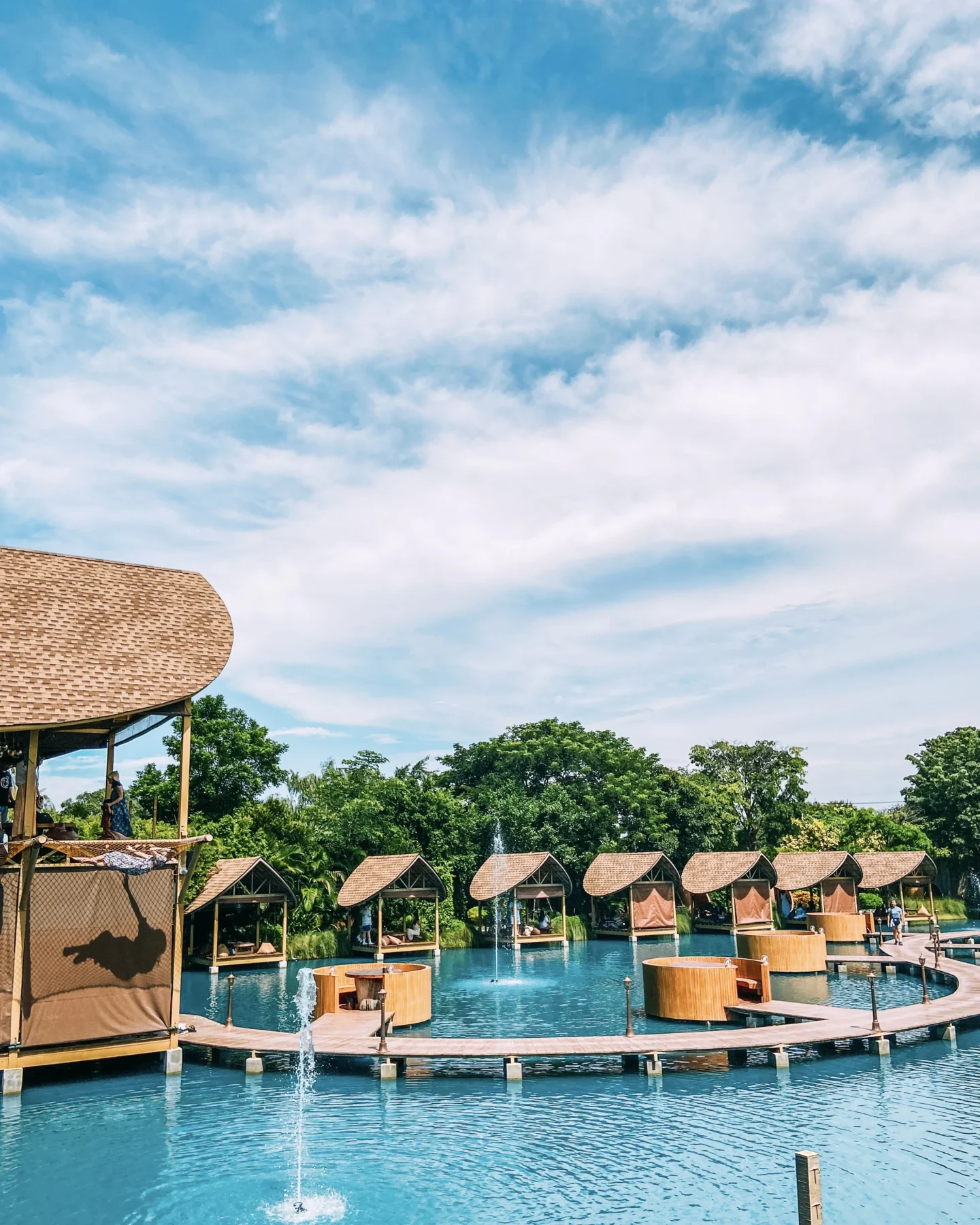 Day three of your Bangkok itinerary is your ticket to the lesser-known realm of Nakhon Pathom. We highly recommend visiting the enchanting Bubble in the Forest Cafe – a dreamlike spot where reality dances with fantasy amid lush greenery. Picture sipping your morning brew in surroundings plucked from the pages of a fairytale, setting the tone for the enchantment ahead.
Click here for more Instagrammable places in Bangkok
Dragon Temple / Wat Samphran
But hold onto your hats; more enchantment awaits as you continue your Bangkok itinerary. Feast your eyes on the mesmerizing Dragon Temple, Wat Samphran. This isn't just a temple visit; it's an expedition into a world of myths and enigmas. Imagine a majestic dragon spiraling around the temple, a sentinel of secrets. It's a sight to behold, leaving you scrambling for your camera to capture this hidden jewel and preserve its allure forever.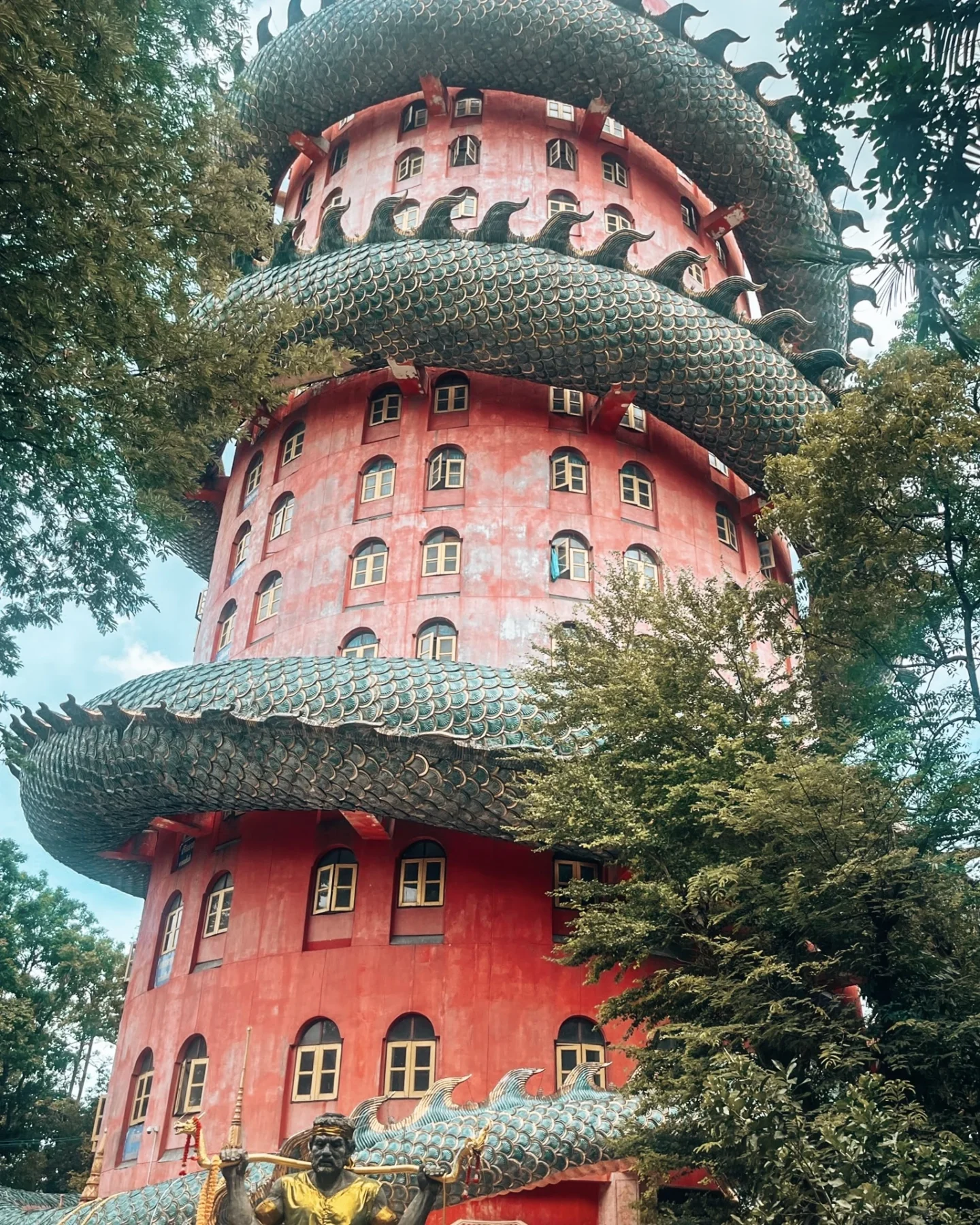 Pro Tip: Consider a private charter to reach the cafe and the temple, enhancing your Bangkok itinerary. Why, you ask? One-way transportation can be a maze, potentially taking away from your experience. A private charter ensures a seamless journey, allowing you to soak in the magic without a hitch.
Day 4: Embrace Bangkok City
Wat Arun
As you embark on the final leg of your Bangkok itinerary, begin by immersing yourself in the breathtaking beauty of Wat Arun. The Temple of Dawn comes alive as the sun's early rays embrace its intricate architecture. The temple's spires are illuminated in a golden glow, casting a serene ambiance that reverberates throughout the surroundings. If you're up for it, climb to the temple's summit for a panoramic spectacle that'll leave you both tranquil and awestruck, taking in the city's landscape from a unique vantage point.
Pro Tip: There are many Thai costume rental shops near the temple – don't hesitate to try them out. Dressing up in traditional Thai attire adds more authenticity to your experience. You can then take stunning pictures against the backdrop of Wat Arun's captivating architecture, creating extraordinary memories. Remember that negotiation is expected if you're considering renting a Thai costume. The lowest price we negotiated was 150 THB per person.
Read our blog here for our experience at Wat Prayoon
Shopping Spree
Concluding your captivating journey through Bangkok, a shopping spree beckons to add the final touches to your Bangkok itinerary. Traverse bustling streets and chic malls, each offering a treasure trove of fashion, crafts, and trinkets. Delve into the city's vibrant shopping scene, where traditional markets and modern boutiques coexist harmoniously. Shop to your heart's content, carrying a piece of Bangkok's enchantment as a cherished memory of your time in this captivating city.
Pro Tip: We highly recommend checking out the Chatuchak Weekend Market for good deals and unique finds. True to its name, this market is open on weekends, offering various products that cater to every taste. For more shopping adventures, explore the MBK Centre and Pratunam areas – they are known for providing incredible steals and a diverse shopping experience. Don't miss the chance to bring home a piece of Bangkok's charm through your shopping spree.
We hope this meticulously curated 4-day Bangkok itinerary has provided you with a vivid picture of the enchanting experiences in this vibrant city. From immersing yourself in cultural wonders to exploring hidden gems and iconic landmarks, Bangkok offers a kaleidoscope of captivating moments that will leave an indelible mark on your travel journey.
Wishing you safe travels!
Sue + Renesh
* Disclaimer: As an Amazon Associate, I earn from qualifying purchases. Some links included in this description are affiliate links. If you purchase a product or service with the links that I provide I may receive a small commission. There is no additional charge to you! Thank you for supporting my blog so I can continue to provide you with free more each week!
OUR MUST-HAVE BANGKOK TRAVEL ESSENTIALS
Anti-Theft Messenger Bag – Anti-Theft Classic Essential Messenger Bag is the perfect solution to keep your belongings secure while exploring a new city. With its slash-resistant body and lockable zippers, this bag protects your essentials from pickpockets and thieves.
Travel Pillow – Inflatable Lumbar Travel Pillow is the perfect companion for long-haul flights! This adjustable pillow provides the necessary support for your lower back, ensuring maximum comfort throughout the flight. It's compact, lightweight, and easy to pack, making it an essential item for any traveler.
Universal Adapter – Universal All in One Worldwide Travel Adapter is the ultimate solution to all your charging needs while on the go! With its compact size and compatibility with over 150 countries, you can now travel worry-free without the fear of running out of battery or being unable to charge your device.
Waterproof Bag – HEETA Waterproof Dry Bag is a game-changer for any adventurer looking to keep their belongings dry and secure during any water activity. The durable and lightweight design allows you to easily store and carry all your essential items while enjoying any water-based adventure. Whether kayaking, fishing, island hopping, or just lounging at the beach, HEETA has got you covered!
WHERE TO STAY IN BANGKOK
BY THE RIVER
SHANGRI-LA BANGKOK: A luxurious haven on the banks of the Chao Phraya River with some of the most fantastic sunset views. Perfect base for those who want to explore the Grand Palace and the city's amazing Wats by the river. Check the latest prices and book the Shangri-La Bangkok here.
IN THE HEART OF THE CITY
SO/ SOFITEL BANGKOK: A visually stunning luxurious urban hotel designed by Thailand's top five designers and Christian Lacroix. The hotel is uniquely designed; it's like a modern art gallery. Perfect for all art and design enthusiasts who want to explore every part of the city. Check the latest prices and book the SO/ SOFITEL BANGKOK here.
MODERN HIP AREA OF THONGLOR
VOLVE HOTEL BANGKOK: A warm, chic designer hotel located in the hip district of Thonglor. Perfect for travelers who want to explore a less touristy side of Bangkok. And to food lovers, Thonglor is known to have some of the best restaurants, cafes, and bars in Bangkok! Check the latest prices and book the VOLVE HOTEL BANGKOK here.
For other places to stay in Bangkok, click here for a list and the latest prices.
MORE ON TRAVEL TIPS
TRAVEL LIKE A LOCAL: INSIDE TIPS FOR EXPLORING SOUTHEAST ASIA
20 THINGS WE WISH WE KNEW BEFORE TRAVELING TO BANGKOK
MALAYSIA INSIDER TIPS: WHAT LOCALS WANT YOU TO KNOW BEFORE TRAVELING TO MALAYSIA
KUALA LUMPUR TRAVEL GUIDE FOR FIRST-TIMERS
A GUIDE TO VISITING MALAYSIA DURING RAMADAN
TIPS FOR ISLAND HOPPING IN THAILAND
KOH LIPE TRAVEL INFORMATION FOR FIRST-TIMERS
BALI TRAVEL GUIDE FOR FIRST-TIMERS (UPDATED JULY 2023)
BALI'S STRICT RULES THAT WILL AFFECT YOUR NEXT TRIP (AS OF JULY 2023)