Nestled just a stone's throw away from vibrant Bangkok, Kanchanaburi beckons with its captivating blend of historical significance and natural allure. This 2023 updated travel guide is your compass for an unforgettable day trip to Kanchanaburi, walking you through every facet of this must-visit Thai province.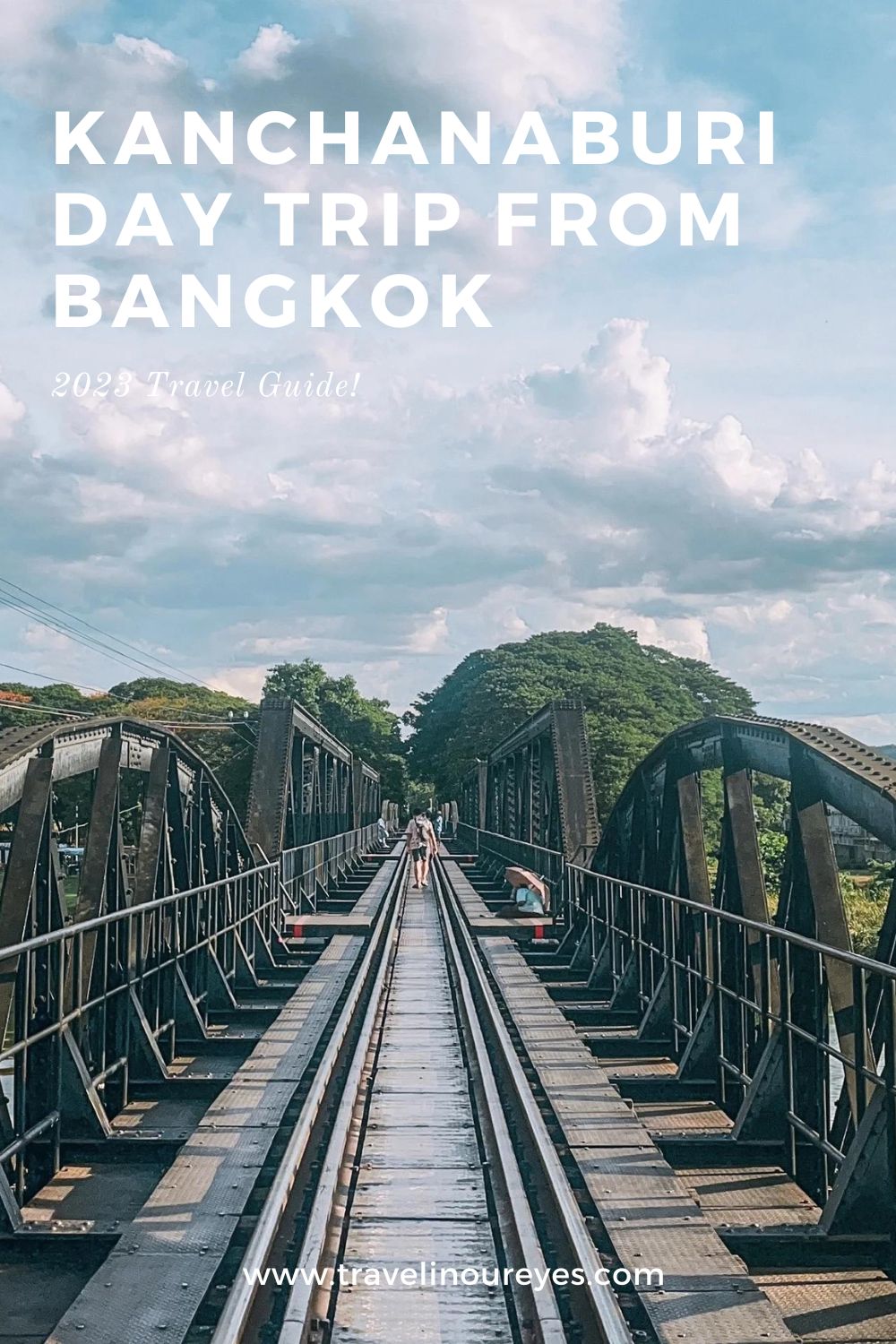 First time in Bangkok? Check out our Bangkok Travel Guide for First Timers
and Read the 20 Things We Wish We Knew Before Traveling To Bangkok
Brief Overview of Kanchanaburi
Steeped in history, Kanchanaburi's profound significance, particularly its connection to World War II, is palpable. From the infamous Bridge over the River Kwai to the poignant Death Railway, this province serves as a reminder of the past. As you enter Kanchanaburi, a seamless fusion of history and nature greets you, showcasing lush landscapes, tranquil waterfalls, and an opportunity to honor history's legacy.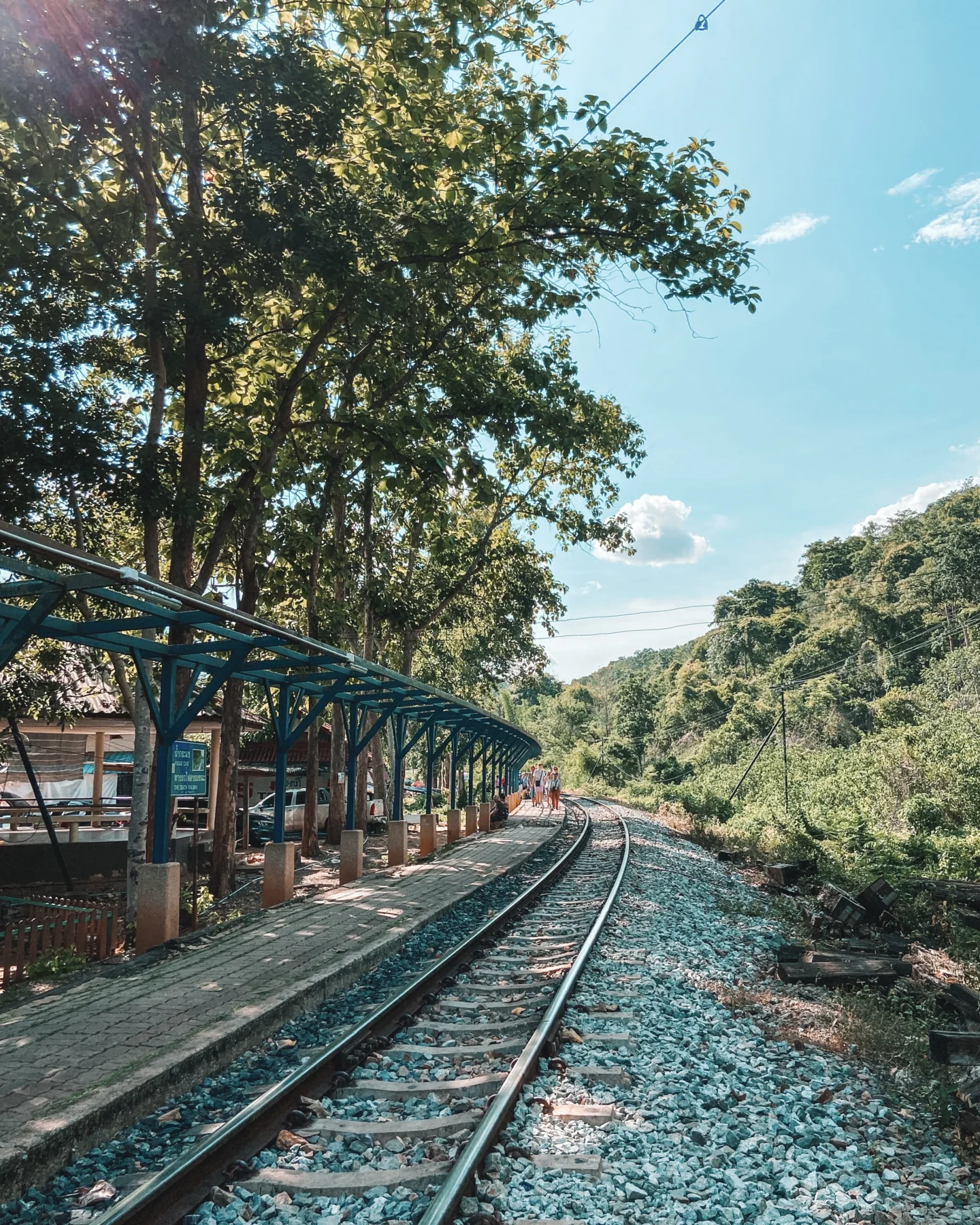 Getting to Kanchanaburi
The journey from Bangkok to Kanchanaburi is seamless and well-connected, rendering it an ideal day trip destination. Travel time generally spans 2 to 3 hours, depending on your chosen transportation mode and traffic conditions. Here's a closer look at the diverse ways to reach this captivating destination:
Scenic Train Journeys
The Thonburi-Nam Tok Line offers the best in nature scenery as it operates the train service to Kanchanaburi. Departures from Thonburi Railway Station are typically available from early morning to late afternoon, approximately every few hours. The earliest train usually leaves around 7:45 am, and the last departs around 1:55 pm. The journey takes about 3 hours, immersing you in Thailand's lush landscapes. Tickets can be purchased at the station or booked online through platforms like 12Go Asia. Prices vary depending on the class, starting from around 100-150 Thai Baht.
Buses
Various buses ply the Bangkok-Kanchanaburi route. You can catch them at Bangkok's Sai Tai Mai (Southern) Bus Terminal. Buses are available throughout the day, with departures from early morning to late afternoon, generally every hour or so. The travel time is approximately 3-4 hours. Ticket prices vary depending on the bus type and operator. You can purchase tickets at the terminal or consider booking online through platforms like 12Go Asia.
Private Cars
You can book private cars through online platforms like Klook, where you can choose from various car types and models. Alternatively, local car rental agencies can be found in Bangkok City. The journey duration depends on traffic and route, usually 2-3 hours.
Generally, you can expect to pay around 1,500 to 2,500 Thai Baht daily for a standard sedan, which usually includes basic insurance and unlimited mileage. Toll fees can add approximately 200-300 Thai Baht for a one-way trip from Bangkok to Kanchanaburi, depending on your route and the toll plazas you encounter. Please remember that these figures are estimates, and you should ask directly with car rental agencies for accurate pricing based on your preferences and travel plans.
Tuk-tuks
For a more adventurous and authentic experience, consider hiring a tuk-tuk to explore Kanchanaburi. Tuk-tuks offer a unique way to immerse yourself in the local atmosphere. However, it's important to note that tuk-tuks are best suited for shorter distances within Kanchanaburi. Tuk-tuks can be booked on ride-hailing apps like Grab and Bolt.
Motorcycle Rentals
The cost to rent a motorcycle for a day can range from approximately 200 to 500 Thai Baht, depending on factors such as the type of motorcycle, its condition, and the rental location. It's also important to note that while renting a bike for shorter trips can be exciting, riding it for extended periods is not recommended for safety reasons.
Guided Van Tours
Savor the convenience of guided van tours that can be quickly booked online through platforms like Klook. Regarding cost, guided van tours can range widely based on factors such as tour length, included attractions, amenities, and the level of service.
Generally, you might expect to pay anywhere from approximately 1,000 to 3,000 Thai Baht per person for a standard single-day guided van tour. Van capacities can vary, typically accommodating around 10 to 15 people comfortably. Travel time to reach Kanchanaburi from Bangkok can span about 2 to 3 hours, depending on traffic conditions and the tour route.
Best Time to Visit
Kanchanaburi experiences a tropical climate, so be prepared for warm temperatures and occasional rainfall. You can plan your visit during the cooler months for a more comfortable experience.
The period from November to February offers milder weather, making it an excellent time to explore. Pack lightweight and breathable clothing, comfortable shoes, and remember essentials like sunscreen and a hat.
For a responsible and eco-friendly choice, we recommend using this Eco-Friendly Sunscreen. This sunscreen shields your skin from the sun and minimizes environmental impact, aligning with sustainable travel practices.
Major Attractions in Kanchanaburi
Kanchanaburi Safari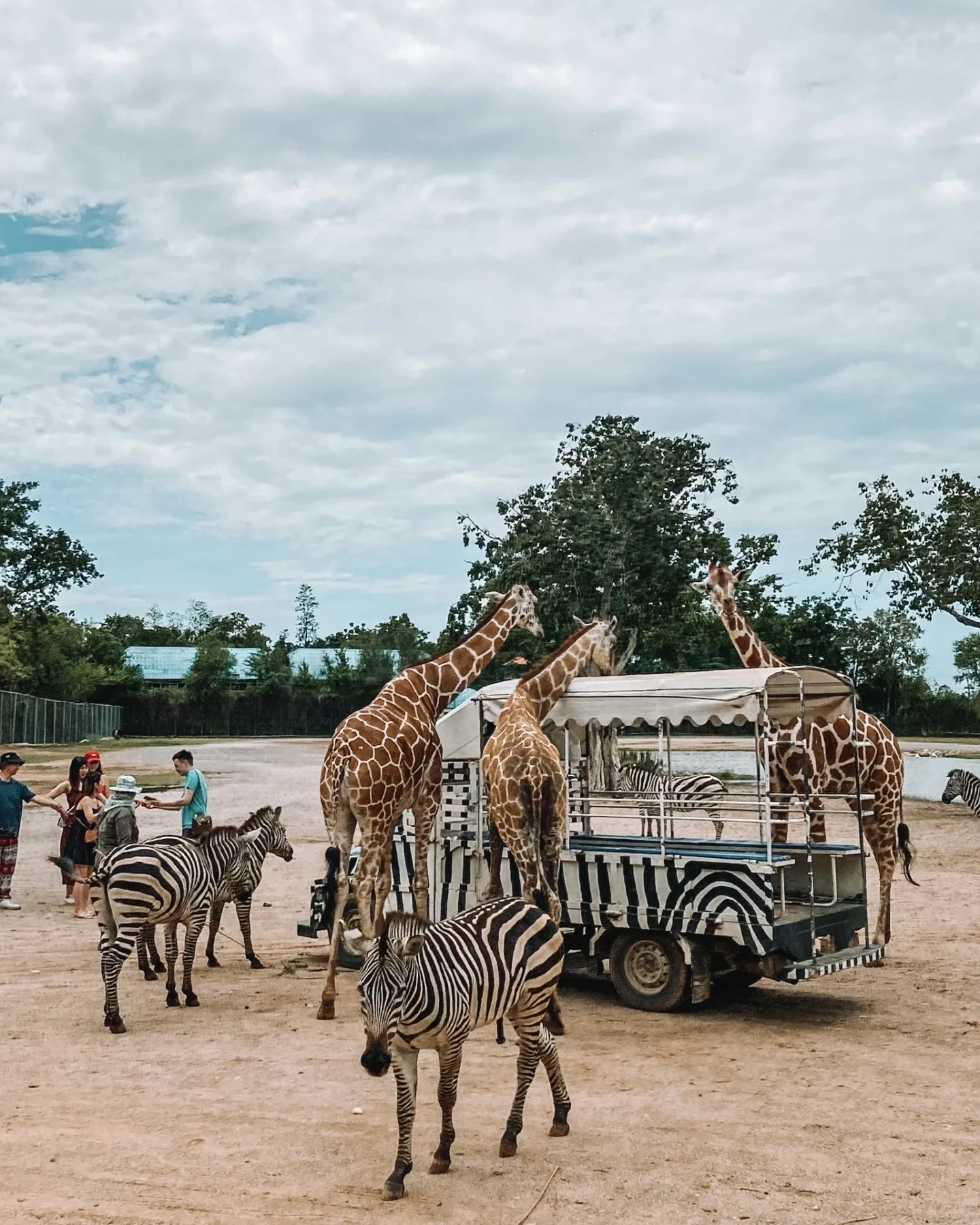 A visit to Kanchanaburi Safari is a must. You can interact with animals for an admission fee; feeding them is a highlight. The jeep ride alongside a giraffe makes for a memorable experience.
The Bridge over the River Kwai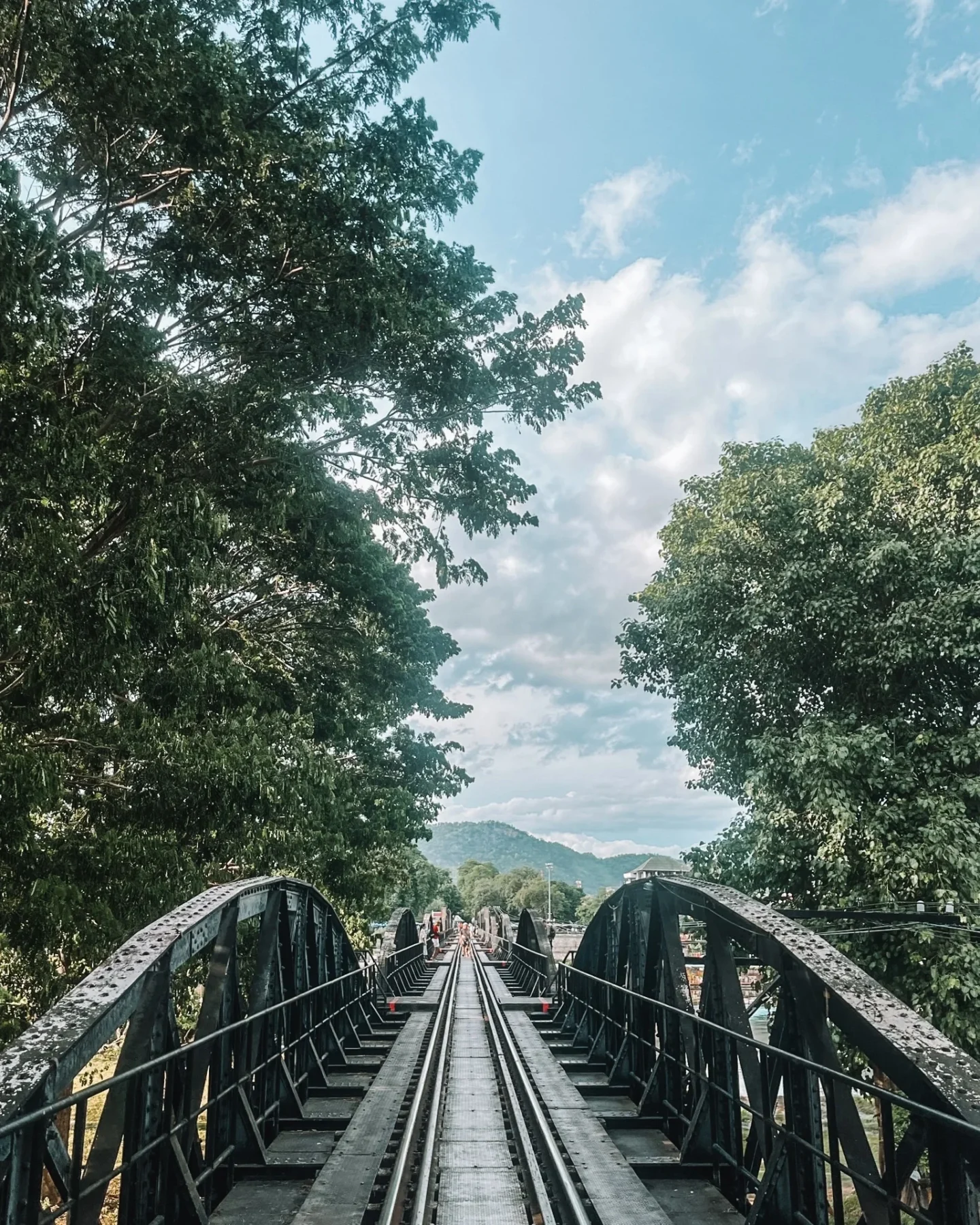 This iconic bridge is a symbol of history and resilience. Stroll across its tracks, reflecting on its significance during World War II.
Old Death Railway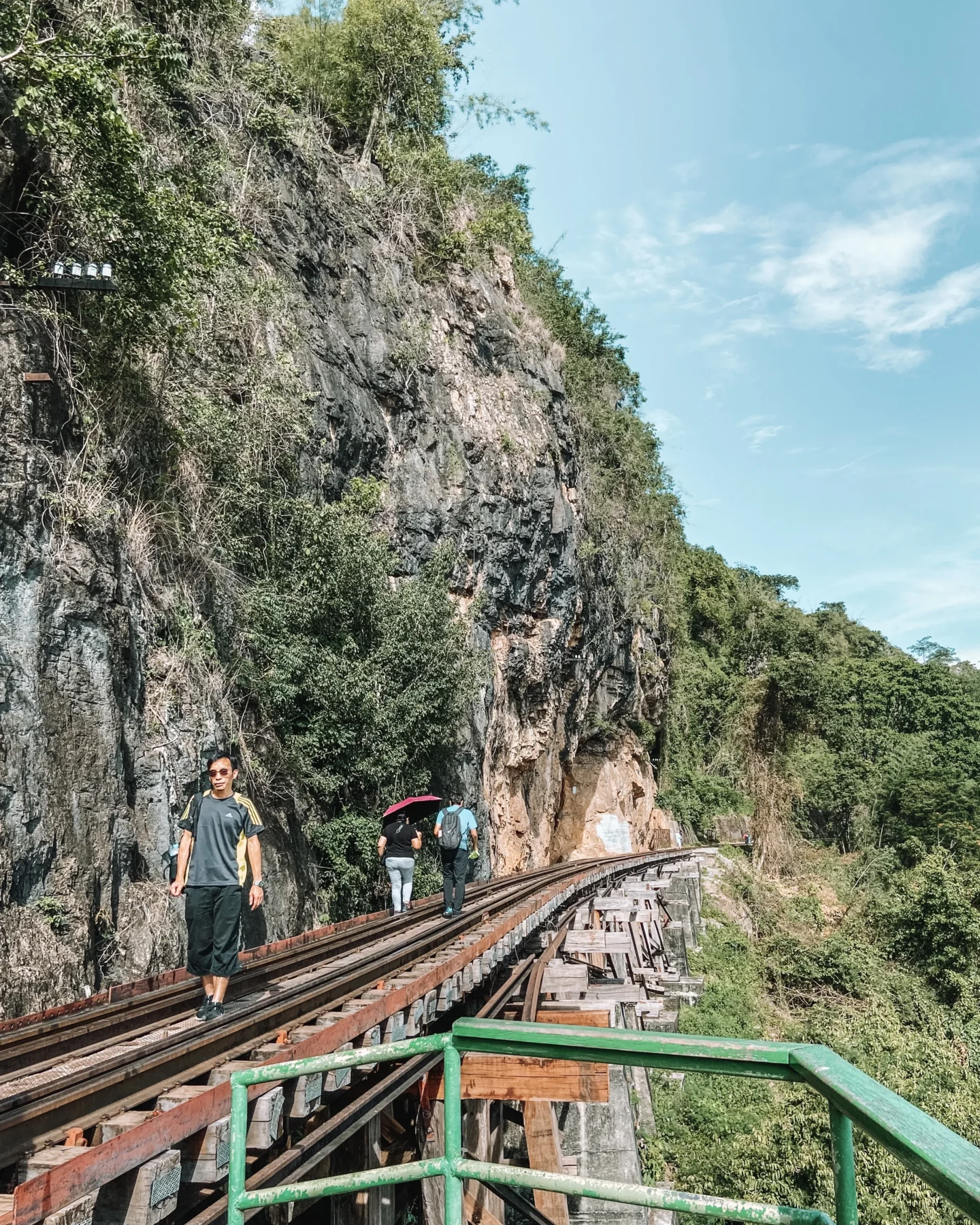 The Death Railway is a poignant reminder of the sacrifices made during the war. Walking along its path offers insight into the past.
Other Attractions
Erawan National Park, Sai Yok Noi Waterfall, and more natural wonders await exploration. Click here for more Instagrammable places in Bangkok. Also, check out our Bangkok Itinerary for First-Timers.
How Many Days to Spend in Kanchanaburi
While ideally, 2-3 days allow you to fully immerse in Kanchanaburi's offerings, a single day is sufficient to capture the highlights and essence of this remarkable destination.
Where to Stay in Kanchanaburi
Please click here for a list and the latest pricing of places to stay in Kanchanaburi.
For a list and the latest prices of places to stay in Bangkok, click here.
Kanchanaburi ATM and Money Exchange
We can tell you that ATMs and money exchange facilities are available, but carrying some cash is best. While card payments are accepted, having cash can be handy, especially in certain areas.
Kanchanaburi Safety
Kanchanaburi is generally considered a safe destination, even for solo female travelers. The crime rate is low; however, it's essential to remain cautious and take necessary precautions. Petty crimes, such as pickpocketing, can occur, especially in crowded areas. While the atmosphere is welcoming, keeping your guard up is always wise.
Consider investing in an anti-theft messenger bag like the Anti-Theft Classic Essential Messenger Bag for added peace of mind. Designed with a slash-resistant body and lockable zippers, this bag provides robust protection against pickpockets and potential thieves, allowing you to enjoy your time in Kanchanaburi without worrying about your belongings.
Kanchanaburi Travel Cost
Determining the exact cost of a Kanchanaburi day trip can vary based on transportation choices, attraction fees, meals, and personal spending habits. However, we can provide you with a general overview of the potential costs involved:
Transportation:
Train: Approximately 100-150 Thai Baht (one way) for a third-class seat.
Bus: Around 100-150 Thai Baht (one way).
Private Car: Depending on the rental service, expect to pay around 1,500-2,500 Thai Baht daily.
Guided Van Tour: Tours typically range from 1,000-1,500 Thai Baht per person, including transportation and some attraction fees.
Attraction Fees:
Kanchanaburi Safari: Admission fee can be around 300-500 Thai Baht, including interaction with animals.
Bridge over the River Kwai: Usually free to walk across, but there might be a small fee for the museum nearby.
Erawan National Park: The admission fee for foreigners can be around 300 Thai Baht.
Other Attractions: Entrance fees vary, ranging from 50-200 Thai Baht per attraction.
Meals:
Street Food or Local Restaurants: Budget around 150-300 Thai Baht for meals.
Mid-Range Restaurants: Expect to spend 300-600 Thai Baht for a more substantial meal.
Miscellaneous Expenses:
Water, Snacks, and Souvenirs: Budget around 200-300 Thai Baht.
Remember that these are approximate figures, and costs can vary based on your preferences and choices. It's advisable to research specific attraction fees, transportation options, and restaurant prices before your trip to get a more accurate estimate. Also, consider setting aside some extra money for unexpected expenses. Lastly, currency exchange rates and local pricing can change, so it's a good idea to have some flexibility in your budget.
Is a Kanchanaburi Day Trip Worth Your Time and Money?
Absolutely. With its rich historical significance, captivating natural beauty, and unique attractions, a Kanchanaburi day trip offers an enriching experience that justifies the investment. Whether you're drawn to history, culture, or simply the chance to escape the city, Kanchanaburi delivers. Its proximity to Bangkok makes it a convenient choice for a day of adventure and exploration.
Check out our 2023 Bangkok Bucket List (+ new things to do in Bangkok)
Wishing you safe travels,
Sue + Renesh
* Disclaimer: As an Amazon Associate, I earn from qualifying purchases. Some links included in this description are affiliate links. I may receive a small commission if you purchase a product or service with my links. There is no additional charge to you! Thank you for supporting my blog so I can continue to provide you with more free each week!
OUR MUST-HAVE BANGKOK TRAVEL ESSENTIALS
Anti-Theft Messenger Bag – Anti-Theft Classic Essential Messenger Bag is the perfect solution to keep your belongings secure while exploring a new city. With its slash-resistant body and lockable zippers, this bag protects your essentials from pickpockets and thieves.
Universal Adapter – Universal All in One Worldwide Travel Adapter is the ultimate solution to all your charging needs while on the go! With its compact size and compatibility with over 150 countries, you can now travel worry-free without the fear of running out of battery or being unable to charge your device.
Sunglasses – MEETSUN Sunglasses are more than just an accessory – they're your ultimate beach companion. Protect your eyes from the sun's glare while showcasing your style. Elevate your beach outings with the perfect sunglasses with UV-ray protection.
Outdoor UV Hat – FURTALK Sun Visor Hats combine fashion and function seamlessly, providing elevated sun protection and an extra dash of style. Crafted for comfort and designed to shield you from the sun's rays, these hats are perfect for outdoor excursions.
WHERE TO STAY IN BANGKOK
BY THE RIVER
SHANGRI-LA BANGKOK: A luxurious haven on the banks of the Chao Phraya River with some of the most fantastic sunset views. Perfect base for those who want to explore the Grand Palace and the city's amazing Wats by the river. Check the latest prices and book the Shangri-La Bangkok here.
IN THE HEART OF THE CITY
SO/ SOFITEL BANGKOK: A visually stunning luxurious urban hotel designed by Thailand's top five designers and Christian Lacroix. The hotel is uniquely designed; it's like a modern art gallery. Perfect for all art and design enthusiasts who want to explore every part of the city. Check the latest prices and book the SO/ SOFITEL BANGKOK here.
MODERN HIP AREA OF THONGLOR
VOLVE HOTEL BANGKOK: A warm, chic designer hotel located in the hip district of Thonglor. Perfect for travelers who want to explore a less touristy side of Bangkok. And to food lovers, Thonglor is known to have some of the best restaurants, cafes, and bars in Bangkok! Check the latest prices and book the VOLVE HOTEL BANGKOK here.
For other places to stay in Bangkok, click here for a list and the latest prices.
MORE ON TRAVEL TIPS
TRAVEL LIKE A LOCAL: INSIDE TIPS FOR EXPLORING SOUTHEAST ASIA
20 THINGS WE WISH WE KNEW BEFORE TRAVELING TO BANGKOK
MALAYSIA INSIDER TIPS: WHAT LOCALS WANT YOU TO KNOW BEFORE TRAVELING TO MALAYSIA
KUALA LUMPUR TRAVEL GUIDE FOR FIRST-TIMERS
A GUIDE TO VISITING MALAYSIA DURING RAMADAN
TIPS FOR ISLAND HOPPING IN THAILAND
KOH LIPE TRAVEL INFORMATION FOR FIRST-TIMERS
BALI TRAVEL GUIDE FOR FIRST-TIMERS (UPDATED JULY 2023)
BALI'S STRICT RULES THAT WILL AFFECT YOUR NEXT TRIP (AS OF JULY 2023)