Singapore has a bit of a reputation for being one of the most expensive cities in Southeast Asia. So it's not only great to run across free things to do in Singapore, but cool free things to do in Singapore that you can't believe are actually free! Here are what we think are the top cool free things to do in Singapore (in no particular order).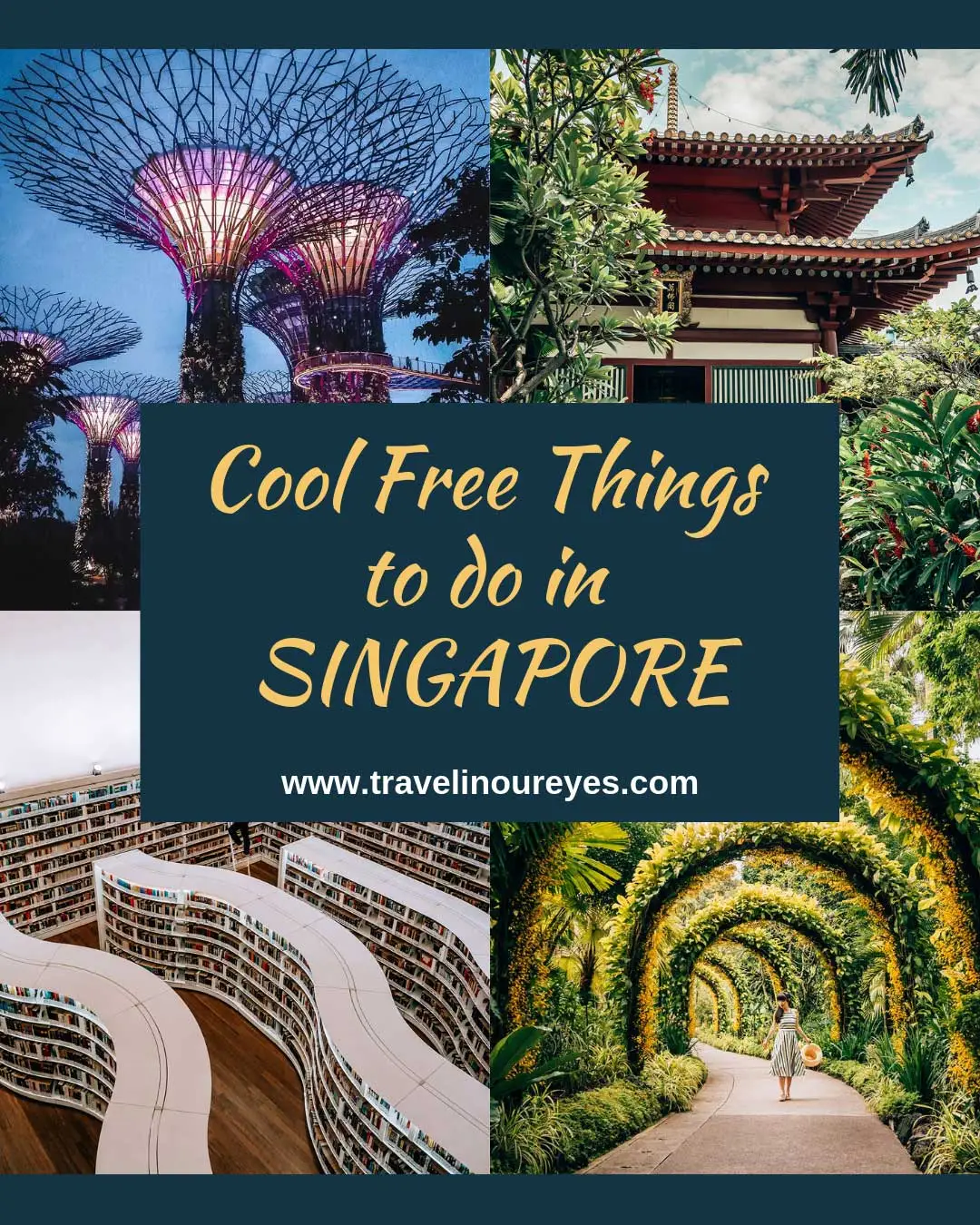 COOL FREE SPOT 1: SUPERTREE GROVE AT GARDENS BY THE BAY  
The stunning supertrees are one of the main attractions in Gardens by the bay and have become one of the most recognizable and iconic in Singapore. 12 of the 18 Supertrees in Gardens by the Bay are in the Supertree Grove. Towering at 25-50 meters tall, these futuristic trees are cleverly designed with environmentally sustainable functions.
Aside from the OCBC Skyway aerial bridge (which has an entrance fee of S$8.00), the Supertree Grove and much of the gardens is free. The Supertrees and the Gardens by the Bay are visually so stunning and like nothing we've seen anywhere.
See more about Gardens by the Bay, the Supertree Grove and the Cloud Forest & Flower Dome here.
Open Hours: 5.00am – 2.00am daily
How to get there: Take the MRT to Bayfront station. Take Exit B, follow the underground linkway and cross the bridge to Gardens by the Bay.
Click here our Blog on the of Top Instagrammable Spots in Singapore
COOL FREE SPOT 2: LIBRARY @ ORCHARD
Right in the midst of the super busy shopping haven of Orchard Road is this amazing, quiet book haven completely committed to a contemporary approach to a library. Launched in October 2014, The Library at Orchard has about 100,000 titles and is centered around design, lifestyle and the arts. As visitors, we, of course, couldn't check out books, but was just so beautiful inside and great to see so many people utilizing the library.
Our verdict? One of the coolest library in Southeast Asia! And how can you not love it? It's stacks and stacks of books, massive and free. It's completely quiet except for the click of shoes walking across the floorboards and the click of cameras every now and then. We've also named this one of the top instagrammable spots in Singapore. Click here to see the full list.
Address: 277 Orchard Road, #03-12 / #04-11 Orchardgateway
Opening Hours: Mon-Sun: 11:00 AM – 09:00 PM
How to get there: Somerset MRT and a quick walk over
COOL FREE SPOT 3: MARINA BAY SANDS LIGHT SHOW
This is a spectacular light show. Not only do you have the beautiful backdrop of the Singapore skyline, the Marina Bay Sands (MBS) and MBS boardwalk, but the light show itself is precise, entertaining and impressive. When you first hear of this, you may immediately think that it could be a hit or miss tourist trap. We tested it out and it is not a tourist trap nor should you give it a miss!
The MBS light show uses underwater LED fixtures that were specially designed to show in richer, more perfect colors and the soundtrack synchronization software used to trigger all the lasers, lights and projections is timed by the milliseconds.
Clearly, Singapore not only knows how to impress and pulls out all the stops to do so!
---
Our Secret Tip – go there for sunset with a little snack or dinner picnic in hand. Then book a seat for the light show that starts at 8:00pm. After that, walk down to the Supertree Grove to catch the amazing Garden Rhapsody light show (see the next on this list or our blog on Gardens by the Bay, Supertree Grove and Cloud Forest Dome for more details)
---
Showtimes: Sunday to Thursday – 8:00pm and 9:00pm and Friday & Saturday – 8:00pm, 9:00pm & 10:00pm
How to get there: Bayfront MRT station
COOL FREE SPOT 4: SUPERTREE GROVE LIGHT SHOW GARDEN RHAPSODY
These Supertrees get a double mention in this list and gets our top vote for cool free things to do in Singapore. But seriously Singapore, you completely stole our hearts with this one! Twice a night, every night, the Supertree Grove transforms into the most magical world of fantasy of lights and music. It hardly does justice to the show to say that it's a synchronized light and music show. It is a completely wondrous creative immersion of lights, music evoking your imagination of a fantasy world of fairies, beauty and dreams.
Click Here To See The Full Guide To The Gardens by the Bay
This magic happens nightly at 7:45pm and again at 8:45pm and is completely free. We were there as many nights as we could make it! And just to make sure that people, like us, come as many nights as possible and not get tired of it, the Garden Rhapsody themes changes monthly, so new music new lights! Ah, Singapore, you're an amazement!
---
Our Secret Tip: Instead of heading down to the base of the Supertrees Grove, find a little nook at the level above and watch the show from there. You will get a completely unobstructed view of the show and very people. 
---
How to get there: Take the MRT to Bayfront station. Take Exit B, follow the underground linkway and cross the bridge to Gardens by the Bay.
Click here our Blog on the of Top Instagrammable Spots in Singapore 
COOL FREE SPOT 5: BUDDHA TOOTH RELIC TEMPLE
This is not just a beautiful temple. The temple claims that the Buddha Tooth Relic Temple houses the actual left canine tooth relic of Buddha! That alone got this temple on our 'Cool Free Things to do in Singapore' list. It also has an amazing Vairocana Buddha Prayer Wheel, the Buddhist Prayer Wheel in the world.
Click Here for Everything You Need to Know About the Tooth and the Buddha Tooth Relic Temple.
Address: 288 South Bridge Road, Singapore 058840
Opening Hours: 09:00 – 18:30
How to get there: MRT to the Chinatown station and take Exit A at Pagoda Street then turn right at South Bridge Road
COOL FREE SPOT 6: BOTANIC GARDEN
The Singapore Botanic Gardens is definitely one of the top cool free things to do in Singapore! Just a short 5 min drive or 20-minute walk from Singapore's main Orchard Road area, it's the perfect place to spend the morning if you want a quick getaway from the city bustle.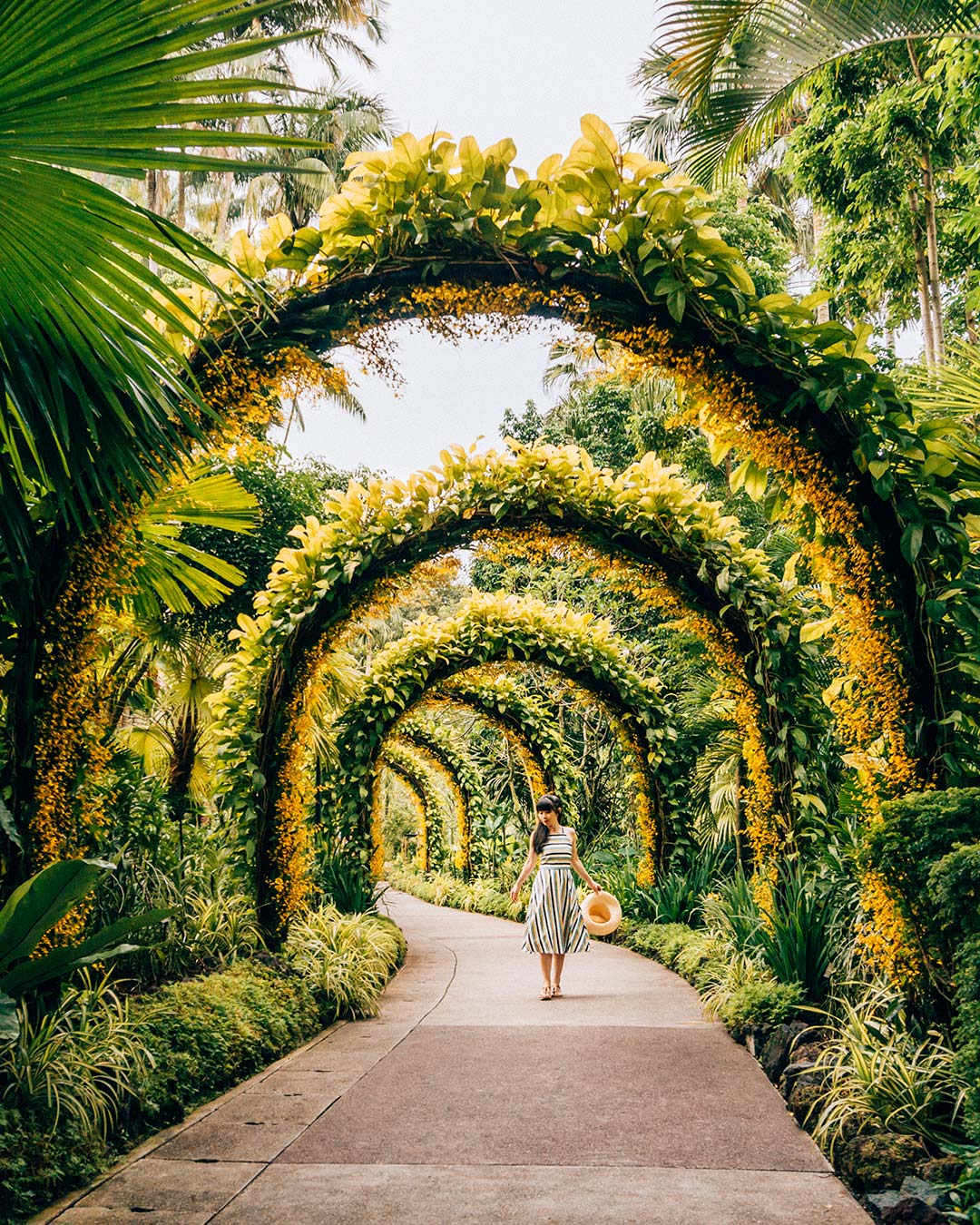 The Singapore Botanic Gardens is over 150 years old and is the only tropical botanic garden listed as a UNESCO's World Heritage site. This stunning 82-hectare beauty is the most visited botanic gardens in the world and gets about 4.5 million visitors annually!
Click Here To Find out Why You Should Visit the Singapore Botanic Gardens
Address: 1 Cluny Rd, Singapore 259569
Opening Hours: The main part of the garden is open daily from 5am – 12 midnight. Other Gardens have different opening hours.
How to get there: It's about a 20-minute walk from the Orchard MRT station. The Botanic Gardens MRT station takes you to the far end of the gardens by the Bukit Timah Gate.
Heres to amazing travels!
Sue + Renesh
* Disclaimer: As an Amazon Associate I earn from qualifying purchases. Some links included in this description are affiliate links. If you purchase a product or service with the links that I provide I may receive a small commission. There is no additional charge to you! Thank you for supporting my blog so I can continue to provide you with free more each week!
OUR FAVOURITE TRAVEL ESSENTIALS
Universal Adapter – Universal All in One Worldwide Travel Adapter is the ultimate solution to all your charging needs while on the go! With its compact size and compatibility with over 150 countries, you can now travel worry-free without the fear of running out of battery or not being able to charge your device.
First Aid Kit – First Aid Only is the perfect solution for those who are always on the go and want to be prepared for any minor wound care needs, with an assortment of adhesive bandages included.
Mosquito Repellent – US Organic Mosquito Repellant is a safe and natural option, perfect for kids and those with sensitivities.
Ear Plug – Noise Reduction Ear Plugs are a must-have for long haul flights. These ear plugs are designed to block out unwanted noise, allowing you to get some much-needed rest and relaxation during your flight.
Eco-Friendly Sunscreen – Banana Boat Sport Ultra Reef Friendly Sunscreen Lotion is not only safe for your skin but also for the coral reef, making it the perfect choice for water activities without harming the marine creatures.
Waterproof Bag – HEETA Waterproof Dry Bag is a game-changer for any adventurer looking to keep their belongings dry and secure during any water activity. The durable and lightweight design allows you to easily store and carry all of your essential items while enjoying any water-based adventure. Whether you're kayaking, fishing, island hopping, or just lounging at the beach, HEETA has got you covered!
WHERE TO STAY IN SINGAPORE
Luxury Boutique Hotel – AMOY HOTEL: Designed to give guests an experiential glimpse into Chinese history. The entrance of the hotel is the original Fuk Tak Chi temple build in the 1820s. Rooms are designed to include heritage accents and no two rooms are alike in layout and furnishing. Perfect for those who appreciate design, architecture and Chinese history. Find the latest prices for Amoy Hotel here.
Luxury Boutique Hotel – ANN SIANG HOUSE: A beautifully restored heritage building that is nestled in the lively area of Ann Siang Road known for the rooftop bars, restaurants and beautiful Peranakan houses. Just a 5-minute walk from Chinatown, it's perfect for those who love to be right in the center of a lively neighborhood, good food and buzzing nightlife. Find the latest prices for Ann Siang House here.
For other places to stay in Singapore, click here for a list and the latest prices.
More of Singapore
THINGS TO KNOW WHEN TRAVELING TO SINGAPORE
ARTSCIENCE MUSEUM + FUTURE WORLD EXHIBITION
TOP INSTAGRAMMABLE PLACES IN SINGAPORE
---
Like this? Pin it for Later!