Hey there, travel enthusiasts! If you're heading to Bangkok and want to capture some picture-perfect moments for your feed, you're in for a treat. During our recent trips to Bangkok, we made it our mission to seek out the most Instagrammable places to make our followers "Wow!". Get your camera ready as we take you on a visual journey through the top Instagrammable places in Bangkok!
First time in Bangkok? Check out our Bangkok Travel Guide for First Timers
1. Damnoen Saduak Floating Market
During our trip, we couldn't resist visiting the enchanting Damnoen Saduak Floating Market, one of the top Instagrammable places in Bangkok. The colorful boats, filled with fresh fruits and local goodies, gently floating along the picturesque canals, created the most mesmerizing scenes. Trust us; your camera will work overtime here, capturing this bustling market's vibrant energy and unique cultural experience.
Bangkok has many floating markets, but Damnoen Saduak is one of the most photogenic and less crowded than others. They sell everything from clothing to food to souvenirs – you name it! Remember to be ready for friendly bargaining. But all in all, it was a fun and rewarding experience exploring the different scenes and interacting with the friendly vendors. Remember to head to the bridges that serve as viewpoints, offering a stunning aerial view of the boats floating gracefully below!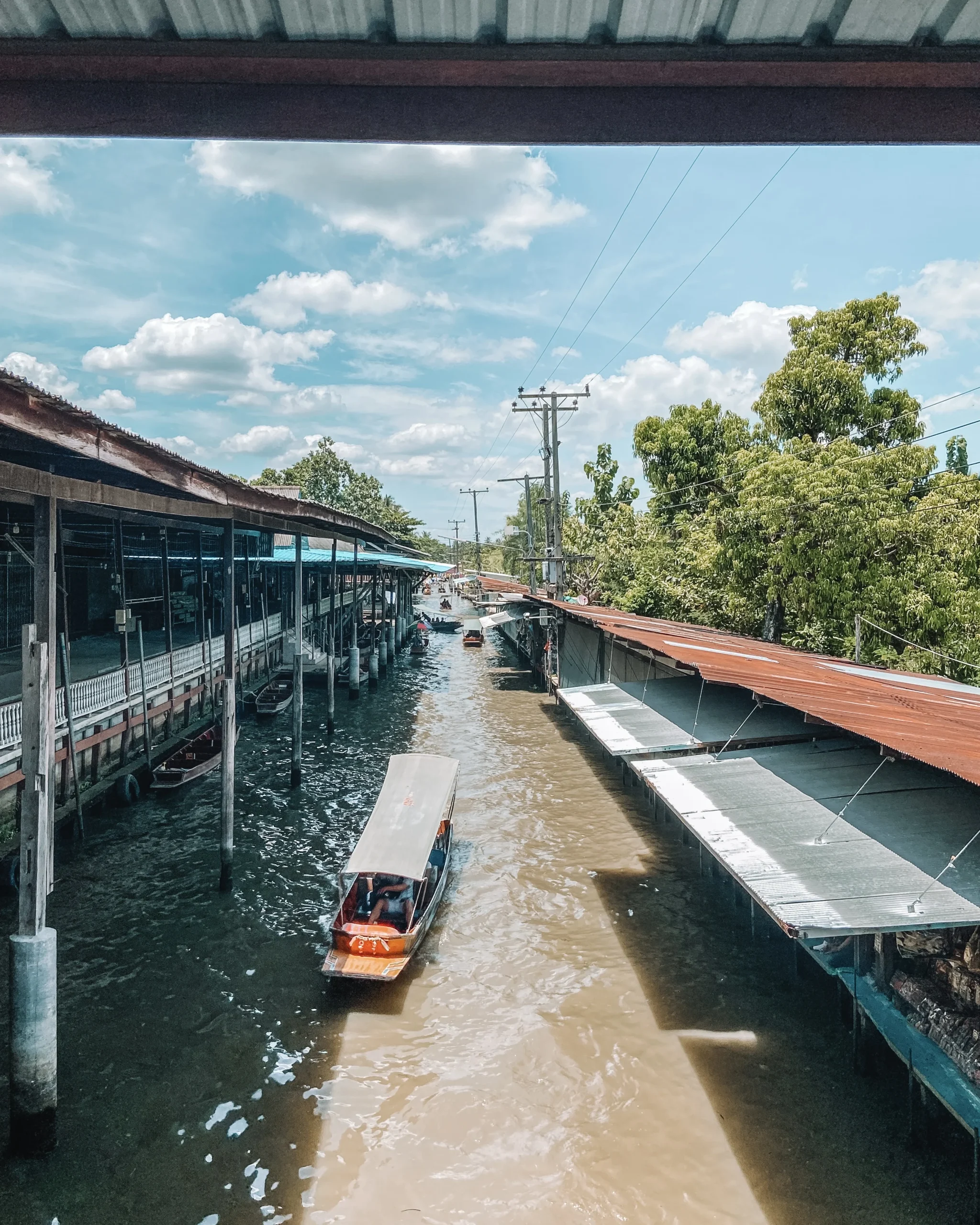 2. Maeklong Railway Market
Next on our list of top Instagrammable places in Bangkok is the heart-pounding Maeklong Railway Market. This place is an adrenaline junkie's dream and offers a once-in-a-lifetime Instagram opportunity you won't want to miss. Picture this: market stalls set up right on an active train track, and when the train approaches, the vendors retract their awnings with lightning speed to make way for it. It's a jaw-dropping spectacle that will leave you in awe of the timing and precision involved.
When you visit the Maeklong Railway Market, timing is everything. To capture the highlight of the experience, make sure to be there when the train approaches.
Read our 20 Things We Wish We Knew Before Traveling To Bangkok
3. Bangkok Art & Culture Centre (BACC)
Another gem on the list of Instagrammable spots in Bangkok is the captivating BACC. As we explored the city's vibrant art scene, we stumbled upon this contemporary art space that quickly became one of our favorite places to snap some truly stunning photos. The BACC offers a plethora of Instagram-worthy spots that will make your feed pop with colors and creativity.
One of the best things about the Bangkok Art & Culture Centre is its free entrance. Once inside, you'll find yourself in a creative wonderland with countless art installations and exhibitions. One of the highlights of our visit was the spiral walkway. The spiral walkway's intriguing design and play of light and shadows create a dreamy backdrop for your Instagram shots.
4. Wat Prayoon
As we continued our exploration of the top Instagrammable places in Bangkok, we stumbled upon the Wat Prayoon. This lesser-known temple stole our hearts with its tranquil gardens and a striking white stupa adorned with skull mosaics. The traditional Thai architecture created an idyllic backdrop for our Instagram shots, and we knew we had found something extraordinary.
One of the things that pleasantly surprised us about Wat Prayoon was the fact that it offers free entrance. Yes, you read that right – there's no admission fee to explore this beautiful temple complex. Instead, donations are welcome, allowing visitors to contribute to maintaining and preserving this cultural treasure.
But what truly set Wat Prayoon apart was the lack of crowds. Unlike some of the more famous temples in Bangkok, this hidden gem is a peaceful haven where you can wander and take photos without feeling rushed or overcrowded. It allowed us to savor the moments and capture the beauty of the temple at our own pace.
If you're looking for a lesser-known and picturesque temple to visit in Bangkok, Wat Prayoon should be on your list. It's a perfect spot for capturing serene and captivating shots that will leave your followers in awe. So, take advantage of this hidden gem! Read our blog here for our experience at Wat Prayoon.
5. Wat Arun
As the sun set over the Chao Phraya River, we found ourselves in awe of the mesmerizing beauty of Wat Arun. Wat Arun is undoubtedly one of the top Instagrammable spots in Bangkok. The intricate architecture and picturesque location make it a must-visit destination for any photography enthusiast looking to add a touch of beauty and wonder to their feed.
If you want to infuse your Instagram with cultural richness, consider checking out the numerous stalls around the temple complex that offer costume rentals. You can wear traditional Thai attire for as low as 150 THB per person (around 4 USD). The exquisite Thai costumes will elevate your photos and provide a more profound cultural experience that will resonate with your audience.
6. The Erawan Museum
As we ventured through the enchanting city, The Erawan Museum is undeniably one of the top Instagrammable spots in Bangkok. We were immediately drawn to the massive three-headed elephant statue. Its intricate design and vibrant colors left us in awe, setting the tone for the magical experience that awaited us inside.
Stepping into the museum's interiors felt like crossing into a realm of mythical wonders. The journey through its halls was nothing short of extraordinary. From the intricately adorned walls to the mesmerizing artwork and architecture, each corner of the museum offered a visual treat that effortlessly mesmerized our followers with the sheer grandeur of this unique attraction.
7. Muangboran, the Ancient City
Lastly, a visit to Muangboran, proved to be a journey through time that exceeded all our expectations. It's a must-visit for photography enthusiasts and history buffs, making it one of the top Instagrammable places in Bangkok. The replicas of Thailand's iconic landmarks and historical sites offered an immersive experience that delighted photography enthusiasts and history buffs alike.
To be honest, we underestimated the sheer size of this place; it turned out to be much larger than we had imagined. With so much to explore and capture, we quickly realized that spending significant time here was essential to appreciate its wonders truly.
Thankfully, there are many ways to navigate through this vast expanse of history. You can take a leisurely walk around the museum. Alternatively, if you want to cover more ground efficiently, you can rent a buggy, which offers a fun and convenient way to see the highlights without exhausting yourself.
With countless photo opportunities at every corner, we found ourselves immersed in the beauty of the replicas, trying to capture each moment as vividly as possible. From ancient temples and palaces to traditional villages and ancient ruins, Muangboran provided diverse subjects.
Wishing you happy snapping!
Sue + Renesh
* Disclaimer: As an Amazon Associate, I earn from qualifying purchases. Some links included in this description are affiliate links. If you purchase a product or service with the links that I provide I may receive a small commission. There is no additional charge to you! Thank you for supporting my blog so I can continue to provide you with free more each week!
OUR MUST-HAVE BANGKOK TRAVEL ESSENTIALS
Anti-Theft Messenger Bag – Anti-Theft Classic Essential Messenger Bag is the perfect solution to keep your belongings secure while exploring a new city. With its slash-resistant body and lockable zippers, this bag protects your essentials from pickpockets and thieves.
Travel Pillow – Inflatable Lumbar Travel Pillow is the perfect companion for long-haul flights! This adjustable pillow provides the necessary support for your lower back, ensuring maximum comfort throughout the flight. It's compact, lightweight, and easy to pack, making it an essential item for any traveler.
Universal Adapter – Universal All in One Worldwide Travel Adapter is the ultimate solution to all your charging needs while on the go! With its compact size and compatibility with over 150 countries, you can now travel worry-free without the fear of running out of battery or being unable to charge your device.
Waterproof Bag – HEETA Waterproof Dry Bag is a game-changer for any adventurer looking to keep their belongings dry and secure during any water activity. The durable and lightweight design allows you to easily store and carry all your essential items while enjoying any water-based adventure. Whether kayaking, fishing, island hopping, or just lounging at the beach, HEETA has got you covered!
WHERE TO STAY IN BANGKOK
BY THE RIVER
SHANGRI-LA BANGKOK: A luxurious haven on the banks of the Chao Phraya River with some of the most fantastic sunset views. Perfect base for those who want to explore the Grand Palace and the city's amazing Wats by the river. Check the latest prices and book the Shangri-La Bangkok here.
IN THE HEART OF THE CITY
SO/ SOFITEL BANGKOK: A visually stunning luxurious urban hotel designed by Thailand's top five designers and Christian Lacroix. The hotel is uniquely designed; it's like a modern art gallery. Perfect for all art and design enthusiasts who want to explore every part of the city. Check the latest prices and book the SO/ SOFITEL BANGKOK here.
MODERN HIP AREA OF THONGLOR
VOLVE HOTEL BANGKOK: A warm, chic designer hotel located in the hip district of Thonglor. Perfect for travelers who want to explore a less touristy side of Bangkok. And to food lovers, Thonglor is known to have some of the best restaurants, cafes, and bars in Bangkok! Check the latest prices and book the VOLVE HOTEL BANGKOK here.
For other places to stay in Bangkok, click here for a list and the latest prices.
MORE ON TRAVEL TIPS
TRAVEL LIKE A LOCAL: INSIDE TIPS FOR EXPLORING SOUTHEAST ASIA
20 THINGS WE WISH WE KNEW BEFORE TRAVELING TO BANGKOK
MALAYSIA INSIDER TIPS: WHAT LOCALS WANT YOU TO KNOW BEFORE TRAVELING TO MALAYSIA
KUALA LUMPUR TRAVEL GUIDE FOR FIRST-TIMERS
A GUIDE TO VISITING MALAYSIA DURING RAMADAN
TIPS FOR ISLAND HOPPING IN THAILAND
KOH LIPE TRAVEL INFORMATION FOR FIRST-TIMERS
BALI TRAVEL GUIDE FOR FIRST-TIMERS (UPDATED JULY 2023)
BALI'S STRICT RULES THAT WILL AFFECT YOUR NEXT TRIP (AS OF JULY 2023)