Siem Reap is a city that welcomes visitors with hospitality, and breathtaking sights. Unfortunately, common scams in Siem Reap can pose challenges for unsuspecting tourists. As fellow travelers who have marveled at the ancient wonders of Siem Reap, we want to share our firsthand experiences to help you navigate the potential scams.
Read Things We Wish We Knew Before Traveling to Siem Reap
1. Tuk-tuk Overcharging
One of the common scams in Siem Reap is tuk-tuk drivers attempting to overcharge tourists, particularly those who may not be familiar with the local prices. This is especially prevalent when traveling to out-of-city destinations where finding a driver from the area can be challenging. To avoid falling victim to this scam, it's essential to negotiate the fare before getting into the tuk-tuk.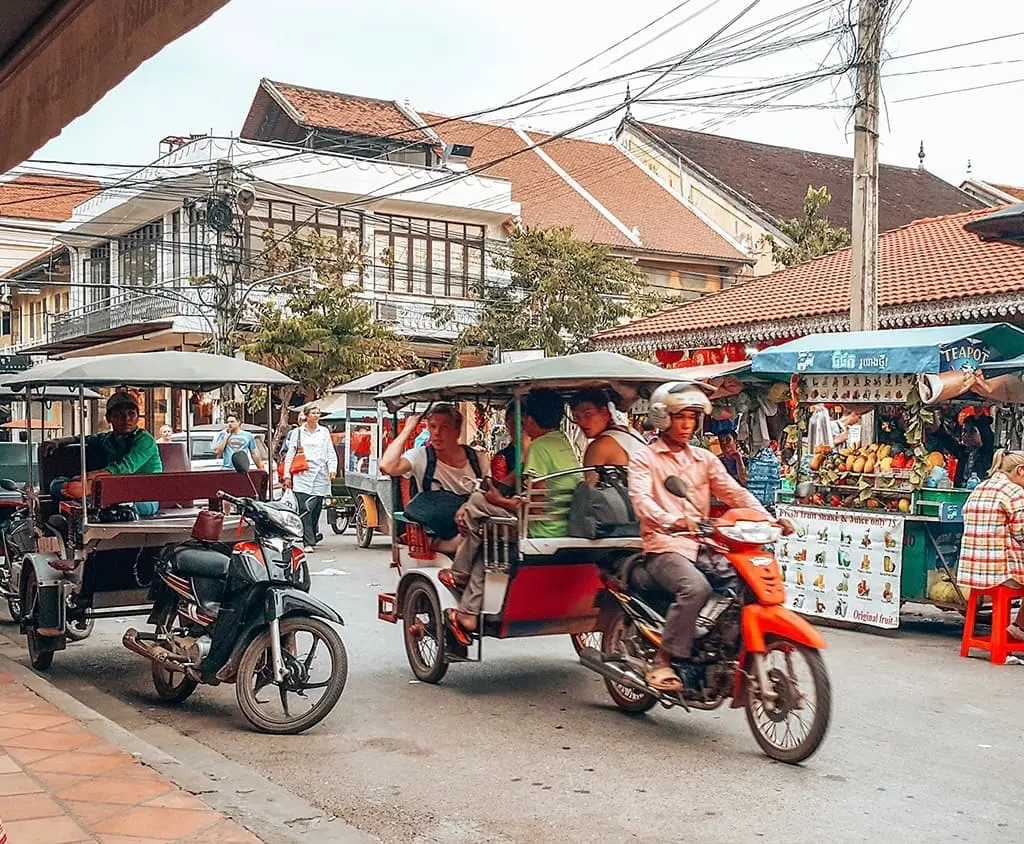 Alternatively, you can consider using a ride-hailing app like Grab or PassApp that offers fixed prices. Additionally, be cautious of drivers who may pressure you into paying extra for tips. While giving tips for good service is not wrong, it should be voluntary. If you choose to book a tuk-tuk through Grab, it is recommended to pay through the app for a hassle-free transaction. It is important to note that PassApp only accepts cash payments.
2. Fake Tickets
Another common scam in Siem Reap involves the sale of fake tickets. Scammers prey on tourists by offering counterfeit tickets or enticing deals that appear too good to pass up. Stick to authorized sellers, such as reputable travel agencies or official ticket counters at the attractions.
If possible, consider buying tickets directly from the attraction's official website, as it is the safest and most reliable option. By obtaining legitimate tickets from trusted sources, you can ensure that you'll have a seamless experience without any surprises.
3. Fake Monks and Blessings
Individuals impersonating monks is also one of the common scams in Siem Reap. These fake monks may approach visitors, offering blessings or requesting donations for temples or charitable causes. It's important to note that authentic monks do not actively seek donations or engage in such behavior.
If you want to donate or contribute to a temple or charity, it's best to do so directly at recognized establishments. Research and identify legitimate temples or charitable organizations in advance. This is to ensure your contributions are going to the intended cause.
Check out our Angkor Wat in Siem Reap: A Comprehensive Guide
4. Unofficial Tour Guides
Next, unauthorized individuals masquerading as tour guides is also one of the common scams in Siem Reap. These individuals may approach you, especially around the Angkor Wat complex, offering their services at discounted prices. While some individuals may possess a basic knowledge about the attractions, they often need more accreditation, and in-depth understanding than licensed tour guides provide. Choosing an unauthorized tour guide can result in a bad and unreliable experience, and you may miss valuable insights and historical context.
Always opt for licensed tour guides or reputable tour companies to ensure a reliable and informative tour. Licensed tour guides undergo training, and can offer a deeper understanding of the historical and cultural significance of the sites you visit.
Read Essential Tips For Exploring Angkor Wat.
Based on our experience, it's not uncommon for individuals posing as tour guides to persistently follow you, even after you've declined their services. In such cases, you should ignore them and continue with your planned itinerary.
5. Fake Transportation Services
Last but not least, one common scam in Siem Reap involves fake transportation services. Scammers may advertise attractive prices for transportation, such as airport transfers or day tours, enticing unsuspecting travelers to book with them. These scammers may fail to deliver the promised service, leaving you stranded or causing unnecessary stress during your trip.
To avoid falling victim to this scam, booking transportation services through trusted websites or directly from your accommodation is recommended. Many reputable accommodations in Siem Reap offer their transportation services or can recommend trusted providers. You can ensure a safe and reliable transportation experience by booking through these reliable channels.
Check here for a list and the latest prices of where to stay in SIEM REAP, Cambodia.
Wishing you safe travels!
Sue & Renesh
* Disclaimer: As an Amazon Associate, I earn from qualifying purchases. Some links included in this description are affiliate links. If you purchase a product or service with the links that I provide, I may receive a small commission. There is no additional charge to you! Thank you for supporting my blog so I can continue to provide you with free more each week!
OUR TRAVEL ESSENTIALS
Universal Adapter – Universal All in One Worldwide Travel Adapter is the ultimate solution to all your charging needs while on the go! With its compact size and compatibility with over 150 countries, you can now travel worry-free without the fear of running out of battery or being unable to charge your device.
Eco-Friendly Sunscreen – Banana Boat Sport Ultra Reef Friendly Sunscreen Lotion is safe for your skin, making it the perfect choice for outdoor activities.
Portable Utensil – Portable Utensil is a great way to reduce travel waste. These portable utensils are lightweight and easy to pack, making them a convenient addition to your travel gear.
Anti-Theft Messenger Bag – Anti-Theft Classic Essential Messenger Bag is the perfect solution to keep your belongings secure while exploring a new city. With its slash-resistant body and lockable zippers, this bag protects your essentials from pickpockets and thieves.
First Aid Kit – First Aid Only is the perfect solution for those who are always on the go and want to be prepared for any minor wound care needs, with an assortment of adhesive bandages included.
Protein Bar – Feel Vegan Protein Bar is the perfect snack for a long temple run. Packed with plant-based protein, fiber, and nutrients, it keeps you full and energized throughout your day. Plus, it's gluten-free and has no artificial sweeteners or preservatives.
MORE ON TRAVEL TIPS
TRAVEL LIKE A LOCAL: INSIDE TIPS FOR EXPLORING SOUTHEAST ASIA
20 THINGS WE WISH WE KNEW BEFORE TRAVELING TO BANGKOK
MALAYSIA INSIDER TIPS: WHAT LOCALS WANT YOU TO KNOW BEFORE TRAVELING TO MALAYSIA
KUALA LUMPUR TRAVEL GUIDE FOR FIRST-TIMERS
A GUIDE TO VISITING MALAYSIA DURING RAMADAN
TIPS FOR ISLAND HOPPING IN THAILAND
KOH LIPE TRAVEL INFORMATION FOR FIRST-TIMERS
BARCELONA TRAVEL TIPS: THINGS WE WISH WE KNEW BEFORE TRAVELING TO BARCELONA
---