When we first set foot in Angkor Wat, its grandeur instantly mesmerized us. The sprawling temple complex stood before us, a magnificent testament to the ancient Khmer civilization. As we walked through its hallowed grounds, we were transported to a different era, where the echoes of history reverberated in every stone and carving. This blog covers everything you need to know before visiting the majestic Angkor Wat.
Angkor Wat History and Architecture
Angkor Wat, situated in Siem Reap, Cambodia, is an awe-inspiring architectural marvel that stands as a testament to the grandeur and achievements of the Khmer civilization. Built in the 12th century by King Suryavarman II, this magnificent temple complex holds tremendous historical and cultural significance. Originally constructed as a Hindu temple dedicated to Vishnu, Angkor Wat was later transformed into a Buddhist shrine. Its architecture and artistic elements reflect this unique amalgamation of Hindu and Buddhist influences, creating a harmonious blend of spiritual traditions.
As you approach the temple, you'll be greeted by its five soaring towers representing the mythical Mount Meru. The intricate and elaborate carvings on the temple's walls and galleries depict scenes from Hindu epics and historical events from the Khmer Empire. The bas-reliefs found throughout Angkor Wat are a sight to behold. These elaborate stone carvings showcase remarkable craftsmanship, telling stories of divine beings, battles, and everyday life during the Khmer civilization. They provide a glimpse into the rich history, and cultural practices of the time.
Where to Get Angkor Wat Entrance Tickets
1. Angkor Park Pass Ticket Counters
The most commonly used option is to purchase your entrance tickets directly at the Angkor Park Pass Ticket Counters. The ticket office opens at 5:00 am, allowing early risers to acquire their tickets in time for sunrise visits. You can choose from various ticket options, including one-day, three-day, and seven-day passes, depending on the duration of your stay and the level of exploration you desire.
2. Online Purchase
On the other hand, you can also purchase your Angkor Wat entrance tickets through the official website in advance. This option saves you time, as you can bypass the ticket queue and head directly to the temple complex. Ensure you print out your online ticket or have it readily accessible on your mobile device for verification.
3. Authorized Travel Agencies and Tour Operators
Another option is through authorized travel agencies and tour operators. These agencies often offer package deals, including transportation, guides, and entrance tickets. It can be a convenient option if you prefer a guided tour or want assistance with other aspects of your visit. Ensure that you choose a reputable agency to ensure the authenticity of your tickets.
Regardless of where you acquire your entrance tickets, carrying them with you at all times during your visit to Angkor Wat is essential. The tickets will be checked at various entry points within the temple complex, so keeping them easily accessible will save you from any inconvenience. Remember, your Angkor Wat entrance ticket grants you access to the main temple and other nearby temples within the Angkor Archaeological Park.
Opening Hours
Angkor Wat's opening hours are typically from 5:00 am to 6:00 pm. However, checking for any updates or changes is essential, as they may vary depending on the season and specific circumstances. Arriving early in the morning allows you to witness the captivating sunrise, while exploring later may offer a more tranquil atmosphere.
Location
Located in Siem Reap, Cambodia, Angkor Wat is just a short distance from the city center. The temple complex is nestled within lush surroundings, with the Angkor Archaeological Park covering an area of approximately 400 square kilometers.
Where to Stay
Siem Reap offers a wide range of accommodations, catering to different budgets and preferences. There are many options, from luxurious resorts with stunning views to charming boutique hotels and budget-friendly guesthouses. Consider staying in the city center to easily access Angkor Wat and the surrounding attractions.
Check here for a list and the latest prices of where to stay in SIEM REAP, Cambodia
Nearby Attractions
While Angkor Wat steals the spotlight, the Angkor Archaeological Park is home to numerous other temples and attractions worth exploring. Bayon, with its iconic smiling faces, and Ta Prohm, engulfed by towering trees, are among the most popular. Don't miss Banteay Srei, known for its exquisite pink sandstone carvings. Each temple offers a unique glimpse into the rich Khmer history and artistry.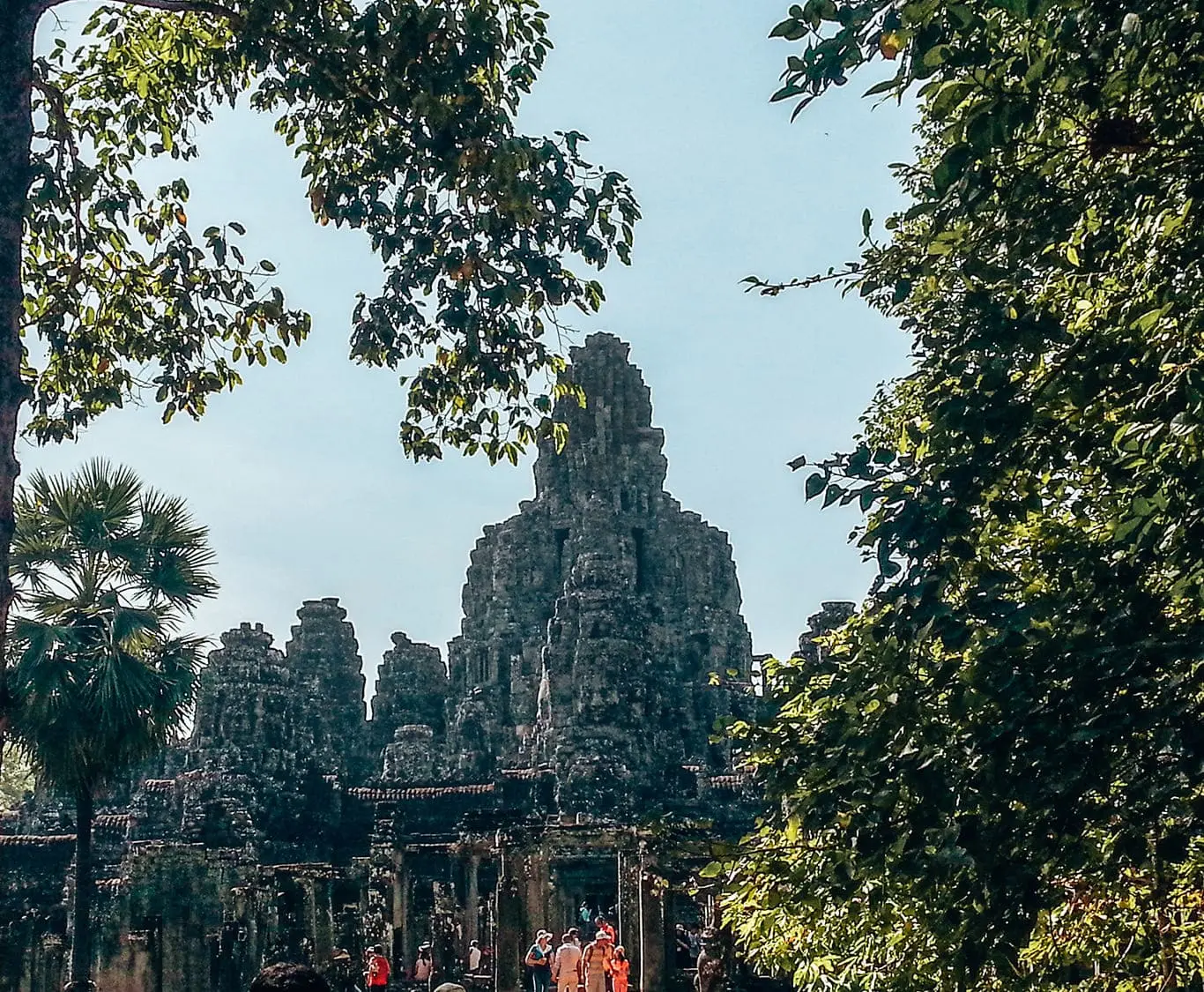 How to Get to the Angkor Wat 
Getting to Angkor Wat is relatively easy. Tuk-tuks are famous and affordable, allowing you to explore freely. Renting bicycles provides a more active and eco-friendly way to reach the temple complex. Private drivers offer comfort and convenience, especially for those with limited time.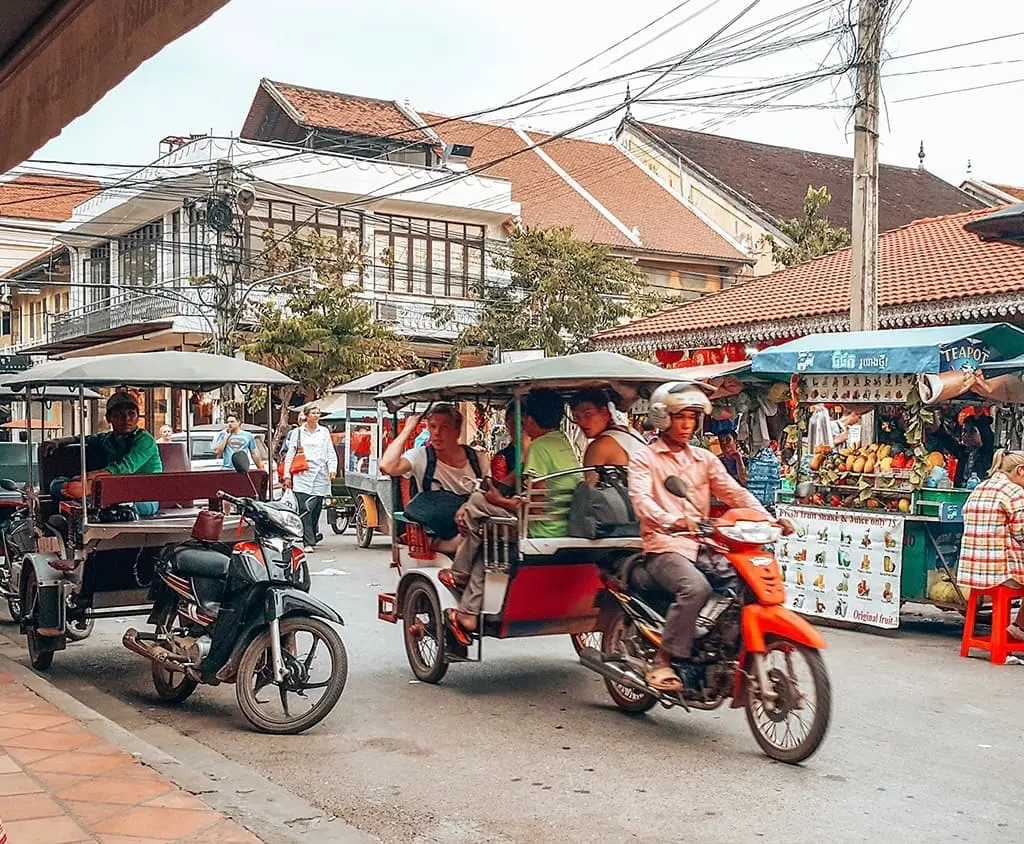 Ultimate Insider Tips
1. Off-Peak Hours
To truly immerse yourself in the beauty of Angkor Wat without the crowds, we highly recommend considering a visit during non-peak hours. While mornings and afternoons are busier, you can explore the temple complex during off-peak hours when the number of visitors is lower. This allows you to have a more intimate experience and appreciate the serenity of the surroundings.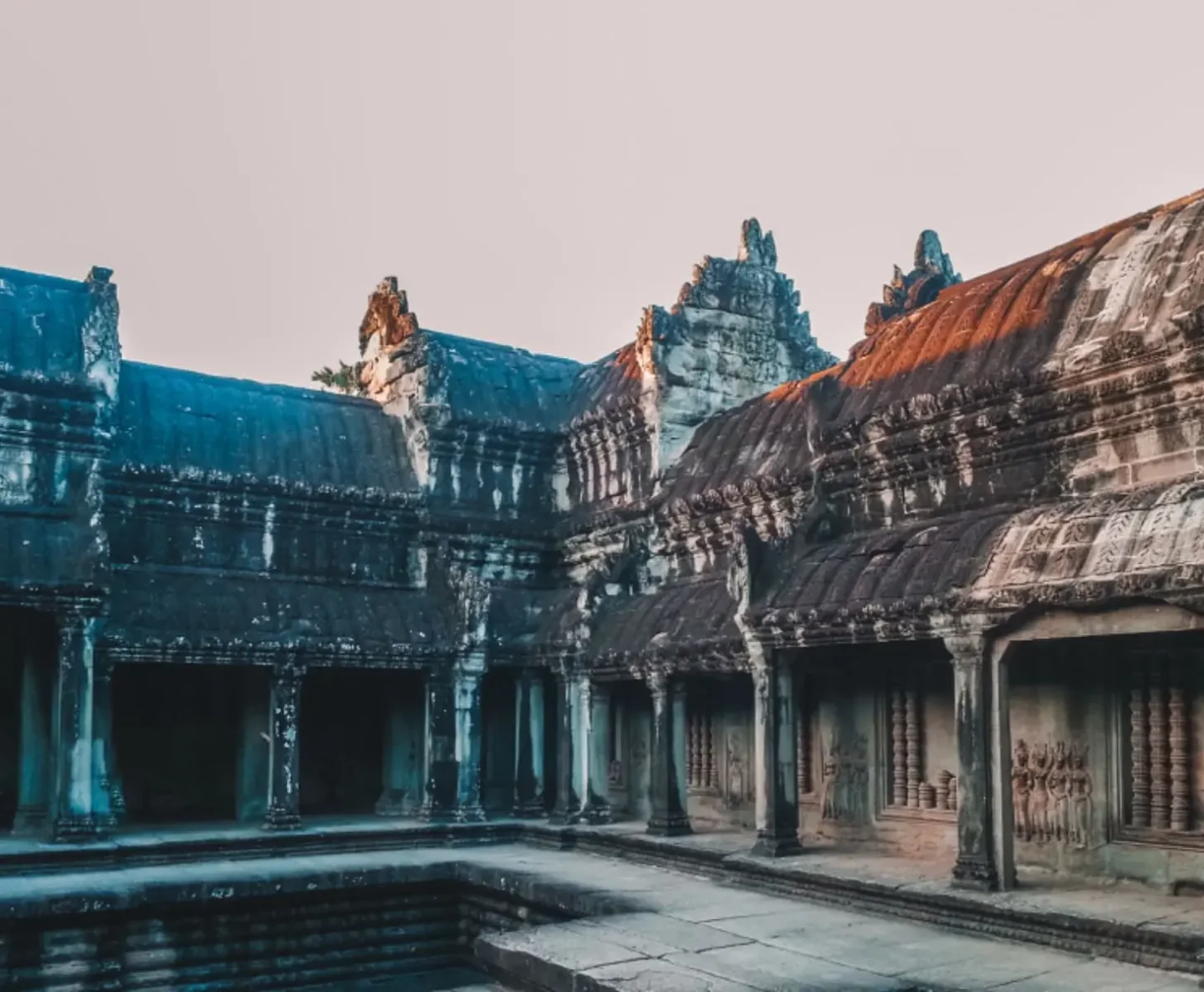 Additionally, consider exploring the lesser-known sections of the complex, such as the outer galleries or hidden temples, where you can find moments of solitude and discover hidden gems waiting to be unveiled. By venturing off the beaten path, you'll have the opportunity to create unique memories away from the bustling crowds.
2. Capture the Golden Hour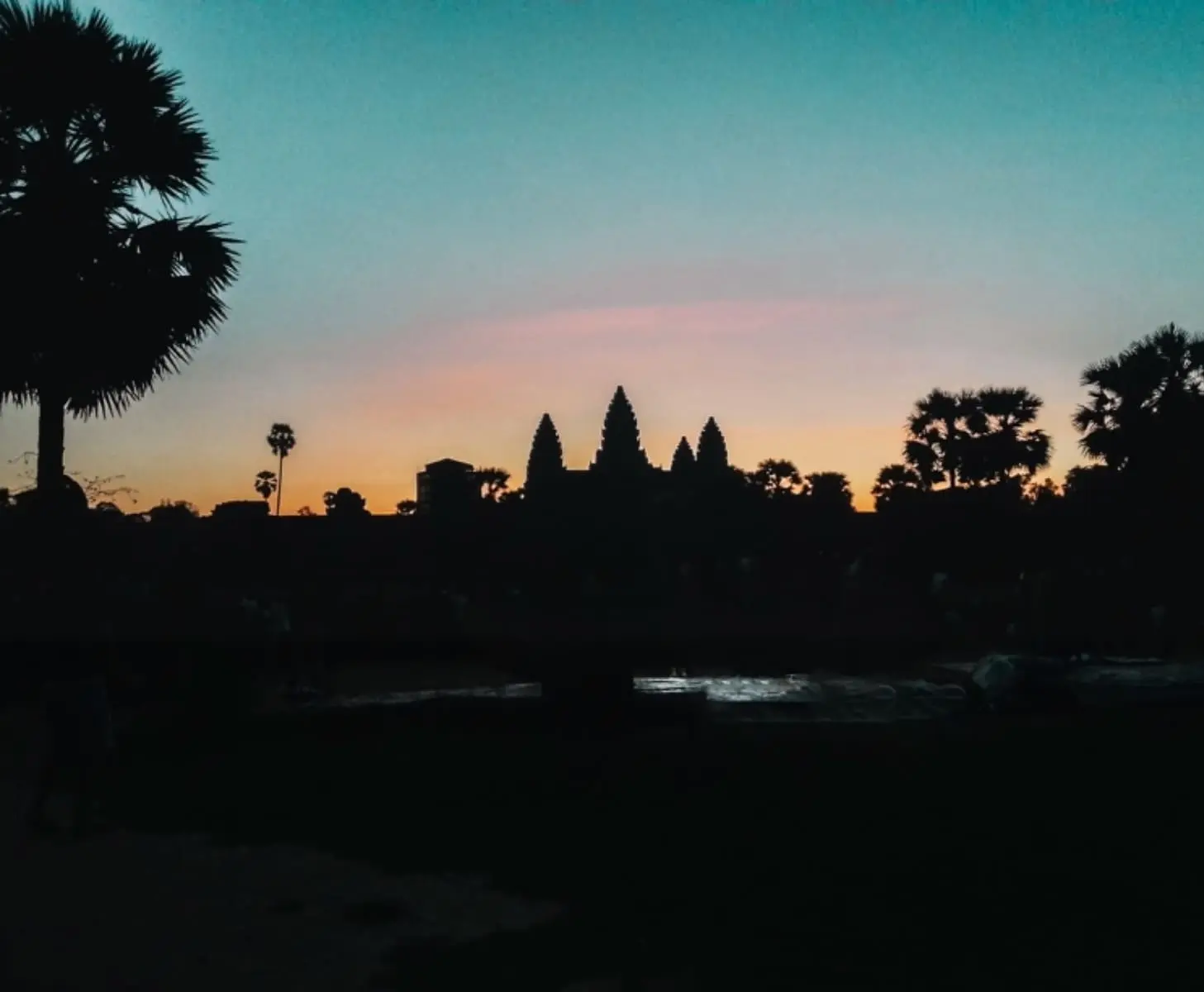 Photography enthusiasts, get ready to be mesmerized by the enchanting golden hour at Angkor Wat. The quiet morning and evening light cast a magical glow on the temple, enhancing its already stunning features. Plan to be at the temple complex for the best photography sessions at sunrise or sunset. During these moments, the sky is painted with vibrant hues, creating a captivating backdrop for your photographs.
Read more Essential Tips for Exploring Angkor Wat
Happy temple-ing!
Sue & Renesh
* Disclaimer: As an Amazon Associate, I earn from qualifying purchases. Some links included in this description are affiliate links. If you purchase a product or service with the links that I provide, I may receive a small commission. There is no additional charge to you! Thank you for supporting my blog so I can continue to provide you with free more each week!
OUR TRAVEL ESSENTIALS
Universal Adapter – Universal All in One Worldwide Travel Adapter is the ultimate solution to all your charging needs while on the go! With its compact size and compatibility with over 150 countries, you can now travel worry-free without the fear of running out of battery or not being able to charge your device.
Eco-Friendly Sunscreen – Banana Boat Sport Ultra Reef Friendly Sunscreen Lotion is safe for your skin, making it the perfect choice for outdoor activities.
Portable Utensil – Portable Utensil is a great way to reduce travel waste. These portable utensils are lightweight and easy to pack, making them a convenient addition to your travel gear.
Anti-Theft Messenger Bag – Anti-Theft Classic Essential Messenger Bag is the perfect solution to keep your belongings secure while exploring a new city. With its slash-resistant body and lockable zippers, this bag protects your essentials from pickpockets and thieves.
First Aid Kit – First Aid Only is the perfect solution for those who are always on the go and want to be prepared for any minor wound care needs, with an assortment of adhesive bandages included.
Protein Bar – Feel Vegan Protein Bar is the perfect snack for a long temple run. Packed with plant-based protein, fiber, and nutrients, it keeps you full and energized throughout your day. Plus, it's gluten-free and has no artificial sweeteners or preservatives.
MORE ON TRAVEL TIPS
TRAVEL LIKE A LOCAL: INSIDE TIPS FOR EXPLORING SOUTHEAST ASIA
20 THINGS WE WISH WE KNEW BEFORE TRAVELING TO BANGKOK
MALAYSIA INSIDER TIPS: WHAT LOCALS WANT YOU TO KNOW BEFORE TRAVELING TO MALAYSIA
KUALA LUMPUR TRAVEL GUIDE FOR FIRST-TIMERS
A GUIDE TO VISITING MALAYSIA DURING RAMADAN
TIPS FOR ISLAND HOPPING IN THAILAND
KOH LIPE TRAVEL INFORMATION FOR FIRST-TIMERS
---