Angkor Wat, a mesmerizing ancient temple complex, stands as a testament to the grandeur and artistic brilliance of the Khmer civilization. Imagine strolling through a mystical temple complex, where old stone walls whisper tales of bygone eras. The intricate carvings and awe-inspiring architecture transport you to a realm untouched by time. This awe-inspiring destination holds a special place in our hearts, and we're excited to share our firsthand experiences and Angkor Wat tips with you.
1. Plan Your Visit In Advance
One of the essential Angkor Wat tips is to plan your visit. Given the vastness of the complex and the multitude of temples and structures to explore, conducting thorough research and creating a well-thought-out itinerary is crucial. Consider the opening and closing hours of the temples you wish to visit and plan your schedule accordingly. Doing so lets you optimize your time and ensure you get all the must-see sites.
Also, checking for any special events, festivals, or maintenance closures that may affect your visit is beneficial. Remember that certain temples may have restricted access or limited availability during these times. To help you better plan, you should consider obtaining a reliable map or guidebook of the complex. These resources often provide valuable information about the layout of the temples, recommended routes, and historical context. A visual aid can help you navigate the expansive grounds and find specific points of interest.
2. Start Early For Sunrise
Another important Angkor Wat tip is to start early for sunrise. Selecting the optimal time to visit this majestic site plays a significant role in capturing its true essence. When it comes to experiencing the magic of Angkor Wat, timing is everything. Consider visiting in the early morning or late afternoon to witness the awe-inspiring sunrise or sunset that bathes the ancient ruins in a mesmerizing golden hue.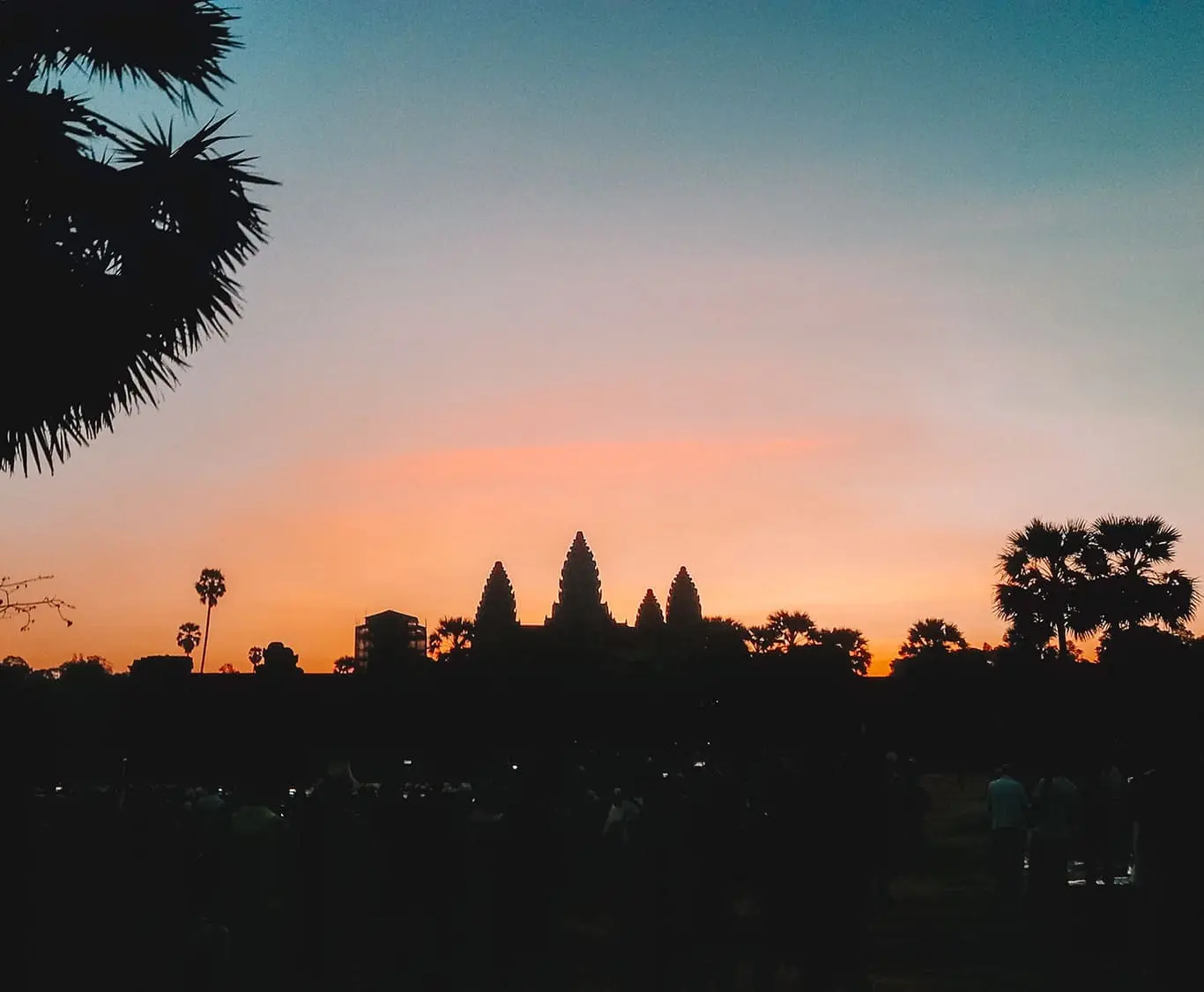 In addition to the visual spectacle, the early morning light provides a fantastic opportunity for capturing stunning photographs. The soft, warm hues and gentle shadows cast by the rising sun create a magical ambiance that adds depth and character to your images. Taking advantage of this quiet time of day allows you to capture the temple's intricate details and architectural magnificence in all its glory.
3. Obtain A Temple Pass
Next important tip for visiting Angkor Wat is to obtain a temple pass. To conveniently acquire your temple pass, you have multiple options available. The temple pass can be obtained from the Angkor Park Pass Ticket Counters near the main entrance. These counters are easily accessible and ensure a straightforward ticketing process.
In addition to the on-site ticket counters, you can also purchase your temple pass through the official website of Angkor Wat. The online ticketing system provides a convenient way to secure your pass in advance, allowing you to save time and avoid potential queues at the ticket counters.
For added convenience, authorized travel agencies and tour operators can also help you get your temple pass. They have the authorization to facilitate the ticketing process and can include it as part of your overall travel package.
Check out our Angkor Wat in Siem Reap: A Comprehensive Guide
4. Dress Comfortably And Respectfully
When exploring Angkor Wat, it is crucial to dress comfortably and respectfully. Based on our firsthand experience, we highly recommend wearing clothing that allows easy movement and comfortable footwear, as navigating the temple complex often involves walking and climbing steep steps.
In addition to comfort, dressing appropriately is essential when visiting Angkor Wat. Respecting the sacredness of the site is of utmost importance. It would be best to cover your shoulders and knees as a sign of reverence and cultural sensitivity. This gesture shows how much you appreciate the religious and cultural significance of the temple.
5. Hydration And Sun Protection
Hydration and sun protection are essential considerations when visiting Angkor Wat, particularly during the hotter months in Cambodia. Cambodia experiences a tropical climate, with the hotter months typically from March to May. During this period, temperatures can soar, and the sun's intensity is at its peak. Therefore, it becomes even more important to prioritize staying hydrated and protecting yourself from the sun's rays.
To combat heat and potential dehydration, we highly recommend carrying a refillable water bottle and drinking water regularly throughout your visit. It's advisable to take small sips frequently to maintain hydration levels.
In addition to staying hydrated, it is crucial to shield yourself from the sun's intense rays during the hotter months. Apply broad-spectrum sunscreen with a high SPF to all exposed skin, including your face, arms, and legs. Wearing a wide-brimmed hat provides shade for your face and protects your neck and scalp. Wear sunglasses with UV protection to protect your eyes from the bright sunlight.
6. Engage A Knowledgeable Guide
One of the most valuable Angkor Wat tips is to engage a knowledgeable guide to enrich your exploration. Navigating the vast complex can be overwhelming, but with a guide, you can easily navigate and ensure you get all the hidden gems. A knowledgeable guide deeply understands the temple's history, architecture, and intricate details. They can share captivating stories behind the ancient carvings, breathing life into the stone walls and offering a profound glimpse into the Khmer civilization.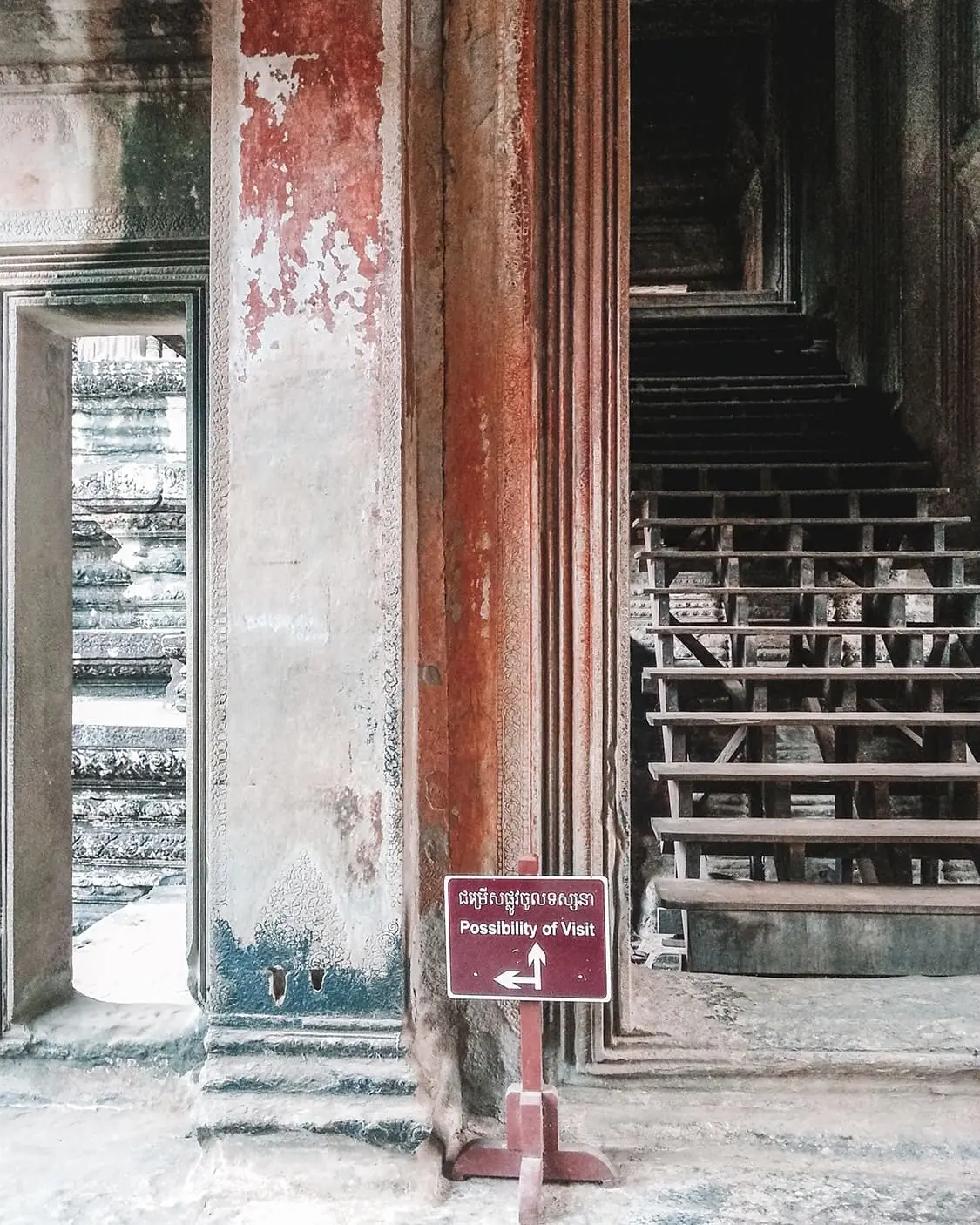 When entering Angkor Wat, being cautious and negotiating with the guides is essential to avoid falling victim to tourist scams. While many reputable guides are available, it's best to clarify the terms and pricing upfront to ensure a fair and transparent arrangement.
7. Explore Beyond The Main Temple
While Angkor Wat rightfully takes center stage, the Angkor Archaeological Park offers a plethora of remarkable temples that deserve your attention. Beyond the iconic Angkor Wat, venture to neighboring temples that showcase their unique charm and architectural splendor. With its enigmatic smiling faces carved into towering stone structures, Bayon is a sight to behold. The intricate details and symbolic significance of these stone faces will leave you in awe and ignite your curiosity about the ancient Khmer civilization.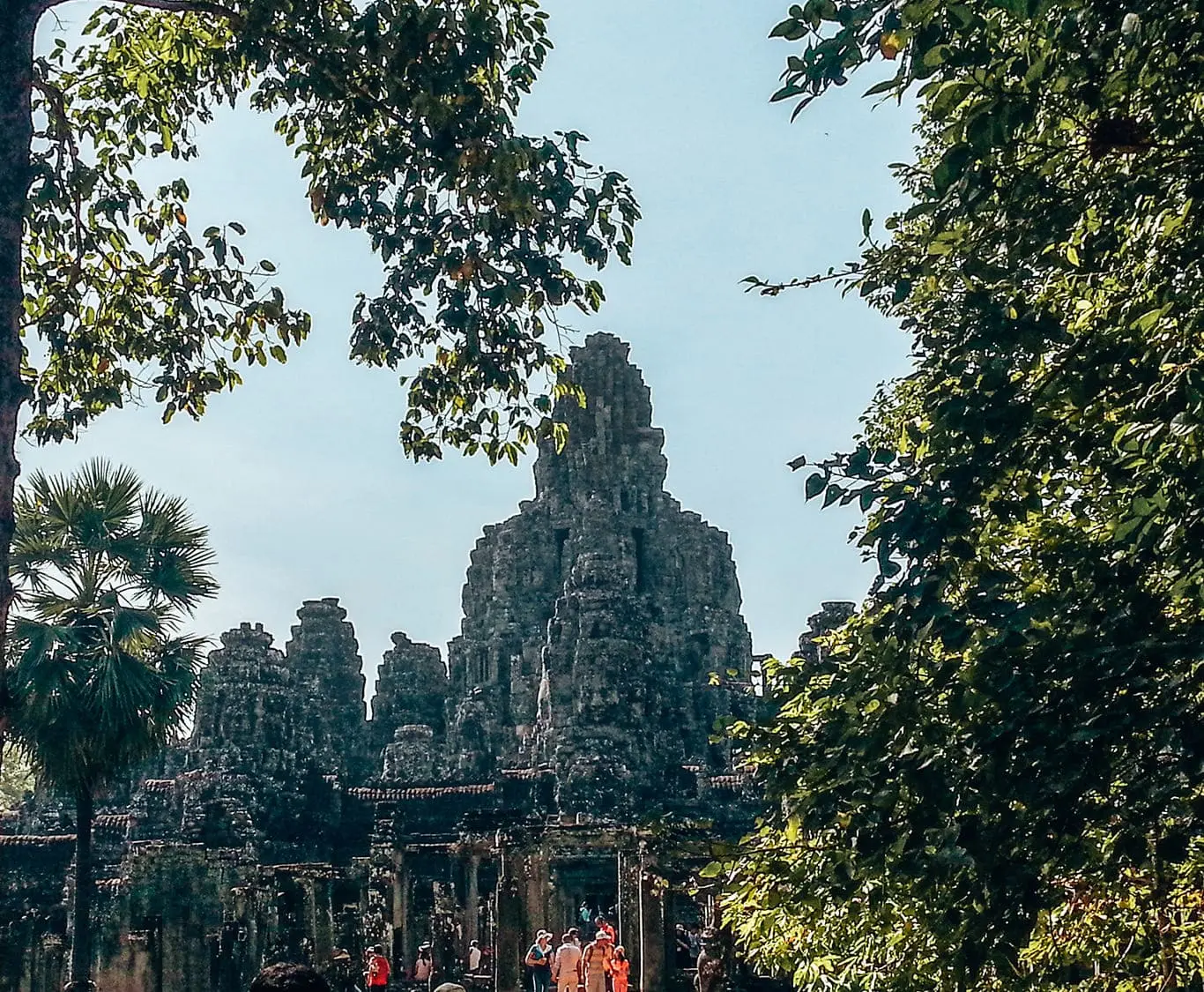 Another temple not to be missed is Ta Prohm, famed for its captivating blend of stone structures intertwined with massive tree roots. As nature reclaims the temple ruins, a mesmerizing symbiotic relationship emerges between architecture and the jungle. This enchanting scene, immortalized in films like "Tomb Raider," evokes a sense of wonder and transports you to a mystical realm.
8. Be Prepared For Crowds
Lastly, preparing for crowds is essential when visiting Angkor Wat. As one of the world's most renowned tourist destinations, it attracts visitors from all around the globe. To ensure a more enjoyable and immersive experience, planning and considering the following Angkor Wat tips is wise.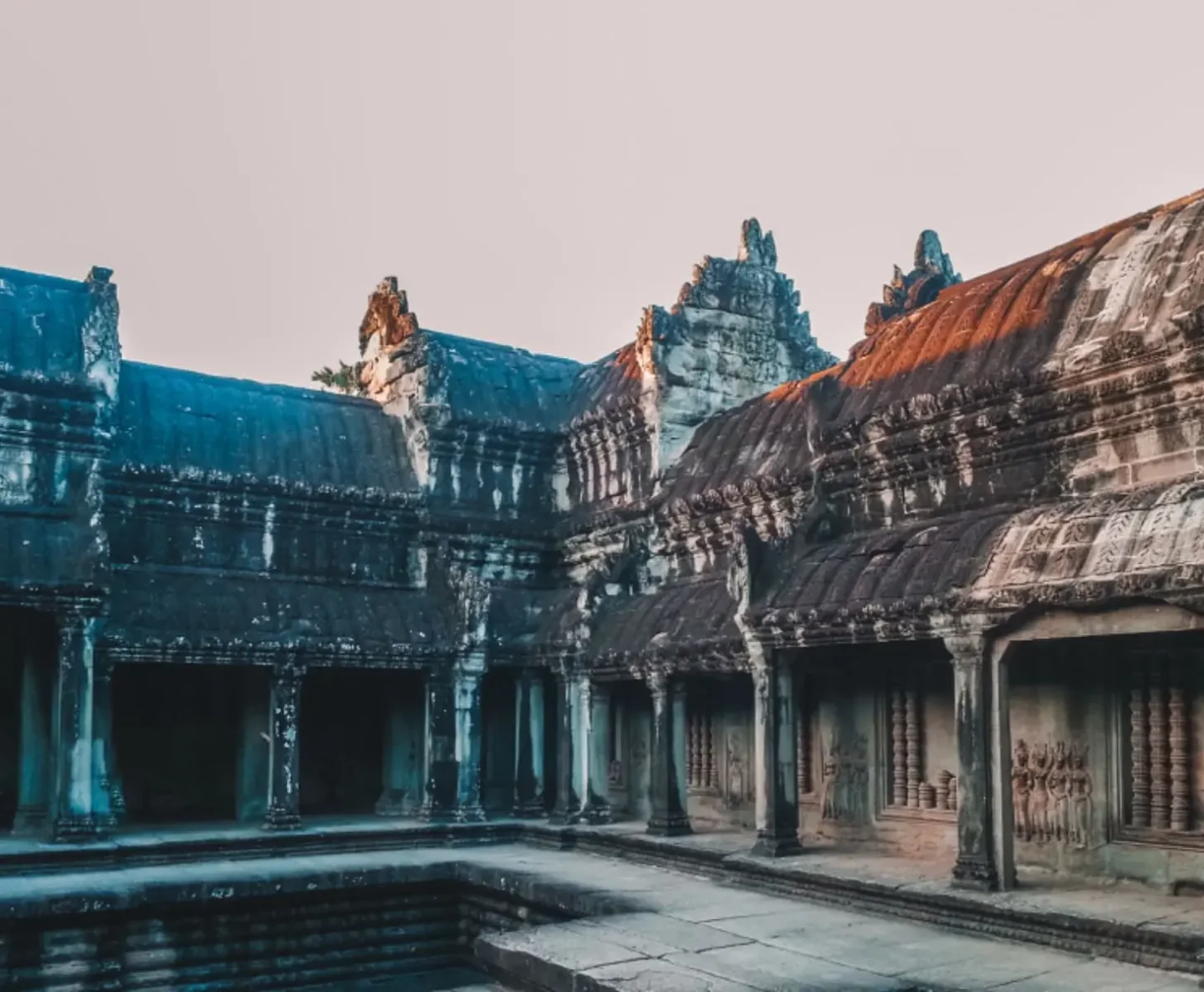 Arriving early in the morning is a strategic move to beat the crowds and have the temple complex to yourself. Similarly, exploring during the late afternoon can offer a quieter atmosphere as many visitors head back to their accommodations or move on to other sites. This time of day presents an opportunity to savor the tranquility and soak in the awe-inspiring surroundings without feeling overwhelmed by crowds.
Check here for a list and the latest prices of where to stay in SIEM REAP, Cambodia
In conclusion, we hope that these Angkor Wat tips have provided you with valuable insights and guidance for your upcoming adventure. Whether you're a history enthusiast, a culture seeker, or simply in awe of magnificent architectural marvels, Angkor Wat awaits with its timeless allure.
Happy travels!
Sue & Renesh
* Disclaimer: As an Amazon Associate, I earn from qualifying purchases. Some links included in this description are affiliate links. If you purchase a product or service with my links, I may receive a small commission. There is no additional charge to you! Thank you for supporting my blog so I can continue to provide you with free more each week!
OUR TRAVEL ESSENTIALS
Universal Adapter – Universal All in One Worldwide Travel Adapter is the ultimate solution to all your charging needs while on the go! With its compact size and compatibility with over 150 countries, you can now travel worry-free without the fear of running out of battery or being unable to charge your device.
Eco-Friendly Sunscreen – Banana Boat Sport Ultra Reef Friendly Sunscreen Lotion is safe for your skin, making it the perfect choice for outdoor activities.
Portable Utensil – Portable Utensil is a great way to reduce travel waste. These portable utensils are lightweight and easy to pack, making them a convenient addition to your travel gear.
Anti-Theft Messenger Bag – Anti-Theft Classic Essential Messenger Bag is the perfect solution to keep your belongings secure while exploring a new city. With its slash-resistant body and lockable zippers, this bag protects your essentials from pickpockets and thieves.
First Aid Kit – First Aid Only is the perfect solution for those who are always on the go and want to be prepared for any minor wound care needs, with an assortment of adhesive bandages included.
Protein Bar – Feel Vegan Protein Bar is the perfect snack for a long temple run. Packed with plant-based protein, fiber, and nutrients, it keeps you full and energized throughout your day. Plus, it's gluten-free and has no artificial sweeteners or preservatives.
MORE ON TRAVEL TIPS
TRAVEL LIKE A LOCAL: INSIDE TIPS FOR EXPLORING SOUTHEAST ASIA
20 THINGS WE WISH WE KNEW BEFORE TRAVELING TO BANGKOK
MALAYSIA INSIDER TIPS: WHAT LOCALS WANT YOU TO KNOW BEFORE TRAVELING TO MALAYSIA
KUALA LUMPUR TRAVEL GUIDE FOR FIRST-TIMERS
A GUIDE TO VISITING MALAYSIA DURING RAMADAN
TIPS FOR ISLAND HOPPING IN THAILAND
KOH LIPE TRAVEL INFORMATION FOR FIRST-TIMERS
---