Thailand is renowned for its top temples, which are considered must-visit religious landmarks in the country. These intricate and sacred sites provide insight into the rich culture and history of Thailand. It also offers a unique and memorable sightseeing experience. Visitors can appreciate the spiritual significance of these monuments, learn about Buddhism, and experience Thai temple architecture. From the majestic Wat Phra Kaew to the serene Wat Phra That Doi Kham, these top 10 must-visit temples in Thailand should be on every traveler's itinerary!
First time to Bangkok? Check 20 Things We Wish We Knew Before Travelling To Bangkok
and read Bangkok Travel Guide For First Timers
1. Wat Phra Kaew (Temple of the Emerald Buddha), Bangkok
The Temple of the Emerald Buddha in Bangkok is a must-visit temple for anyone interested in Thai architecture and culture. Its intricate design highlights Thailand's rich artistic heritage. Additionally, the temple's religious significance adds to its allure, as it houses the revered Emerald Buddha figurine. Visitors can also appreciate the meticulous attention to detail in the temple's gold detailing and murals, which depict Buddhist tales. Overall, the Temple of the Emerald Buddha is an extraordinary landmark that should not be missed during a trip to Thailand.
2. Wat Pho (Temple of the Reclining Buddha), Bangkok
Furthermore, the Temple of the Reclining Buddha in Bangkok is a must-visit destination for tourists. Its impressive reclining Buddha statue, measuring 46 meters in length and 15 meters in height, is a top attraction. Additionally, visitors can experience traditional Thai massage at the temple's massage school, a popular wellness destination. The temple's intricate murals and unique architecture reflect Thailand's cultural and artistic heritage, providing a rich sightseeing experience.
3. Wat Arun (Temple of Dawn), Bangkok
Situated on the west bank of the Chao Phraya River, Wat Arun is a must-visit temple in Thailand. Its towering spires adorned with colorful Chinese porcelain and glass make it a top attraction. Visitors can climb to the top for breathtaking views of Bangkok's skyline. In addition to the stunning architecture, visitors can learn about the temple's cultural and historical significance. All in all, a visit to Wat Arun offers an unforgettable experience for anyone interested in Thai culture and architecture.
Read more about Wat Prayoon
4. Doi Suthep, Chiang Mai
Doi Suthep is unquestionably a must-visit temple in Thailand. Known for its stunning architecture and breathtaking views of Chiang Mai, this magnificent temple complex sits atop a hill. Visitors can reach the top by climbing the 309 steps of the temple's staircase or taking a cable car. From the top, visitors can also enjoy panoramic views of Chiang Mai and its surrounding mountains, making Doi Suthep a popular destination for both religious and sightseeing purposes.
5. Wat Rong Khun (White Temple), Chiang Rai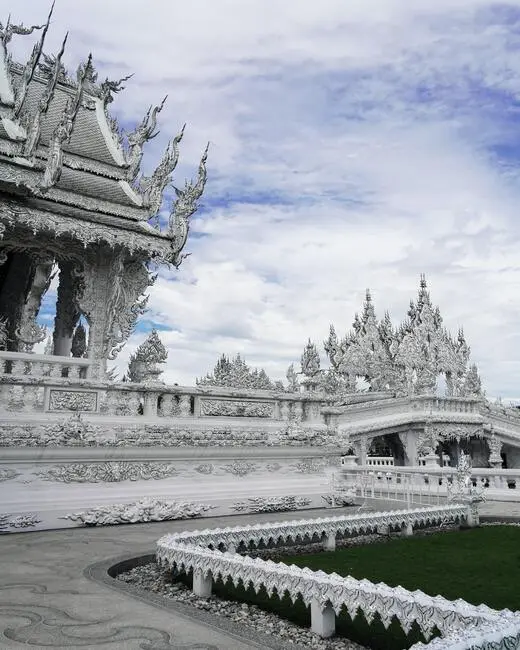 If you're looking for a modern and unconventional temple to visit in Thailand, don't miss the White Temple in Chiang Rai. Its intricate designs on the white exterior depict scenes from Buddhist mythology. Furthermore, the contemporary artwork inside creates a unique atmosphere. The White Temple is a must-visit destination for those seeking a different take on traditional Thai temples.
6. Wat Phra Singh, Chiang Mai
Located in the old city of Chiang Mai, Wat Phra Singh is a renowned temple with a rich history dating back to the 14th century. Additionally, it houses several important Buddha images, including the Phra Singh Buddha, which is highly revered by the locals. Furthermore, the temple boasts stunning Lanna-style architecture with intricate carvings and decorations, making it one of the most impressive temples in Northern Thailand. Don't miss the opportunity to witness the daily chanting by the monks, and be sure to take in the peaceful atmosphere of this sacred site.
7. Wat Chedi Luang, Chiang Mai
Another impressive temple in the old city of Chiang Mai is Wat Chedi Luang. It was once home to the Emerald Buddha, before it was moved to Bangkok. Moreover, it was one of the largest temples in ancient Chiang Mai. The temple features a towering chedi, which is over 80 meters tall and dates back to the 15th century. The intricate carvings and stunning architecture make this temple a must-visit on any Thailand temple tour.
8. Wat Mahathat, Ayutthaya
Furthermore, Ayutthaya, the ancient capital of Thailand, is home to several magnificent temples, one of which is Wat Mahathat. The temple was a Buddhist center in the 14th century. It is famous for the iconic Buddha head that has become entwined in the roots of a nearby Bodhi tree. Visitors can explore the vast temple complex and admire the beautiful ruins of the ancient structures.
9. Wat Chaiwatthanaram, Ayutthaya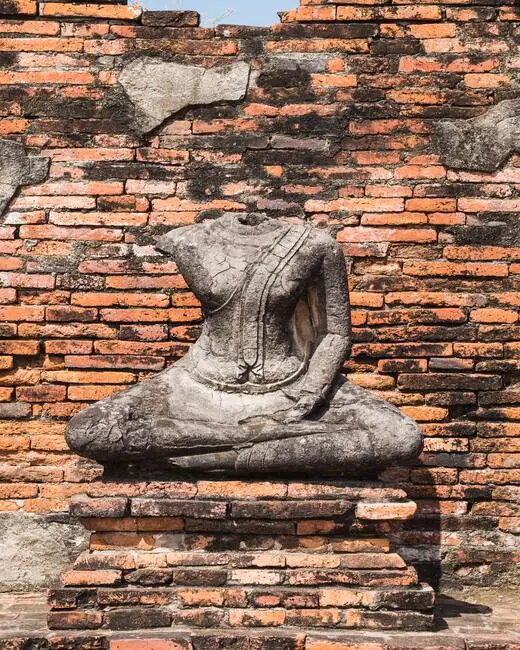 Another top temple in Ayutthaya is Wat Chaiwatthanaram. Built in the 17th century, the temple is a stunning example of Khmer-style architecture. It is situated on the banks of the Chao Phraya River and boasts a unique blend of Thai and Khmer influences. Additionally, visitors can explore the vast complex, which includes several stupas, prangs, and a large central pagoda.
10. Wat Phra That Doi Kham, Chiang Mai
Located in the foothills of Chiang Mai, Wat Phra That Doi Kham is a must-visit temple that offers stunning views of the surrounding mountains. The temple dates back over 1,300 years and houses a large golden chedi containing relics of the Buddha. Visitors can take in the peaceful atmosphere and explore the beautiful grounds, which feature a large courtyard, several shrines, and a serene meditation garden.
All in all, Thailand is home to some of the most sacred and intricate temples in the world. Be sure to include these must-visit temples in your travel itinerary to experience the best of Thailand's rich cultural heritage.
Check Tips For Island Hopping in Thailand
Happy temple-ing,
Sue & Renesh
WHERE TO STAY IN THAILAND 
Luxury Romantic Resort – IDYLLIC CONCEPT RESORT: A luxurious option for couples seeking a romantic escape. Nestled in the peaceful Nong Thale area, the resort offers breathtaking views of the Andaman Sea. Additionally, with private pool villas, fine dining, and spa treatments, it promises an unforgettable experience. Find the latest prices for Idyllic Concept Resort here.
Luxury Riverside Hotel – SHANGRI-LA HOTEL: Experience the ultimate luxury at Shangri-La Hotel Bangkok, located on the banks of the Chao Phraya River. This luxurious hotel features breathtaking views, world-class dining, and unparalleled hospitality. Find the latest prices for Shangri-La Hotel here.
Click for the latest prices and a list of accommodations in Bangkok and Chiang Mai, Thailand.
MORE OF THAILAND
KOH LIPE TRAVEL INFORMATION FOR FIRST-TIMERS