Welcome to our blog where we'll be introducing you to the 10 must-try local dishes in Malaysia that you won't want to miss out on. Malaysia is a melting pot of cultures, making it a food lover's paradise. In this article, we'll take you on a culinary journey through the best local dishes that Malaysia has to offer. Whether you're a fan of spicy or sweet flavors, Malaysian dishes have something for everyone. So, get ready to indulge in the rich and diverse flavors of Malaysian cuisine!
First time to Malaysia? Check Kuala Lumpur Travel Guide For First Timers
1. Penang Assam Laksa
Start your journey with the tangy and spicy Assam Laksa. It's a popular Malaysian dish that's widely enjoyed throughout the country, but Penang is where it's most famous. The soup is usually made with mackerel, but some versions use other types of fish as well. Furthermore, the tamarind adds sourness and the chili adds heat to the soup. Also, the herbs and fresh vegetables balance out the flavors, creating a satisfying and healthy meal. So, make sure you add Assam Laksa to your list of must-try local dishes when you're in Penang!
2. Ipoh Bean Sprouts Chicken
After savoring the local delicacies in Kuala Lumpur, it's time to head to Ipoh to experience a different culinary adventure. Once there, don't miss out on the opportunity to try the Bean Sprouts Chicken. The dish is a pride of Ipoh, featuring tender and juicy chicken with crunchy bean sprouts and aromatic rice. Moreover, the dish's simplicity and taste have made it a crowd favorite. As you savor each bite, you'll get to appreciate the unique flavors of Malaysia's one of the best local dishes. Don't forget to pair it with a refreshing glass of iced white coffee, another Ipoh specialty.
3. Kuala Lumpur Nasi Lemak
No trip to Malaysia is complete without trying the iconic Nasi Lemak. It's one of the best local dishes to represent the country's diverse cuisine. The star of the dish is the fragrant rice cooked with coconut milk and pandan leaves. Additionally, Kuala Lumpur is ideal to taste the dish's authentic flavors. Restaurants often serve the dish with anchovies, peanuts, cucumber, and sambal, creating a delightful blend of flavors. Don't leave Malaysia without trying Nasi Lemak.
4. Malacca Nyonya Laksa
Next, the Nyonya Laksa in Malacca is one of the must-try local dishes. The coconut-based soup with lemongrass, turmeric, and candlenuts is flavorful. Furthermore, this dish is best enjoyed with prawns, tofu puffs, and fish cakes as a topping. Also, the aromatic herbs and spices add depth to the soup, making it a comfort food for many. A bowl of Nyonya Laksa is a true representation of the fusion of Malay and Chinese cultures in the Malacca region.
5. Kajang Satay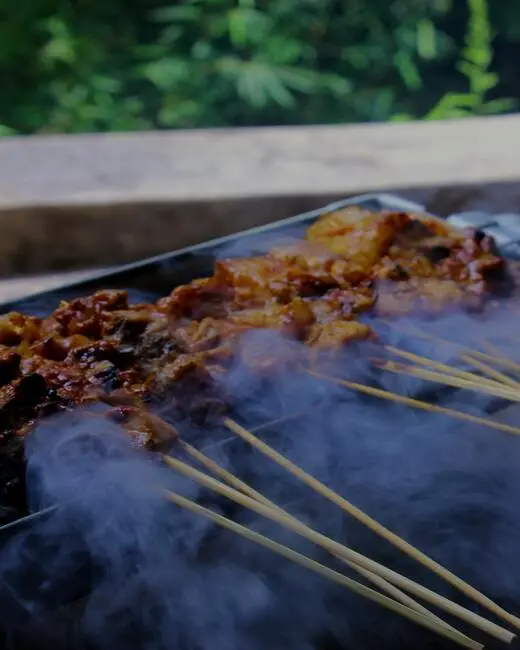 Further, Satay Kajang is one of the best local dishes for those looking for a taste of authentic Malaysian cuisine. The skewered meat is marinated in spices and grilled to perfection. Moreover, the tender and juicy meat is a result of the traditional method of cooking over charcoal. In addition, the dish is often served with peanut sauce and ketupat (rice cakes).
6. Melaka Chicken Rice Ball
For a unique experience, try the Chicken Rice Ball in Melaka. The dish features succulent chicken, poached to perfection, paired with rice that is rolled into small balls for a chewy texture. The rice is cooked in chicken broth, infused with garlic and ginger for a savory flavor. Furthermore, the rice balls are served with chili sauce and soy sauce for added taste. You will find many food stalls and restaurants serving this delicacy in Melaka as well.
Click here to read Top Instagrammable Places in Kuala Lumpur, Malaysia 
7. Johor Bahru Mee Rebus
Next, Mee Rebus is one of the best local dishes in Johor Bahru. It is commonly served with bean sprouts and boiled eggs, adding an extra layer of texture to the dish. Moreover, the gravy is made from a blend of spices, which gives it a slightly sweet and aromatic taste. Additionally, the dish is garnished with spring onions, chili, and lime juice for a refreshing finish. Undoubtedly, Mee Rebus is a must-try for anyone visiting Johor Bahru.
8. Sarawak Kolo Mee
Sarawak Kolo Mee is a dish that originated from Kuching, Sarawak. The dish consists of egg noodles topped with minced chicken, and crispy fried garlic. The combination of sweet and savory flavors in this dish is what makes it unique and so delicious. Additionally, noodles are cooked, tossed in fragrant oil for added aroma and perfect texture.
9. Sabah Hinava
Hinava is a traditional Sabahan dish that is often served as an appetizer or a main course. To make the dish, they marinate raw fish with lime juice and a variety of local herbs and spices. The lime juice effectively cooks the fish, resulting in a tangy and refreshing taste. Moreover, adding chilies to the mix complements the zesty flavor of the lime. Additionally, restaurants often serve the dish with vegetables to add texture and crunch. If you are a seafood lover, Hinava is a dish that you simply must try when visiting Sabah.
10. Terengganu Keropok Lekor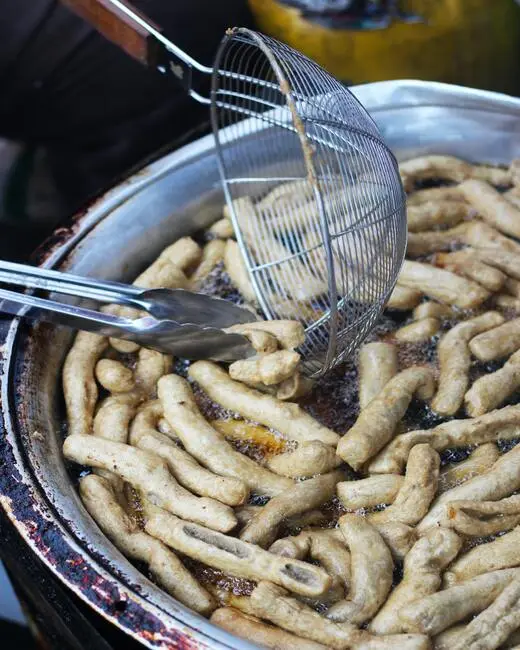 Last but not least, Keropok Lekor is a popular snack in Terengganu. Surprisingly popular, Keropok Lekor has become a Terengganu staple, often eaten as a snack or light meal. Furthermore, Keropok Lekor's chewy texture comes from the mix of fish paste and sago flour. Additionally, they shape the mixture into sausages or elongated shapes before deep-frying it to perfection. The golden-brown crispy exterior perfectly complements the soft and chewy interior of the fish cakes. Some stalls or restaurants pair it with a side of chili sauce that further elevates the dish.
There you have it – the 10 must-try local dishes in Malaysia that you won't want to miss! Make sure to add them to your food bucket list when planning your trip to Malaysia.
Happy travels,
Sue & Renesh
WHERE TO STAY IN MALAYSIA
For other places to stay in Kuala Lumpur, Malaysia, click here for a list and the latest prices.
MORE OF MALAYSIA
BATU CAVES AND THE RAINBOW STAIRS
THEAN HOU TEMPLE IN KUALA LUMPUR
MALAYSIA INSIDER TIPS: WHAT LOCALS WANT YOU TO KNOW BEFORE TRAVELING TO MALAYSIA