We started doing a city by city bucket list since our trip to Bali, but we were never organized enough to put it all down on paper (or in this case, on the internet) and didn't really follow through to see what got ticked off.
Every time we go to a new place, city or country, we will separately write down our bucket list for that place and put it all together. Not only does it get us excited for our trip, it really helps us to plan and organize where to stay, and when we should go where. Even if you're not much of a planner when you travel, try getting a rough bucket list down and you'll see immediately how it helps to plan out your trip.
It's a dynamic list so we'll be crossing things off we go. And anything in yellow-gold is linked to a post we wrote about the place, so click through and get the details!
Feel free to use this as your Bangkok Bucket List template as well on your blog, social media, Pinterest, whatever! We would just ask for the credit mention and a tag/shout.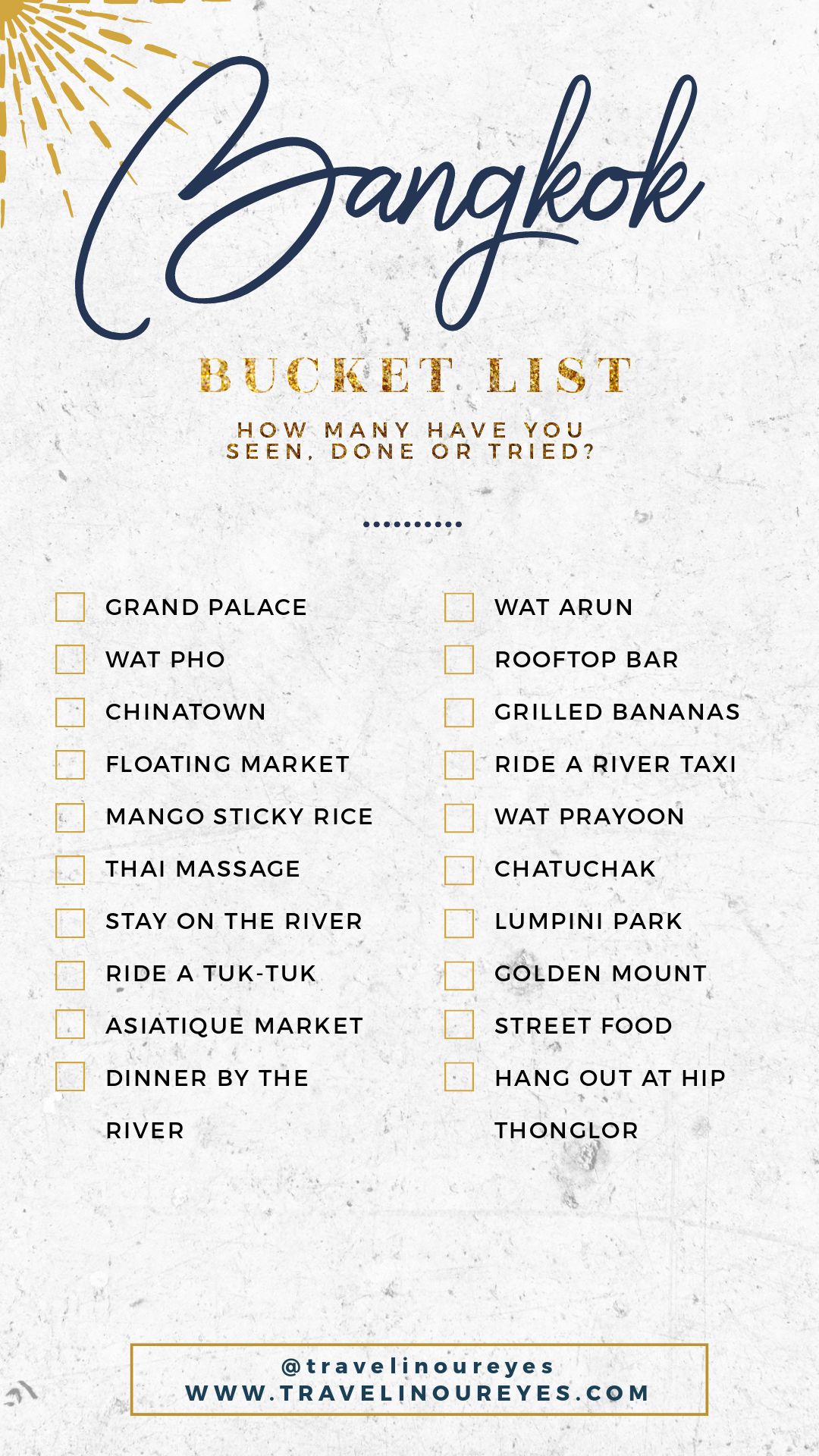 So here it is, our Bangkok Bucket List!
Visit the Grand Palace
Visit Wat Pho
Head on down to Chinatown
Day trip out to the infamous Floating Market
Eat Mango Sticky Rice till our heart's content
Get a Thai Massage…or two…or three
Stay on the River
Risk our lives and ride a tuk-tuk (we kid. It's not that bad!)
Check out Asiatique Market
Have a romantic dinner by the river
Wat Arun, of course
Check out a Rooftop bar
Try the street side grilled bananas we've heard so much about
Ride a river taxi
Visit Wat Prayoon (check here for our complete guide to Wat Prayoon)
Shop shop shop at Chatuchak Weekend Market
Stroll through Lumpini Park (because we have to hit all gardens and parks in every city!)
Visit Golden Mount
Street Food or the Night Food Street in Chinatown
Hang out at hip Thonglor district
Have you been, seen or done any of the things listed on our Bangkok Bucket List? Would you recommend them? We'd love to hear your suggestions and what your faves are.
Wishing you amazing experiences,
Sue + Renesh
WHERE TO STAY IN BANGKOK
By the River – Shangri-La Hotel: A luxurious haven right on the banks of the Chao Phraya River with some of the most amazing sunset views. Perfect base for those who want to explore the Grand Palace and the city's amazing Wats by the river.
In the heart of the city – SO/ Sofitel Bangkok: A visually stunning luxurious urban hotel designed by Thailand's top five designers and Christian Lacroix. The hotel is uniquely designed, it's as if it's a modern art gallery. Perfect for all art and design enthusiasts who want to explore every part of the city.
Modern Hip area of Thonglor – Volve Hotel Bangkok: A warm, chic designer hotel located in the hip district of Thonglor. Perfect for travelers who want to explore a less touristy side of Bangkok. And to food lovers, Thonglor is known to have some of the best restaurants, cafes and bars in Bangkok!
For other places to stay in Bangkok, click here for a list and the latest prices.
More of Bangkok
BANGKOK TRAVEL GUIDE FOR FIRST-TIMERS
---
LIKE THIS? PIN IT FOR LATER!