Singapore is a city that never ceases to amaze, with its stunning blend of culture, history, and modernity. As soon as we arrived, we were blown away by the breathtaking views, and the warm and friendly locals. But what really stood out to us were the plethora of Instagram-worthy streets. Each street we visited had its own unique charm and character.
As a couple who loves to explore new cities and take photos together, we couldn't have been more excited to capture every moment of our trip. So, we set out to discover the top 10 Instagram-worthy streets in Singapore that you simply can't miss. Join us on this journey and get ready to be inspired by some of the most stunning streets in the Lion City!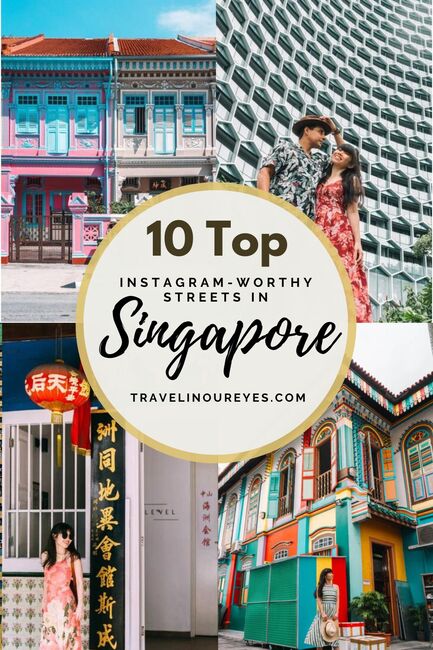 First time to Singapore? Check Here for our Ultimate Singapore Guide
1. Haji Lane
Our first stop was Haji Lane, a narrow street located in Kampong Glam. Haji Lane's unique blend of tradition and modernity makes it an ideal spot for Instagram-worthy photos. The street's charming shophouses boast a mix of colorful hues and intricate architectural details that are perfect backdrops for any photograph. We were amazed by the vibrant street art, making the perfect photo opportunity. Additionally, the eclectic cafes added a touch of modernity to the street's nostalgic charm.
2. Arab Street
After soaking up the vibrant energy of Haji Lane, we made our way to the nearby Arab Street, another Instagram-worthy street. As soon as we arrived, we were immediately drawn to the beautiful Middle Eastern cuisine, and stunning architecture. We spent hours wandering through the narrow alleyways, capturing the intricate details of the shophouses and enjoying the lively atmosphere. Every corner of this street was a feast for the eyes. We couldn't resist taking photos that perfectly captured the essence of this vibrant and Instagram-worthy street.
3. Ann Siang Hill
Next up on our list of Instagram-worthy streets was Ann Siang Hill, a charming street located in the vibrant Chinatown neighborhood. As we made our way down the street, we were immediately struck by the beautifully restored shophouses that lined the sidewalks. The colorful facades and intricate architectural details made for the perfect backdrop for our photos. We took our time strolling down the street, stopping at every turn to snap photos and enjoy the vibrant atmosphere.
4. Joo Chiat Road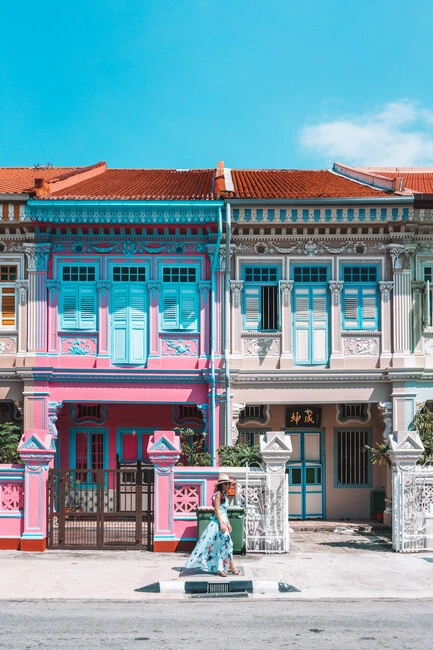 Joo Chiat Road was our fourth stop, and it was a feast for the senses. The colorful Peranakan shophouses, and traditional architecture gave the street a unique and fascinating blend of cultures. We couldn't stop snapping pictures of the stunning shophouses with their intricate designs and bold colors. The vibrant street art added an extra pop of color to our photos. Joo Chiat Road was undeniably an Instagrammable street, and we couldn't resist capturing every moment of our time there.
Check here for Top Instagrammable Places in Singapore
5. Everton Road
We stumbled upon Everton Road quite by accident, but it turned out to be one of our favorite finds in Singapore. This street offered a serene escape from the hustle and bustle of the city. The colorful shophouses, some of which had been restored to their original glory, and the historic architecture created a beautiful backdrop for our photos. We were able to capture the peaceful atmosphere of the street. We loved taking a leisurely stroll and soaking up the relaxing ambiance. It was a welcome break from the more bustling and touristy streets we had visited earlier. We highly recommend Everton Road for anyone looking for an Instagram-worthy street.
6. Emerald Hill Road
As we walked down Emerald Hill Road, we were transported back in time with the beautifully preserved heritage shophouses that lined the street. The vivid hues of the buildings contrasted against the lush greenery created a stunning visual that was impossible to resist capturing on camera. The street exuded a sense of peacefulness and serenity that made us feel like we were transported to another era. We took our time to admire the intricate details of the architecture and were amazed by the efforts put in to preserve the history of the area.
7. Tiong Bahru
Tiong Bahru was without a doubt one of the most Instagrammable streets we visited in Singapore. The stunning Art Deco buildings that decorated the streets provided an excellent backdrop for our photos. Each building had its own unique features. We also loved exploring the hip cafes and boutiques that gave the street a lively atmosphere. Tiong Bahru was definitely a must-visit for anyone who loves both traditional and modern architecture and wants to capture some stunning photos to remember their trip.
8. Telok Ayer Street
As we wandered further down Telok Ayer Street, we discovered more hidden gems that made this street truly unforgettable. The street was home to many famous hawker centers. We also stumbled upon some modern art installations that added a unique touch to the traditional surroundings. The contrast between the old and new in this neighborhood was simply fascinating. Telok Ayer Street was a must-visit for anyone interested in history, culture, and food, and we left feeling enriched and inspired by the experience.
9. Havelock Road
Located in the heart of Singapore, Havelock Road is an Instagrammable street that offers a perfect mix of history, culture, and modernity. The street art that adorned the walls were perfect backdrops for our photos. We also captured the vibrant energy of the area with our camera, including the trendy bars and restaurants that added to the atmosphere. Havelock Road was a true gem in Singapore and a must-visit for any Instagram lover.
10. Bugis Street
Bugis Street is definitely one of the top Instagram-worthy streets in Singapore. Its vibrant energy, colorful markets, and unique blend of tradition and modernity make it a must-visit destination for any traveler. We captured many photos of the lively atmosphere and the beautiful textiles, making sure to showcase the diverse culture that Bugis Street has to offer. It was one of the highlights of our trip and we would definitely recommend it to anyone looking for a fun and lively shopping experience.
Overall, our journey through Singapore's streets allowed us to see the city from a different perspective. We were able to explore and appreciate the city's architecture, street art, and in a unique and memorable way. From the vibrant energy of Haji Lane to the colorful shophouses of Joo Chiat Road, each street had something special to offer. Whether we were taking photos, or just soaking up the atmosphere, we enjoyed every moment of our journey. We highly recommend these 10 Instagram-worthy streets to anyone visiting Singapore, as they offer a glimpse into the country's rich heritage and dynamic culture.
Wishing you happy travels,
Sue & Renesh
* Disclaimer: As an Amazon Associate I earn from qualifying purchases. Some links included in this description are affiliate links. If you purchase a product or service with the links that I provide I may receive a small commission. There is no additional charge to you! Thank you for supporting my blog so I can continue to provide you with free more each week!
OUR TRAVEL ESSENTIALS
Eco-Friendly Sunscreen – Banana Boat Sport Ultra Reef Friendly Sunscreen Lotion is not only safe for your skin but also for the coral reef, making it the perfect choice for water activities without harming the marine creatures.
Portable Utensil – Portable Utensil is a great way to reduce your waste while traveling. These portable utensils are lightweight and easy to pack, making them a convenient addition to your travel gear.
WHERE TO STAY IN SINGAPORE
Luxury Boutique Hotel – AMOY HOTEL: Designed to give guests an experiential glimpse into Chinese history. The entrance of the hotel is the original Fuk Tak Chi temple build in the 1820s. Rooms are designed to include heritage accents and no two rooms are alike in layout and furnishing. Perfect for those who appreciate design, architecture and Chinese history. Find the latest prices for Amoy Hotel here.
Luxury Boutique Hotel – ANN SIANG HOUSE: A beautifully restored heritage building that is nestled in the lively area of Ann Siang Road known for the rooftop bars, restaurants and beautiful Peranakan houses. Just a 5-minute walk from Chinatown, it's perfect for those who love to be right in the center of a lively neighborhood, good food and buzzing nightlife. Find the latest prices for Ann Siang House here.
Luxury Boutique Hotel – HOTEL FORT CANNING: A luxurious hotel located in the heart of Singapore with a rich history and modern amenities. The hotel offers beautifully designed rooms, top-notch facilities, and a tranquil setting amidst lush greenery. Find the latest prices for Hotel Fort Canning here.
Luxury Boutique Hotel – KESA HOUSE: A heritage boutique hotel that offers cozy accommodations, personalized services, and convenient access to the city's popular attractions. Its unique design blends traditional elements with modern amenities, creating a warm and welcoming atmosphere for guests. Find the latest prices for Kesa House here.
Luxury Boutique Hotel – SO / SOFITEL SINGAPORE: A luxurious hotel located in the heart of the city, featuring elegant and modern rooms with stunning city views. The hotel also offers a range of facilities, including an outdoor pool, fitness center, and multiple dining options. Find the latest prices for SO / Sofitel Singapore here.
For other places to stay in Singapore, click here for a list and the latest prices.