If you've been following us since Day 1, then you know how much we adore Singapore. It's one of the best destinations for a relaxing vacation, and our stay at Hotel Fort Canning Heritage Hotel Singapore made our trip even more memorable. The hotel's colonial, regal charm and lush park surroundings create a unique and luxurious atmosphere that blends the beauty of old and new Singapore seamlessly. Whether you're visiting for business or leisure, Hotel Fort Canning is the perfect choice for an unforgettable stay.
ABOUT HOTEL FORT CANNING 
Hotel Fort Canning, a 5-star boutique hotel, sits atop a small hill in the heart of Singapore's historic Fort Canning Park. It's a "hidden oasis" that offers more than just a place to stay. Staying at this heritage hotel allows guests to fully immerse themselves in the history and natural beauty of Fort Canning Park, providing a unique and memorable experience that is unmatched by other hotels in Singapore!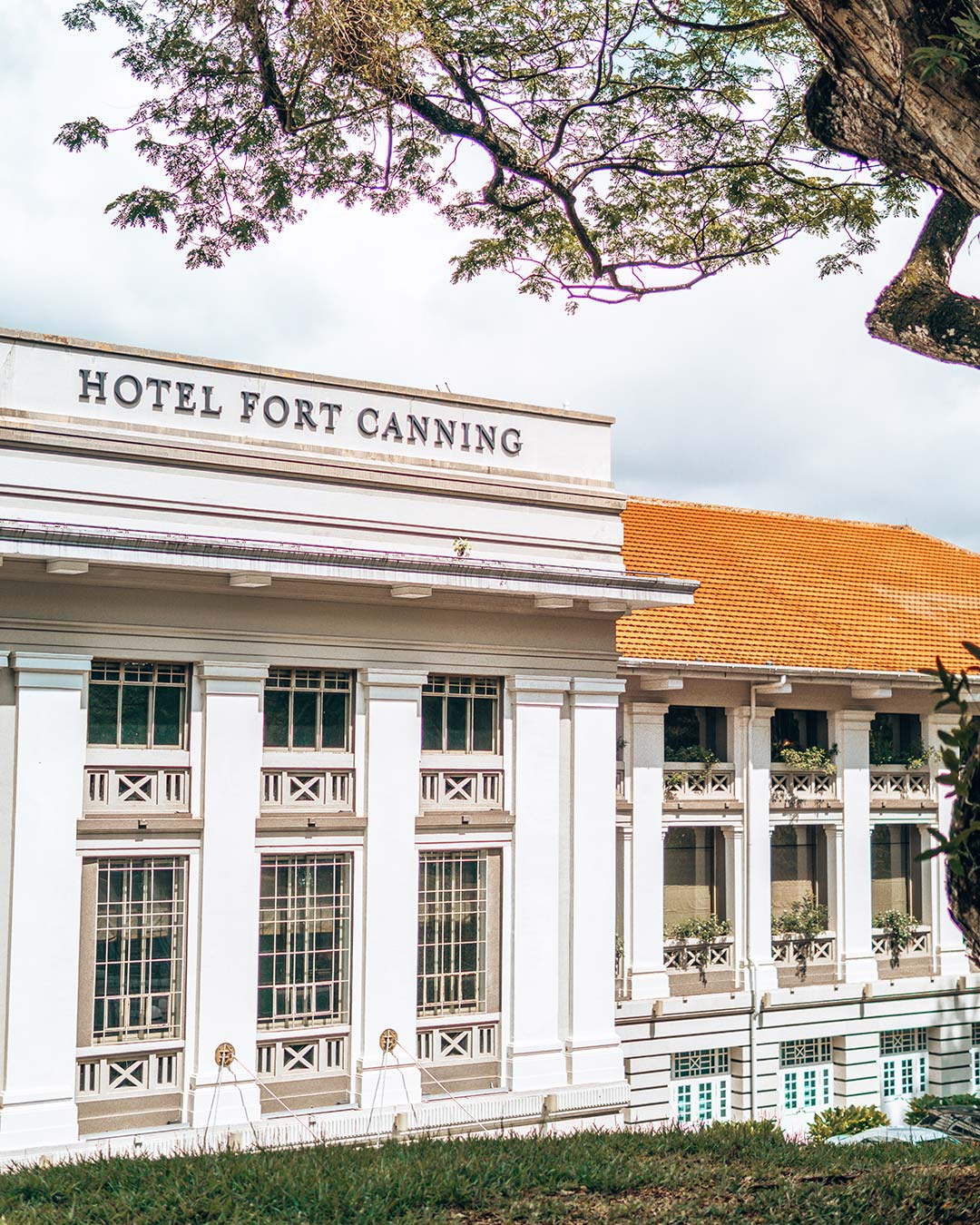 Built in 1926, this heritage hotel served as the Administration of the British Far East Command HQ. During WWII, the Japanese took over and later returned it to British military hands. After being beautifully restored, it now stands as a famous historic hotel while preserving its heritage status.
Strategically located in the middle of the Park, also known as "Forbidden Hill," Hotel Fort Canning is a luxurious stay in a historically significant location. Learn more about Fort Canning Park and the beautiful Heritage Hotel Singapore here.
THE DELUXE ROOM
There are only 85 rooms and suites at Hotel Fort Canning split into six category levels: Deluxe Rooms, Deluxe Garden Rooms, Premium rooms, Premium Luxe Rooms, Studio Suites and the Majapahit and Governor's Suite.
Upon entering our deluxe room, natural light flooded the space, creating a bright and inviting atmosphere. The high ceilings and spacious design were beautifully executed. Additionally, the cinnamon-colored wood contrasted perfectly with the white bathroom, creating a cozy and airy ambiance.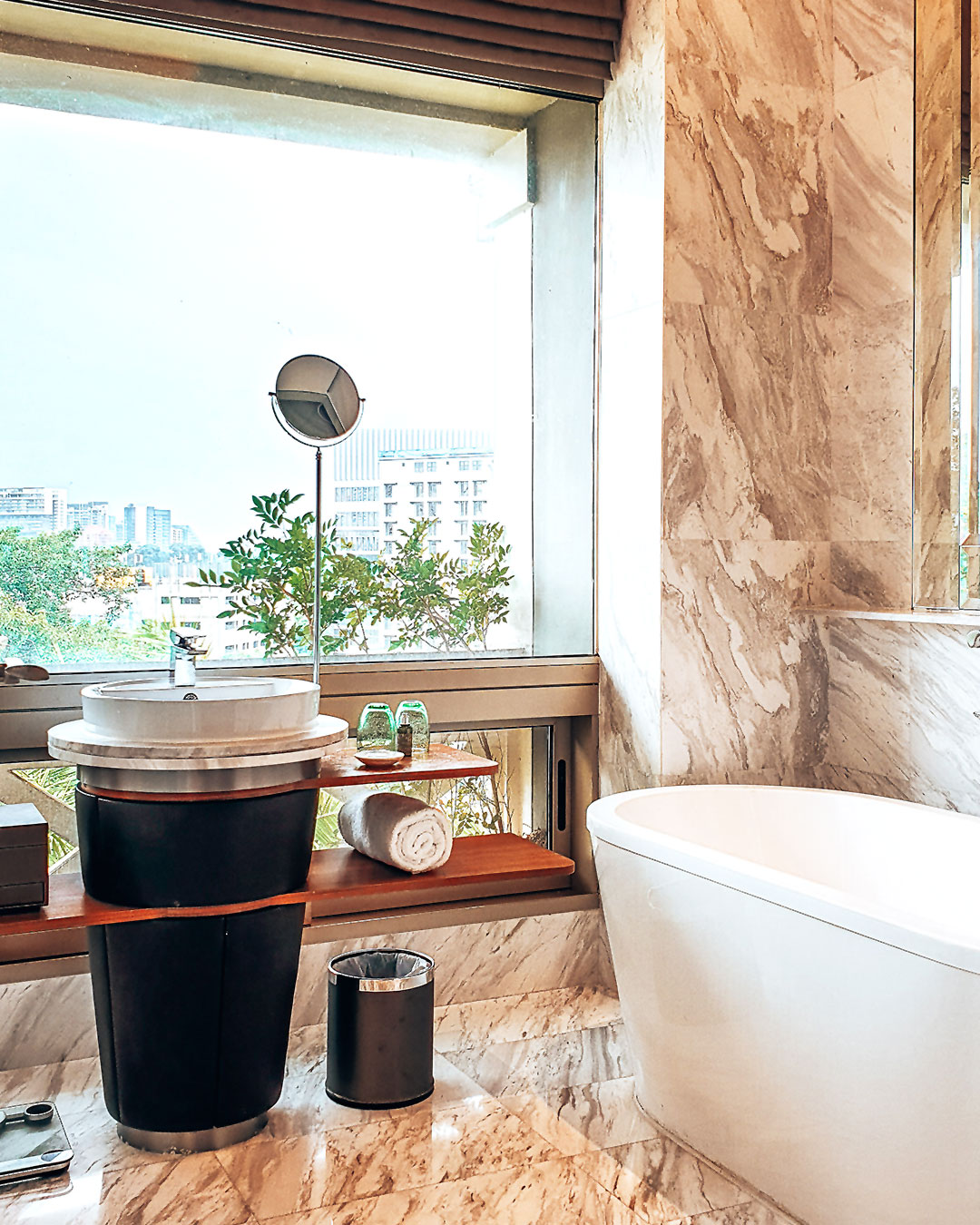 We were immediately drawn to the elegant bathroom with its minimalistic design and colonial roots of this heritage hotel Singapore. The bathroom features electrically controlled blinds for both external and internal windows. We loved our Deluxe Room with panoramic views of the city skyline.
CHECK HERE FOR THE LATEST PRICES FOR HOTEL FORT CANNING SINGAPORE
FACILITIES
Hotel Fort Canning offers excellent amenities, including three mineral water pools – a great escape from Singapore's heat. The pools are treated with a system developed by NASA, eliminating chlorine smells and potential health risks. We've never seen mineral water pools at a hotel before! Additionally, the hotel has an air-conditioned gym and a spa to enhance your stay.
SERVICES
With bright smiles and welcoming hands, the team at Hotel Fort Canning made us feel right at home. Additionally, they served a daily breakfast buffet at The Salon Restaurant, offering a variety of pastries and traditional Asian cuisine. It's definitely a highlight of this charming hotel!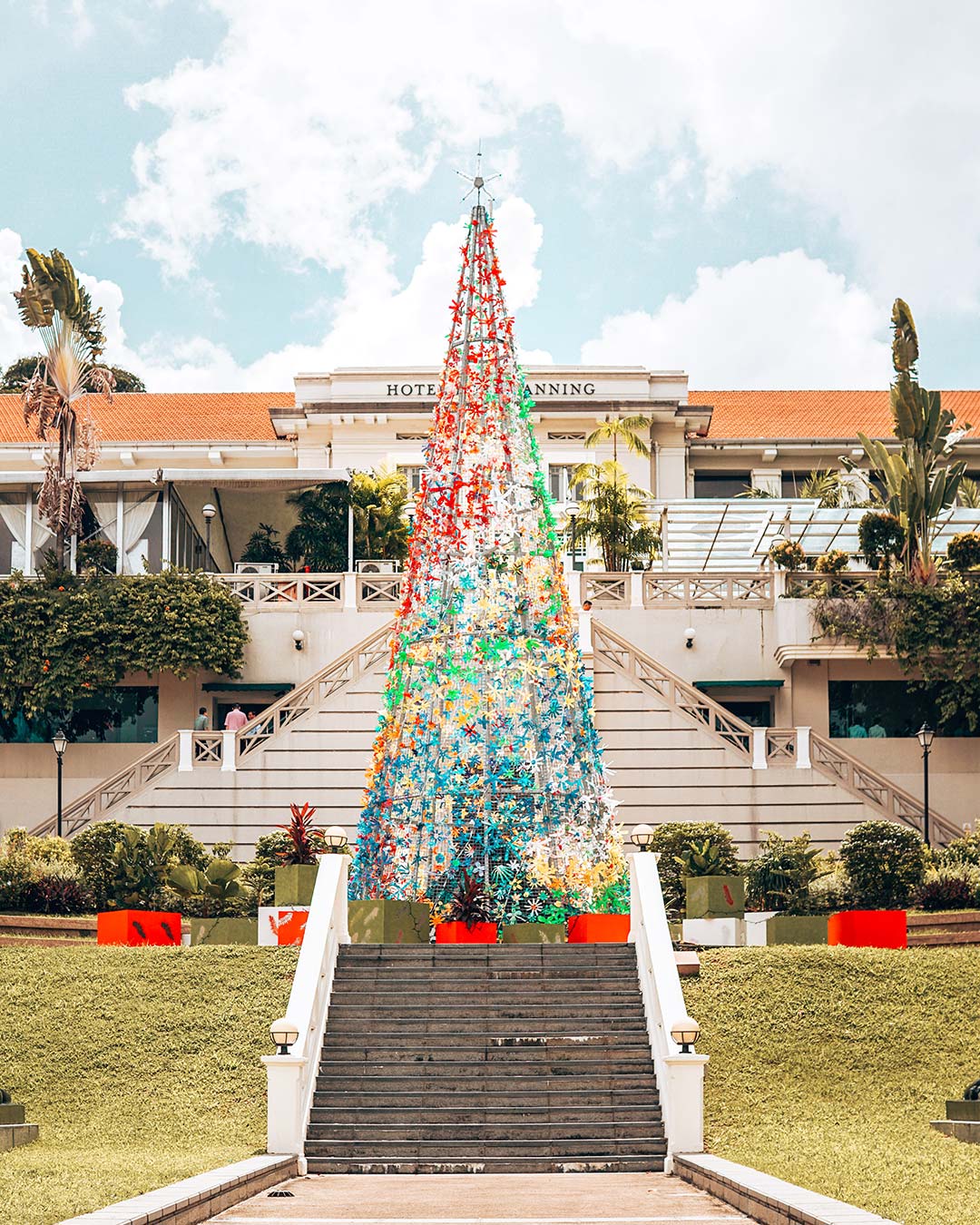 "Explore the area's rich history and the Heritage Hotel Singapore with offered walking tours. Take advantage of this unique opportunity to learn more!"
Check here for Cool Free Things to do in Singapore
LOCATION
Address: 11 Canning Walk, Singapore 178881
Hotel Fort Canning sits atop a small hill within the peaceful Fort Canning Park, providing a refreshing escape from the bustling city. Photographers will appreciate the hotel's colonial architecture and the park's scenic beauty.
First time to Singapore? Check Here for our Singapore Travel Guide for First-Timers – Things You Need to Know 
and Click Here for our list of Top Instagrammable Spots in Singapore 
We find it interesting that the hotel offers an oasis of serenity yet is within walking distance to Dhoby Ghaut MRT and other fun areas such as Clark Quay, Orchard Road and Little India! Totally the best of both worlds. A little tip – though there is an actual Fort Canning MRT stop, we found the Dhoby Ghaut MRT to be much closer to Fort Canning Hotel.
Needless to say, we loved this hotel. It's perfect for couples looking for a quiet location surrounded by nature, yet just a short walk from the city center. Experience the grandeur of colonial Singapore at Fort Canning Hotel the next time you are in Singapore!
Wishing you luxurious stays,
Sue & Renesh
CHECK HERE FOR THE LATEST PRICES FOR HOTEL FORT CANNING SINGAPORE
Luxury 5-Star Hotel – SO/ SOFITEL SINGAPORE: Experience 19th-century French charm infused with whimsical interiors at SO/ Sofitel Singapore. Located in the heart of Singapore's business district, it's walking distance to Chinatown. The hotel, housed in a 1920s neoclassical building, features glamourous interiors reimagined by Karl Lagerfeld. Perfect for design enthusiasts seeking something unique. Find the latest prices for SO/ Sofitel Singapore here.  
Luxury Boutique Hotel – AMOY HOTEL: Immerse yourself in Chinese history at this hotel, where the original Fuk Tak Chi temple serves as the entrance. Each unique room is designed with heritage accents. Ideal for architecture and history enthusiasts. Find the latest prices for Amoy Hotel here.
Luxury Boutique Hotel – ANN SIANG HOUSE: This heritage building is beautifully restored and nestled in lively Ann Siang Road. It's known for rooftop bars, restaurants, and Peranakan houses. You can walk 5 minutes to Chinatown, making it perfect for those who love lively neighborhoods, good food, and buzzing nightlife. Find the latest prices for Ann Siang House here.
For other places to stay in Singapore, click here for a list and the latest prices.
MORE OF SINGAPORE
COOL FREE THINGS TO DO IN SINGAPORE
GARDENS BY THE BAY – SUPERTREE GROVE + CLOUD FOREST DOME
ARTSCIENCE MUSEUM + FUTURE WORLD EXHIBITION
WHY YOU SHOULD VISIT THE SINGAPORE BOTANIC GARDENS
---
LIKE THIS? PIN IT FOR LATER!