Our first experience with SO/ Sofitel was at SO Sofitel Bangkok and was delighted at every turn during our stay there. SO/ Sofitel Singapore lived up to our very high expectations of the SO/ Sofitel experience.  We absolutely love SO Sofitel Singapore! It's unexpected, whimsical, grand, glam and oh SO efficient! It has been our most delightful stay in Singapore thus far.  
SO/ SOFITEL SINGAPORE
SO/ Sofitel Singapore is a luxury boutique hotel located in heart of Singapore's business district. Housed in a 1920's heritage neoclassic building, SO Sofitel Singapore infuses 19th-century French charm with whimsical yet glamourous interiors reimagined by Karl Lagerfeld.
It is a surprising, refreshing and delightful find amidst the impersonal, serious business district.
THE SO VIP SUITE
We stayed at the 92sm ultra-luxurious SO VIP Suite situated in the SO Heritage wing of the hotel.
The SO VIP Suites are breathtakingly beautiful. Drawing inspiration from glamorous Parisian-style apartments, the suites are bathed in the natural morning light and designed with unimaginably high ceilings, beautiful paneling, and grand lush furnishing.
French heritage influences are evident throughout the room from the mini Eiffel Tower to the eclectic plush interior furnishing and surprisingly sprinkled with dashes of Singapore (tables with the Singapore Map and orchid prints).  
CHECK HERE FOR THE LATEST PRICES FOR SO/ SOFITEL SINGAPORE
A stunning lightbox (we learned it was inspired by the French cupola, a sort of rounded dome ceiling) above the super comfortable bed is absolutely dreamy! The rooms are fitted with Apple-based Solutions. An iPhone is the in-room communication and an iPad is the master room control from the TV to lights to air-conditioning!  
The minibar is fitted with an Illy coffee machine and a delectable mix of free and chargeable snacks and drinks. For a fun local touch, there is infographic chalkboard explaining must-try local drinks. You can put your new-found local knowledge to practice next door at the famous Lau Pa Sat hawker center! 
BATHROOM
The marble bathroom is luxuriously gorgeous! It is fitted with glass sliding 'walls' to seamlessly incorporate it into the design of the suite.
The 'His' and 'Hers' is everything for the bathroom! Including 'His' and 'Hers' sinks and rain showers.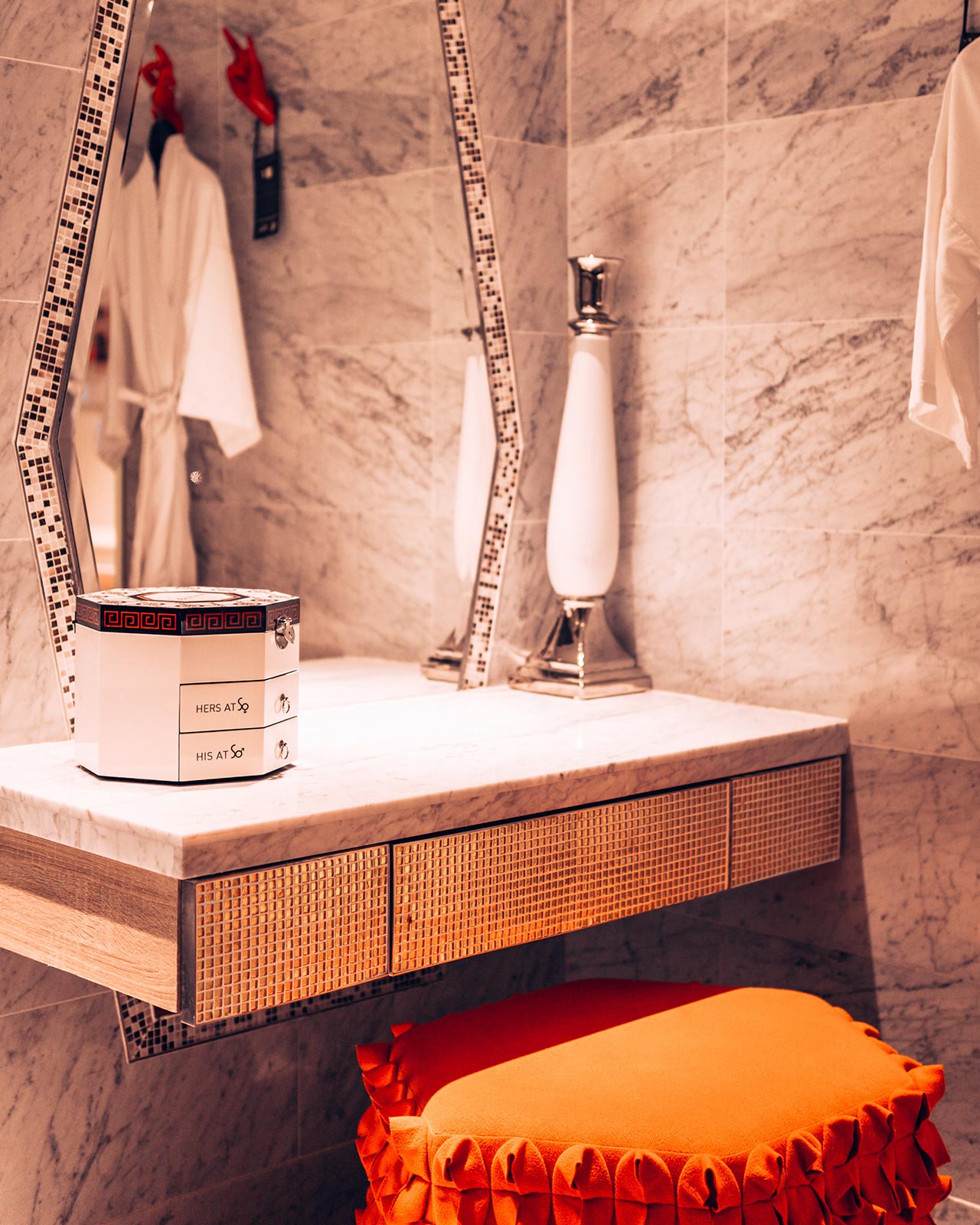 An Italian Bisazza Spa bathtub perfectly fit for two, and of course, in full SO/ Sofitel style, 'His' and 'Hers' amenities.
BREAKFAST
A massive buffet breakfast spread is served at Xperience Restaurant. 
There is a huge selection for breakfast – from eggs, pastries and Western breakfast fare to Asian noodles, rice and dim sum.  
Though there isn't much available in the buffet spread for plant-based diets, the Chef was more than happy to whip up a delicious vegan breakfast and soy lattes were readily available.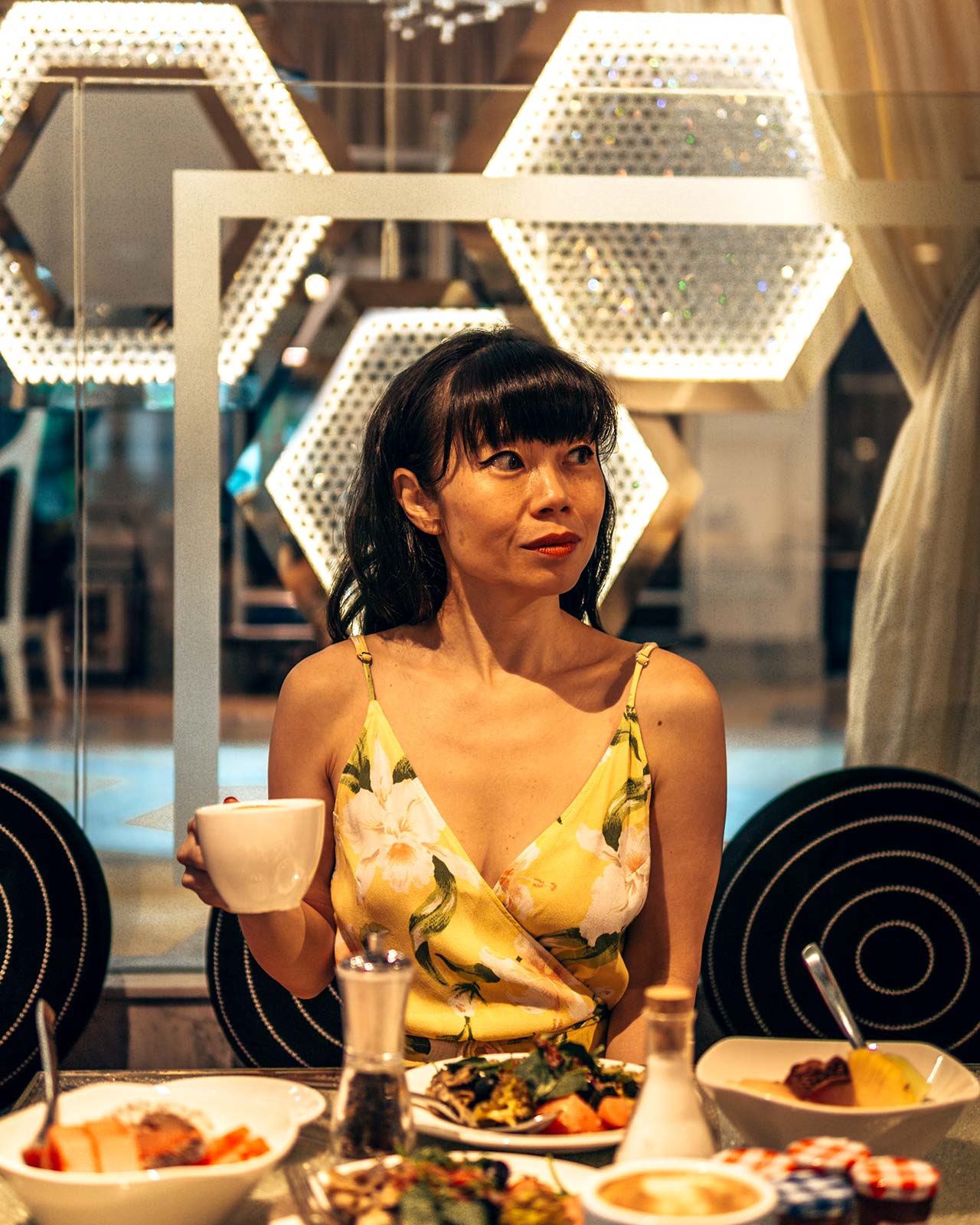 CHECK HERE FOR THE LATEST PRICES FOR SO/ SOFITEL SINGAPORE
1927 ROOFTOP BAR & ROOFTOP INFINITY POOL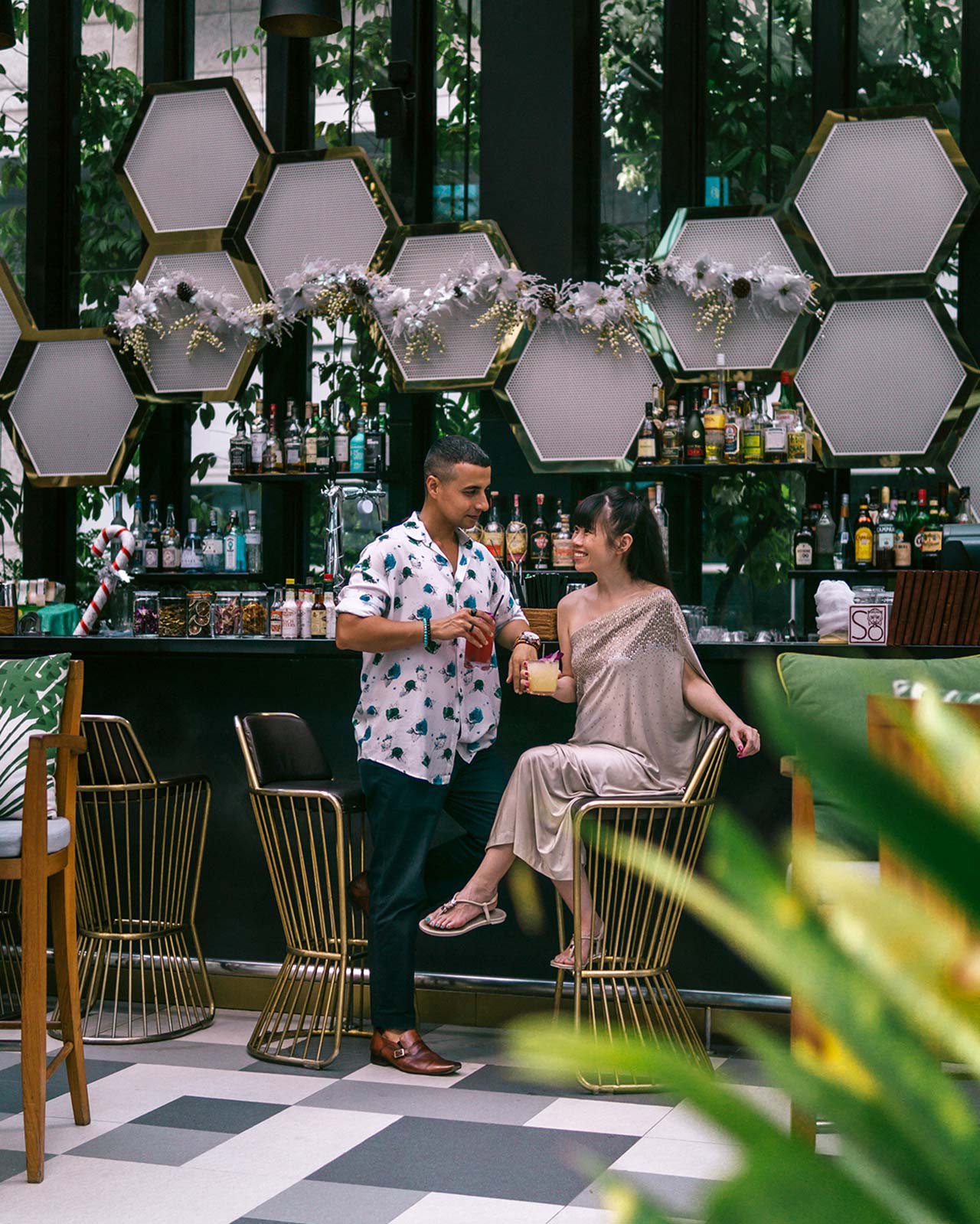 1927 is SO/ Sofitel Singapore's rooftop bar aptly named after the year the heritage building was built. It's a chic rooftop lounge that mixes lush tropical chic with a bit of glitz and glam.
The artisanal cocktails (and mocktails) were fun, interesting and had the perfect concoction to wake up your taste buds. We tried the 'Watermelon Man', a refreshing virgin cocktail of watermelon, pomegranate, chili lime, and the 'Baloo Says So' with parsnip, pear and sage.  
The infinity rooftop pool is a tad petit, but is beautiful, quiet and the perfect way to cool down during the scorching midday Singapore heat!
1927 rooftop bar & pool truly is an urban oasis in Singapore's busy CBD!
LOCATION
35 ROBINSON ROAD, 068876 SINGAPORE
We are foodies, so the first thing we look for in location is FOOD! And the famous Lau Pa Sat Hawker Center is right next to SO Sofitel! The hawkers take over the road at night with rows of street food stalls. Maxwell Road Food Center is also just a short walk away.
SO Sofitel Singapore is in the financial district and is within walking distance to Chinatown. The nearest MRT stations, Telok Ayer Station and Downtown Station are just a few minute's walk from the hotel.  Marina Bay Sands and our favorite Gardens by the Bay is just a 5 to 10-minute taxi ride away. But note that the financial district is a bit quiet during the evenings and weekends.
CHECK HERE FOR ALL YOU NEED TO KNOW ABOUT GARDENS BY THE BAY
SO/ Sofitel is a pampering luxurious stay with so much to explore! The 19th Century French interior design was an absolute delight.  If you appreciate design and would like to experience something completely different, we highly recommend SO/ Sofitel for your next visit to Singapore!
Wishing you Whimsical, Adventurous Stays,
Sue & Renesh
WHERE TO STAY IN SINGAPORE
CHECK HERE FOR THE LATEST PRICES FOR SO/ SOFITEL SINGAPORE
Luxury Boutique Hotel – AMOY HOTEL: Designed to give guests an experiential glimpse into Chinese history. The entrance of the hotel is the original Fuk Tak Chi temple build in the 1820s. Rooms are designed to include heritage accents and no two rooms are alike in layout and furnishing. Perfect for those who appreciate design, architecture and Chinese history. Find the latest prices for Amoy Hotel here.
Luxury Boutique Hotel – ANN SIANG HOUSE: A beautifully restored heritage building that is nestled in the lively area of Ann Siang Road known for the rooftop bars, restaurants and beautiful Peranakan houses. Just a 5-minute walk from Chinatown, it's perfect for those who love to be right in the center of a lively neighborhood, good food and buzzing nightlife. Find the latest prices for Ann Siang House here.
For other places to stay in Singapore, click here for a list and the latest prices.
MORE OF SINGAPORE
TOP INSTAGRAMMABLE PLACES IN SINGAPORE 
THINGS TO KNOW WHEN TRAVELING TO SINGAPORE – FIRST TIMERS GUIDE TO THE CITY 
COOL FREE THINGS TO DO IN SINGAPORE 
ARTSCIENCE MUSEUM + FUTURE WORLD EXHIBITION 
---
LIKE THIS? PIN IT FOR LATER!