Singapore is one of the most traveled countries in Asia. And it's no surprise! It is also one of the most fun and vibrant cities/countries in the world. But Singapore also has a reputation for strict rules and laws. We've summarized some things to know when traveling to Singapore, especially for first-time travelers.
THE BASICS
Currency: Singapore Dollars. About SGD1.38 to USD1 (as of Oct 2018)
Language: Mandarin and English. English is widely spoken all over Singapore.
Entry & Visas: As of 4 October 2018, the electronic arrival card will replace the paper-based arrival card for Singapore. All travelers will need to complete and submit the electronic arrival card before arriving (or going through the immigration checkpoint) in Singapore via the Immigration and Checkpoints Authority's website or their mobile app. After that, you will only need to show your passport for immigration clearance and your arrival card will be accessed electronically. You can also check if you need a visa from the same ICA link.   
Note: We just checked the ICA website and it seems that it may still in the implementation process. You can just keep it in mind for when you arrive and ask if you need to do the electronic arrival or if they're still doing the paper-based arrival card.
Cultural Festivals: Chinese New Year (Jan/Feb), Thaipusam (Feb)
WEATHER
Singapore is just about on the equator so expect tropical, very humid and hot weather. The rainy season usually hits from October to January/February.
Best time to go: March to September
HEALTH, SAFETY AND LAWS
Singapore is one of the safest places in the world. Whether a solo traveler or in a group, you don't have to worry much for your personal safety or petty theft when traveling in Singapore.
But Singapore does have very strict laws and little leeway is given if convicted. Just a few important things to know when traveling to Singapore:
DRUGS. Possession of drugs in Singapore is punishable by death.
SMOKING. Smoking is allowed in designated areas only and not at all allowed indoors. There are strict regulations about where you can and cannot smoke. It's pretty difficult to figure out where the designated smoking area is, so it's best to ask. If convicted for smoking at non-designated smoking areas, you can be fined as much as S$1,000!
GUM. Chewing Gum is banned. This makes us giggle a bit, but it is true. Chewing gum is really banned. But it just means that you can't purchase it in Singapore and can't import, sell or manufacture it.
And just for fun, CRAZY LAWS THAT'LL COST YOU $$ IN SINGAPORE IF YOU BREAK THEM
JAYWALKING. Defined as 'the crossing of a road within 50 meters of a crossing zone'. If caught, jaywalkers can get an on-the-spot fine of $20 and a fine of up to $1,000 or three months jail time. The fine and jail time doubles for repeat offenders!
LITTERING. Littering is just not cool and there are countries that have made littering against the law. Singapore is just one of the countries, but with a hefty fine of S$1000, even if it may have been accidental.
NOT FLUSHING THE TOILET. We all know it's common courtesy to flush at a public toilet, but in Singapore, there is actually a law against it. If caught leaving without flushing, even if the toilet is broken, you can get a fine of S$150.
WALKING IN THE NUDE, EVEN IN PRIVATE. We were giggling about this one too! But it's actually true. Wandering around your house (or hotel room) in the nude with curtains open is considered exposing yourself in public and you can get slapped with a S$2000 fine or 3 months jail time.
FEEDING THE PIGEONS. Accidentally or intentionally sharing your breadcrumbs with pigeons can get you a fine of S$500!
MONEY
Cash, Card, ATMS
Credit cards are widely accepted and ATM access is very easy in Singapore. Take note that you will still need to bring cash with you when you're out in Singapore. Hawker centers, neighborhood stores and even some taxis still only accept cash.
Tipping
You don't have to tip and it's not expected in Singapore. A 10% service charge is usually already included in the bill at restaurants and bars.
Bargaining
BA good thing to know when traveling to Singapore is that though it is in Asia, it's pretty much fixed prices in Singapore, especially in the shopping malls or more downtown areas. You can ask for a small discount at street or night markets like Arab Street or Chinatown, but don't expect to get massive price slashes.
TOP ATTRACTIONS – THINGS TO SEE AND DO
Here's a list of the must-visit places in Singapore for first-timers.
Marina Bay Sands
Haji Lane
Chinatown
You can also check out the 10 best photo spots in Singapore here.
TRANSPORT
Taxi / Grab
Taxis in Singapore are one of the safest and most reliable in the world. They all use the meter and there isn't any haggling about the price even in the rain, peak hours and the like. The only thing is you'll have some extra charges here and there if you go into the certain city zones, if you have luggage, or if you get the cab after midnight.
Grab, the equivalent to Uber in Southeast Asia, is great to use in Singapore. You get the fees upfront and all you have to do is download the app and all the rides can be paid by credit card via the app.
MRT
The MRTs in Singapore are not only super efficient, but they're super clean and comfortable. Everything is in English and there isn't a maze of MRT lines so it's really simple to navigate.
CULTURAL NUANCES / AWARENESS
Respect for Elders
This is typically an Asian culture. It's polite to address the elderly as 'Auntie' or 'Uncle' whether they are your friend's parents or a shop owner. It has nothing to do with whether they are actually related to you, but rather a show of respecting them as elders. Just make sure that they are visible older (like in their mid-50s or 60s) before you start calling them 'Auntie' or 'Uncle' so as not to offend!
The Tissue Packet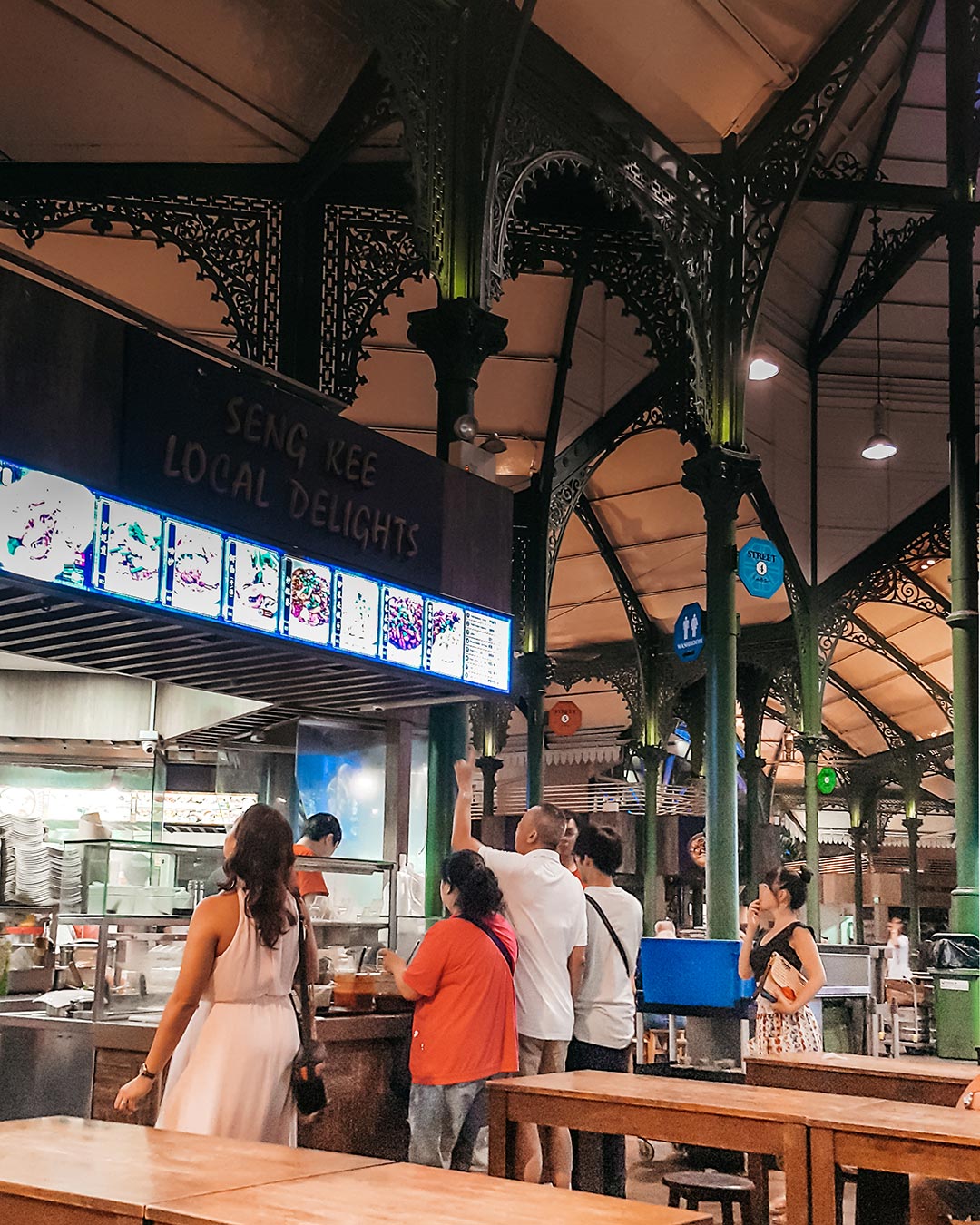 This is one of the top things to know when traveling to Singapore! Putting tissue packet on the table is the unofficial way to book your table at a hawker center. Hawker centers are self-service. You go and get your food first then get a table to sit down and eat at. But it's really quite a bother if you got your food and find that all the tables are full! Thus the tissue packet. So if you see random packs of tissues around different tables, know that those are booked by someone getting their food.
Remove you Shoes
This is also typically an Asian culture thing. Remove your shoes before entering a Singaporean home. Footwear is usually left outside the front door and if you're unsure, just ask your host. You must remove your shoes before entering most and mosques as well.
Dress
Singapore is a very cosmopolitan city so you don't have to worry about covering up in modest wear as you do with some other countries in Asia. However, do bring a shawl or sarong with you to cover up if you go to visit temples and other religious sites. Also, the air conditioning is fierce in Singapore and though it's hot outside, it's freezing indoors!
WHERE TO STAY IN SINGAPORE
Luxury Boutique Hotel – AMOY HOTEL: Designed to give guests an experiential glimpse into Chinese history. The entrance of the hotel is the original Fuk Tak Chi temple build in the 1820s. Rooms are designed to include heritage accents and no two rooms are alike in layout and furnishing. Perfect for those who appreciate design, architecture and Chinese history. Find the latest prices for Amoy Hotel here.
Luxury Boutique Hotel – ANN SIANG HOUSE: A beautifully restored heritage building that is nestled in the lively area of Ann Siang Road known for the rooftop bars, restaurants and beautiful Peranakan houses. Just a 5-minute walk from Chinatown, it's perfect for those who love to be right in the center of a lively neighborhood, good food and buzzing nightlife. Find the latest prices for Ann Siang House here.
For other places to stay in Singapore, click here for a list and the latest prices.
We hope this summary of things to know when traveling to Singapore helps for your next trip! Drop us a note if you have any questions and we'll be happy to help out! ENJOY SINGAPORE!
Wishing you amazing travels!
Sue + Renesh
MORE OF SINGAPORE
TOP INSTAGRAMMABLE PLACES IN SINGAPORE
ARTSCIENCE MUSEUM + FUTURE WORLD EXHIBITION
GARDENS BY THE BAY, SUPERTREE GROVE + CLOUD FOREST DOME
---
LIKE THIS? PIN IT FOR LATER!