Our guide features the top 10 spots in Singapore that are perfect for photographers to capture stunning photos for Instagram. These spots showcase the best photo opportunities in the city, from iconic landmarks to vibrant neighborhoods. Explore the 10 top Instagram-worthy spots in Singapore for stunning photo opportunities, showcasing iconic landmarks and vibrant neighborhoods.
First time to Singapore? Check Here for our Ultimate Singapore Guide
1. MARINA BAY SANDS
Without a doubt, Marina Bay Sands is one of the top Instagram-worthy spots in Singapore, drawing in crowds of photographers from all over the world with its breathtaking cityscape views. For the best shot of the iconic three-tower design and its reflection on the water, head to the nearby Merlion Park, widely regarded as one of the best places to take pictures in Singapore. And for an even more elevated perspective of the city skyline, make your way up to the famous rooftop infinity pool – an absolute must-visit location in Singapore for photography enthusiasts.
2. GARDENS BY THE BAY
Nestled in the heart of Singapore, Gardens by the Bay is a top-rated destination for nature lovers and photography enthusiasts alike. With its stunning Supertree Grove, Flower Dome, and Cloud Forest, it's no surprise that this park is a popular Instagram-worthy spot in Singapore. The Supertree Grove boasts towering, tree-like structures covered in vertical gardens and dazzling lights, making it a perfect location for capturing awe-inspiring landscape shots. The Flower Dome and Cloud Forest, on the other hand, offer a unique opportunity for nature photography, featuring a vast collection of exotic flora and fauna from around the world.
3. HAJI LANE
When it comes to Instagram-worthy spots in Singapore, Haji Lane is a trendy and popular destination that simply can't be missed. As you stroll down this narrow alleyway, you'll be surrounded by colorful street art that's just begging to be captured on camera. But Haji Lane is much more than just a street art gallery – it's also a hub for chic boutiques and cafes that embody a distinctly bohemian vibe. Whether you're looking to snap some urban street photography or want to pose in front of colorful walls, Haji Lane is a top contender for the best photo spot in Singapore. So be sure to add this hidden gem to your list of must-visit locations!
4. MERLION PARK
The Merlion Park, situated in the heart of Singapore's central business district, is a highly sought-after destination for both tourists and photographers. This park boasts an iconic landmark featuring the famous half-lion, half-fish statue, representing Singapore's origins as a fishing village and its development into a contemporary metropolis. With the impressive Marina Bay Sands as a backdrop, the Merlion Park is a must-see Instagram-worthy spot in Singapore. Ensure that you visit during the day to capture the statue's full splendor or at night for an opportunity to photograph the captivating light show that brightens up the area.
Check here for Top Instagrammable Places in Singapore
5. KAMPONG GLAM
Kampong Glam is a bustling neighborhood rich in Malay, Arab, and Indian cultures. With its colorful street art, historic shophouses, and beautiful murals, it's a photographer's paradise. Be sure to snap photos of the iconic Sultan Mosque with its golden dome and intricate design, explore Haji Lane's trendy boutiques and colorful street art, and capture the vibrant marketplace of Arab Street, showcasing Singapore's diverse cultural heritage.
6. TIONG BAHRU
Tiong Bahru is a trendy neighborhood with a vintage charm and vibrant street art scene, making it one of the top 10 Instagram-worthy spots in Singapore for photographers. This area is filled with quaint cafes, indie boutiques, and unique shops, offering ample photo opportunities. The colorful murals and graffiti art on the walls of Tiong Bahru's shophouses provide an excellent backdrop for street photography, while the neighborhood's unique architecture and design are perfect for capturing the vintage aesthetic. Additionally, Tiong Bahru has many hidden gems, including alleys and courtyards that are perfect for exploring and photographing.
7. NATIONAL GALLERY SINGAPORE
For photographers seeking Instagram-worthy spots in Singapore, the National Gallery Singapore is a must-visit destination. This gallery is renowned for its magnificent architecture, captivating exhibitions, and galleries. Among the favorite spots to photograph are the gallery's stunning spiral staircase, which is popular among visitors, and the panoramic views of the cityscape from the rooftop. Be sure to capture the intricate details and impressive design of the building, which make it a standout photo opportunity.
8. CHINATOWN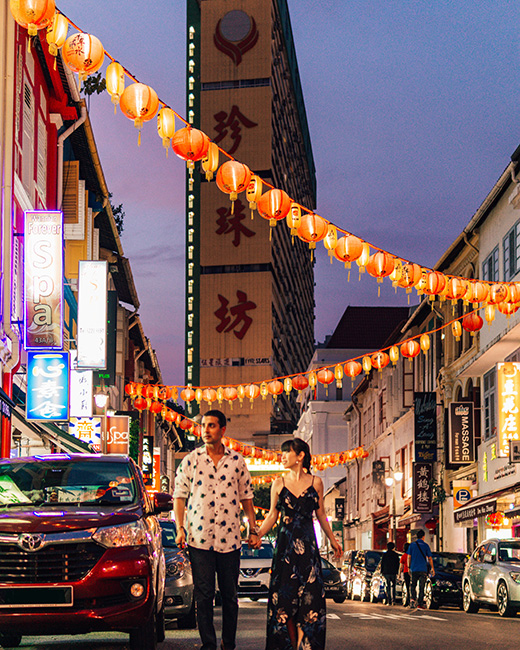 Chinatown, another top 10 Instagram-worthy spot in Singapore for photographers, is a perfect blend of traditional and modern architecture. Colorful shophouses, bustling streets, and cultural landmarks provide plenty of photo opportunities. Capture the intricate details and facades of the shophouses, or snap photos of the locals' everyday life. Be sure to visit the Sri Mariamman Temple, one of the oldest Hindu temples in Singapore, with its colorful architecture and ornate sculptures. Other must-visit spots include the Chinatown Heritage Centre, Buddha Tooth Relic Temple and Museum, Chinatown Food Street, and the Thian Hock Keng Temple.
Check here for Cool Free Things To Do In Singapore
9. SENTOSA ISLAND
Sentosa Island is a paradise for photographers seeking the perfect Instagram shot in Singapore. From the thrilling rides at Universal Studios to the iconic Merlion Statue, and the stunning beach views, Sentosa Island offers endless photo opportunities. Photographers can capture the colorful and vibrant atmosphere of the island, from the lush greenery to the pristine beaches. Don't forget to take snaps of the stunning sunset views from the beach or capture the lively atmosphere of the island's restaurants and bars!
10. SINGAPORE BOTANIC GARDENS
The Singapore Botanic Gardens is an idyllic park that presents one of the most stunning Instagram-worthy spots in Singapore. The Gardens feature an expansive area with lush greenery and blooming flowers, making it an excellent spot for nature and landscape photography. The highlight of the Botanic Gardens is the National Orchid Garden, where you can capture photographs of over 1,000 orchid species, including Singapore's national flower, the Vanda Miss Joaquim. Whether you're an amateur or professional photographer, the Singapore Botanic Gardens is a perfect location for taking memorable shots of Singapore's natural beauty.
Read Why You Should Visit The Singapore Botanic Gardens
Singapore offers an abundance of Instagram-worthy spots for photographers to capture stunning photos. From vibrant neighborhoods like Tiong Bahru and Kampong Glam to iconic landmarks like the Merlion and Marina Bay Sands, there is no shortage of picture-perfect locations. No matter which spot you choose, be sure to capture the essence of Singapore's diverse cultures, rich history, and contemporary flair in your photographs.
Wishing you happy travels,
Sue & Renesh
WHERE TO STAY IN SINGAPORE
Luxury Boutique Hotel – AMOY HOTEL: Designed to give guests an experiential glimpse into Chinese history. The entrance of the hotel is the original Fuk Tak Chi temple build in the 1820s. Rooms are designed to include heritage accents and no two rooms are alike in layout and furnishing. Perfect for those who appreciate design, architecture and Chinese history. Find the latest prices for Amoy Hotel here.
Luxury Boutique Hotel – ANN SIANG HOUSE: A beautifully restored heritage building that is nestled in the lively area of Ann Siang Road known for the rooftop bars, restaurants and beautiful Peranakan houses. Just a 5-minute walk from Chinatown, it's perfect for those who love to be right in the center of a lively neighborhood, good food and buzzing nightlife. Find the latest prices for Ann Siang House here.
Luxury Boutique Hotel – HOTEL FORT CANNING: A luxurious hotel located in the heart of Singapore with a rich history and modern amenities. The hotel offers beautifully designed rooms, top-notch facilities, and a tranquil setting amidst lush greenery. Find the latest prices for Hotel Fort Canning here.
Luxury Boutique Hotel – KESA HOUSE: A heritage boutique hotel that offers cozy accommodations, personalized services, and convenient access to the city's popular attractions. Its unique design blends traditional elements with modern amenities, creating a warm and welcoming atmosphere for guests. Find the latest prices for Kesa House here.
Luxury Boutique Hotel – SO / SOFITEL SINGAPORE: A luxurious hotel located in the heart of the city, featuring elegant and modern rooms with stunning city views. The hotel also offers a range of facilities, including an outdoor pool, fitness center, and multiple dining options. Find the latest prices for SO / Sofitel Singapore here.
For other places to stay in Singapore, click here for a list and the latest prices.
MORE OF SINGAPORE
THINGS TO KNOW WHEN TRAVELING TO SINGAPORE
GARDEN BY THE BAY, SUPERTREE GROVE + CLOUD FOREST DOME