Putrajaya has a lot of amazing places to explore but this one is totally one of the hidden gems. Here's everything you need to about the new Astaka Morocco Putrajaya. This pavilion resembles palaces in Morocco and was built as a cultural exchange between Malaysia and Morocco. The pavilion is located in Putrajaya (about a 30-40 min drive from Kuala Lumpur city center). It's beautifully done and really does make you feel that you've been transported to Morocco!
GETTING TO ASTAKA MOROCCO PUTRAJAYA
Since Astaka Morocco is located in Putrajaya, public transportation from the city center is a bit limited. It could take up to 1.5 hours to get there if you take the public bus from KL city center.
The easiest and most convenient way to get here is by car, grab or taxi. And since you'll be in Putrajaya, you can stop by the beautiful pink Putra Mosque nearby.
Address: Presint 1, 62000 Putrajaya
ENTRANCE FEE to ASTAKA MOROCCO
Entrance to the main courtyard is free! And the parking is free. But there is an entrance fee of RM3 for the inside and pictures are not allowed starting from this point.
Operating hours: Wednesday – Monday, 9:00am – 12:00pm & 2:00pm – 5:00pm.
About Astaka Morocco Putrajaya
Here, you will find four different galleries with each having distinctive features of Morocco's oldest imperial cities. Every corner of this building is a must-see site. The walls are adorned with Islamic calligraphy made by skilled artists in Morocco. Once you have entered the building, you will be amazed at the amount of detail in the architecture and you'll notice that no two rooms are the same.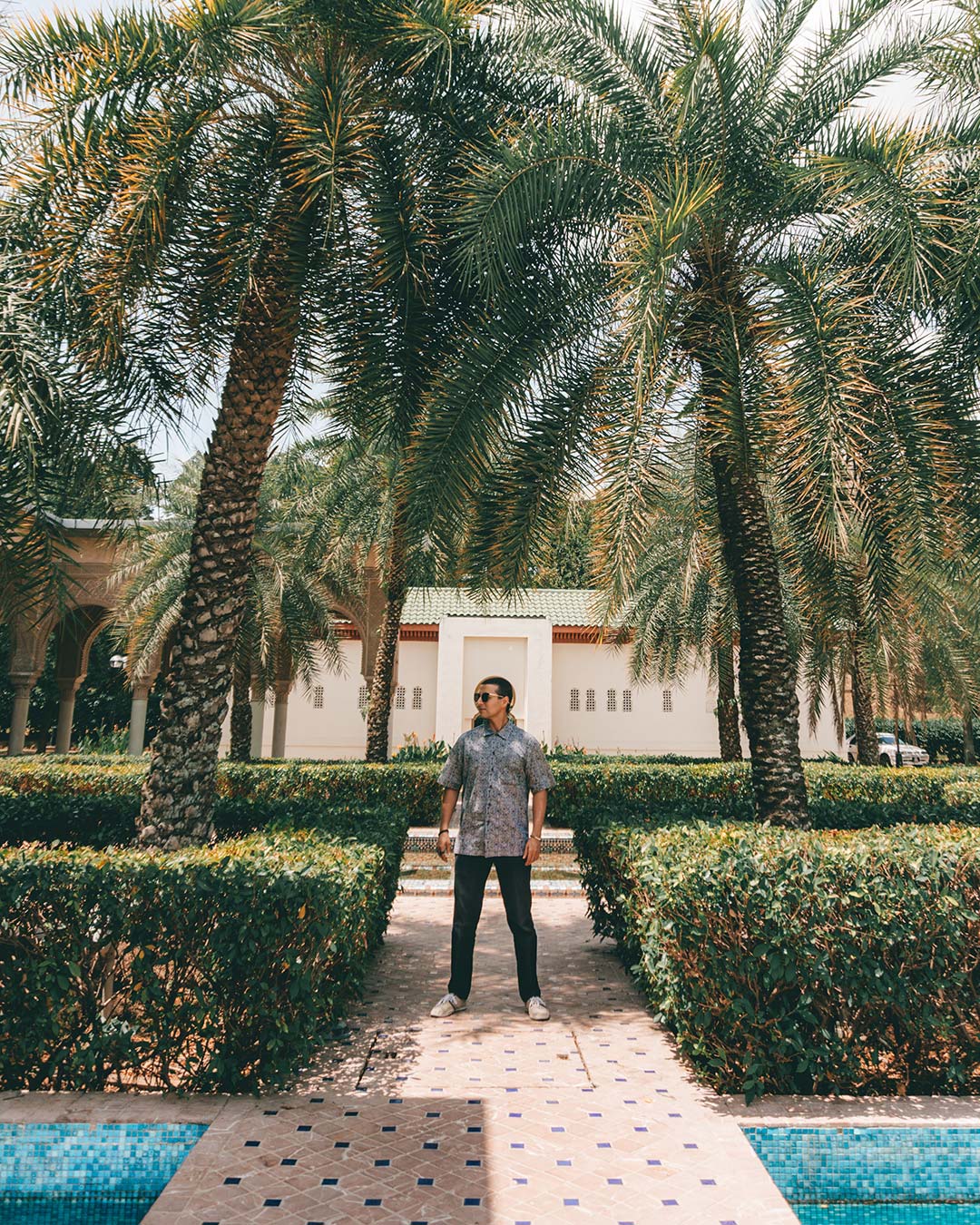 Unfortunately, you can't take photos inside, not even with your phone, so we only have photos of the courtyard area to share with you.
Secret travel tip: It seems the more adamant you are about debating with the security on taking photos inside, the more difficult a time you will have even just a quick snap with your phone. If you're going inside, we recommend that you keep all your DSLR camera gear out of sight. Just pay the entrance fee and go in and enjoy the architecture.  
Also, be prepared to overlook a bit of wear and tear and a few areas that need a bit of maintenance and upkeep.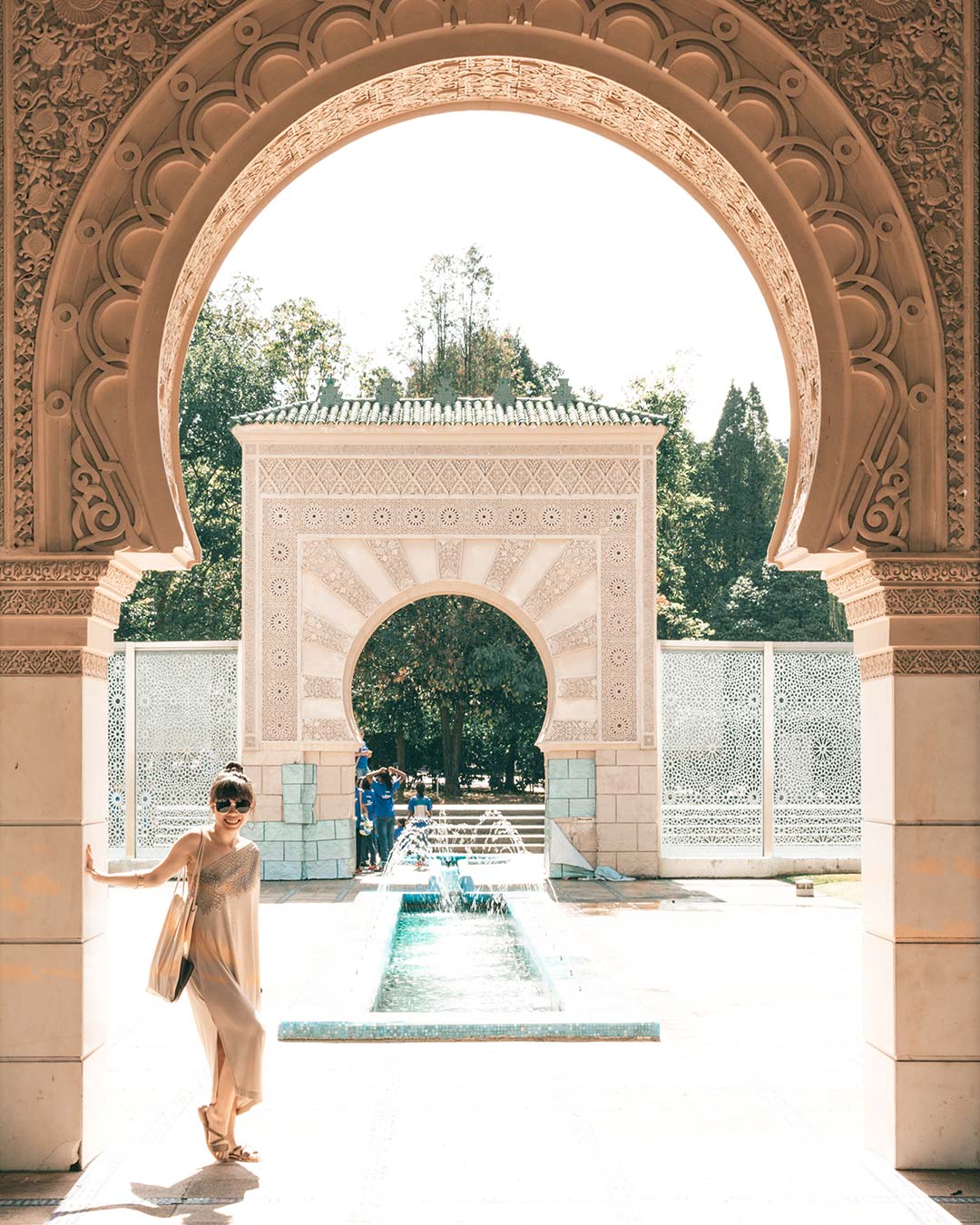 Overall, this will be a great discovery for those who appreciate good architecture and cultural designs. Definitely Putrajaya's hidden gem! Since it is located inside the Botanical Garden, it's like killing two birds with one stone – you get to visit Putrajaya's hidden gem while taking a stroll through the Botanical Garden.
When to visit
We would always recommend visiting during weekdays when there is less crowd. And get here early to take stunning shots without people photobombing your photo.
We hope you enjoy it here as much as we do. Feel free to share your experiences here in the comments!
Wishing you wonderful discoveries,
Renesh & Sue
WHERE TO STAY IN KUALA LUMPUR 
Check here for a list and the latest prices of where to stay in Kuala Lumpur.
MORE ON MALAYSIA
KUALA LUMPUR TRAVEL GUIDE FOR FIRST-TIMERS
TOP INSTAGRAMMABLE PLACES IN KUALA LUMPUR
BATU CAVES AND THE RAINBOW STAIRS
---
LIKE THIS? PIN IT FOR LATER!