Kuala Lumpur is definitely one of the cities you should not miss. It is a photogenic city with a beautiful mix of skyscrapers sparkling at night and traditional Moorish, Chinese and Colonial architecture. This is the visitor's guide to the top Instagrammable Places in Kuala Lumpur (or within a 40-minute drive from KL city center). These Instagrammable spots are not only totally doable even if you're there for just a few days but are easy to get to and very photogenic. And the only one that you really need to wake up at the crack of dawn for amazing shots is Batu Caves! Here's all you need to get those Instagram worthy places in Kuala Lumpur, Malaysia.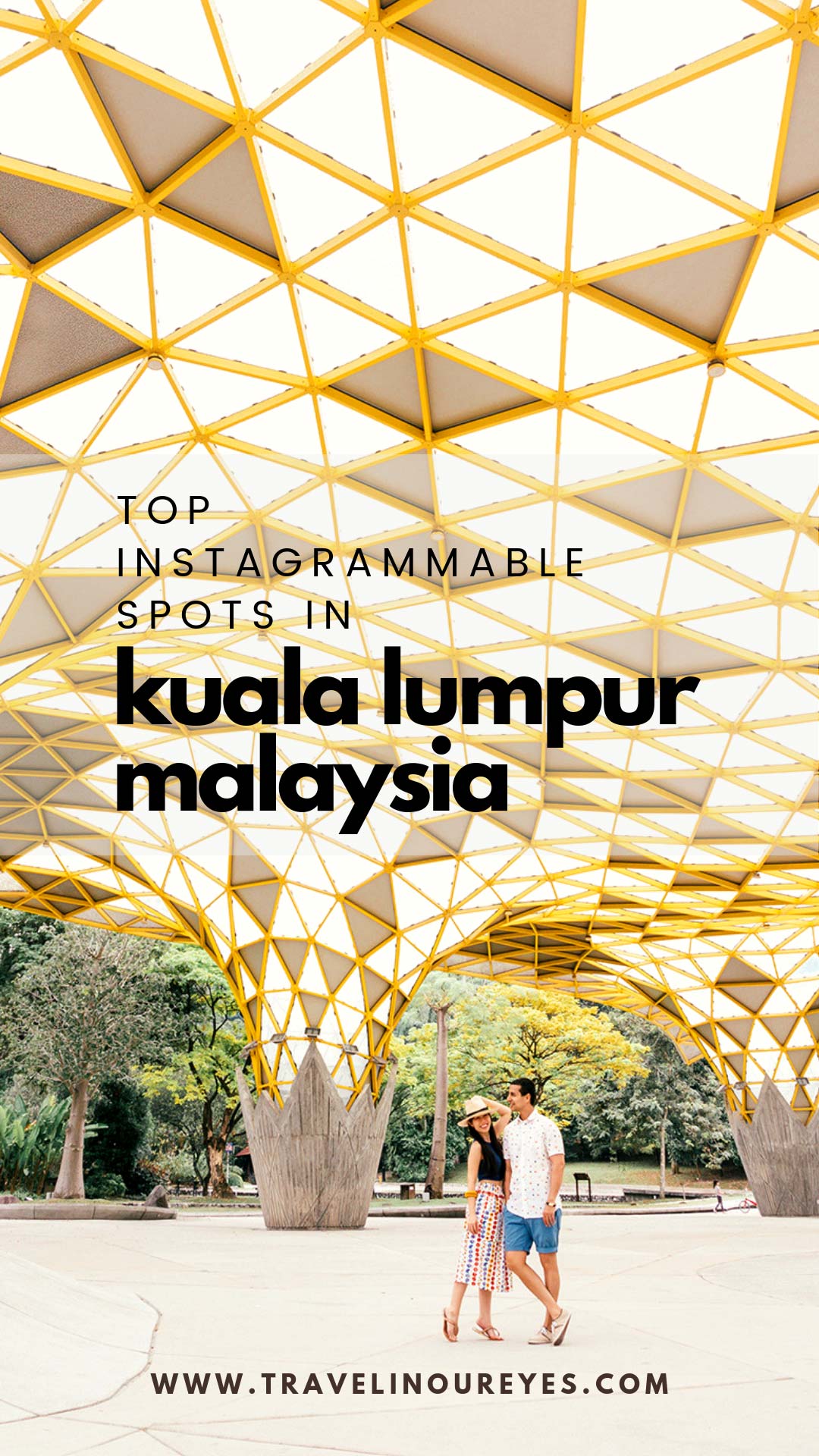 And if you're planning your first trip to Kuala Lumpur or Malaysia, check our Kuala Lumpur Travel Guide curated for first-time visitors to the city and Malaysia. As Malaysians ourselves, our Kuala Lumpur Travel Guide for First-Timers covers all the need-to-knows and cultural nuances so you're fully prepared to travel through this beautiful country.
Explore the wonders of Batu Caves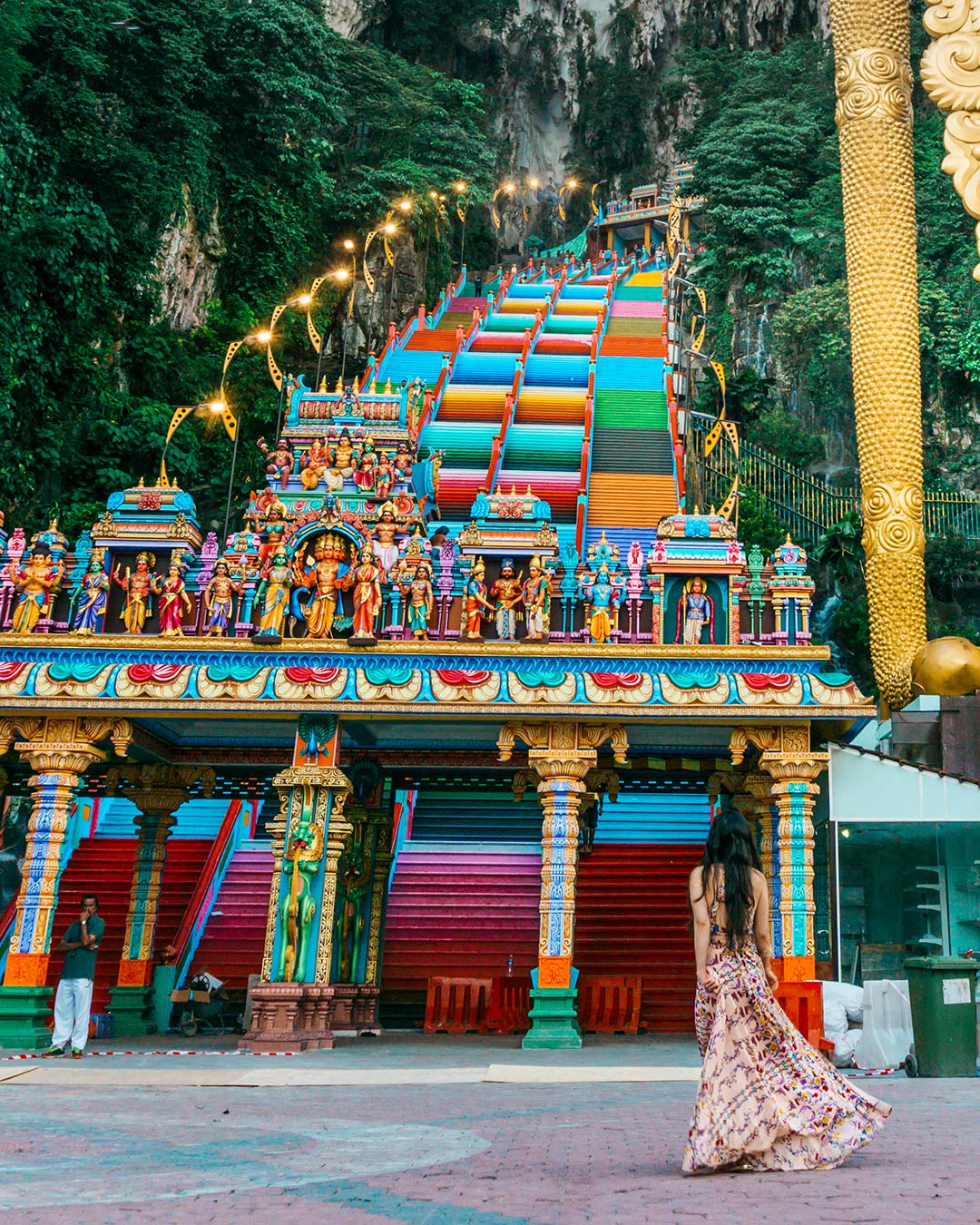 Possibly the top of the list for one of the most Instagram worthy places in Kuala Lumpur is Batu Caves and the 272 rainbow colored stairs up to the temple! With a ton of different angles to capture, the only thing you have to worry about is getting up early to go and the monkeys! And it's FREE!
Click HERE for Everything you need to know about Batu Caves and the Rainbow Stairs
Take in the views at PETRONAS Twin Towers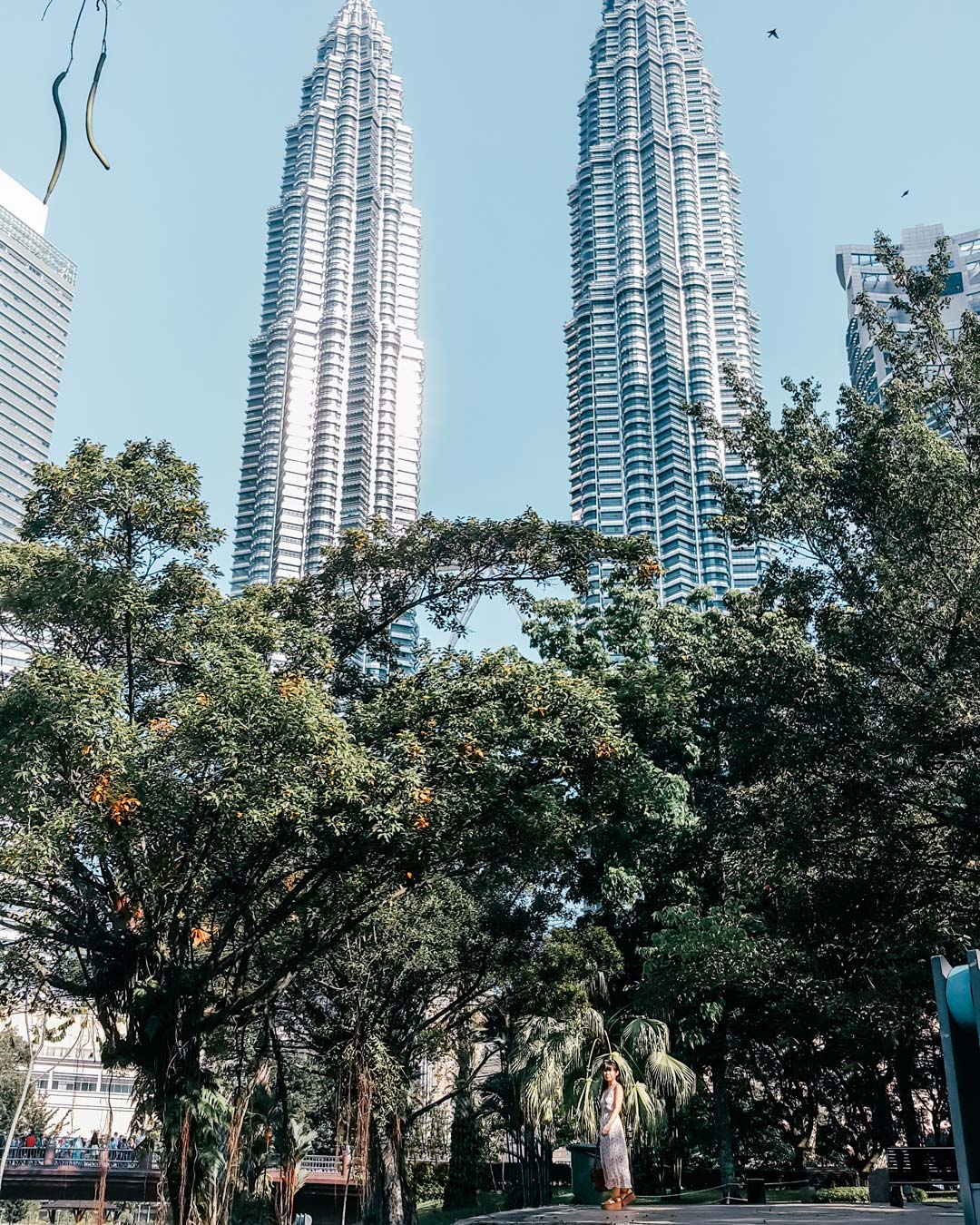 The Petronas Twin Towers were the tallest buildings in the world from 1998 to 2004 and if you ask any Malaysian, was what put Kuala Lumpur in the world map. The Twin Towers are among the top Instagrammable spots in Kuala Lumpur not only for the sheer size but also for the incredibly beautiful design, both day and night. It also offers magnificent views that stretch across the city of Kuala Lumpur. From the Sky Bridge, you can see the full extent of the KLCC Park. The entry fees to the Twin Towers starts approximately from 65 MYR. If you are planning to visit during public holidays, purchase the tickets online to avoid long queues!
Beautiful sunsets over the KL Tower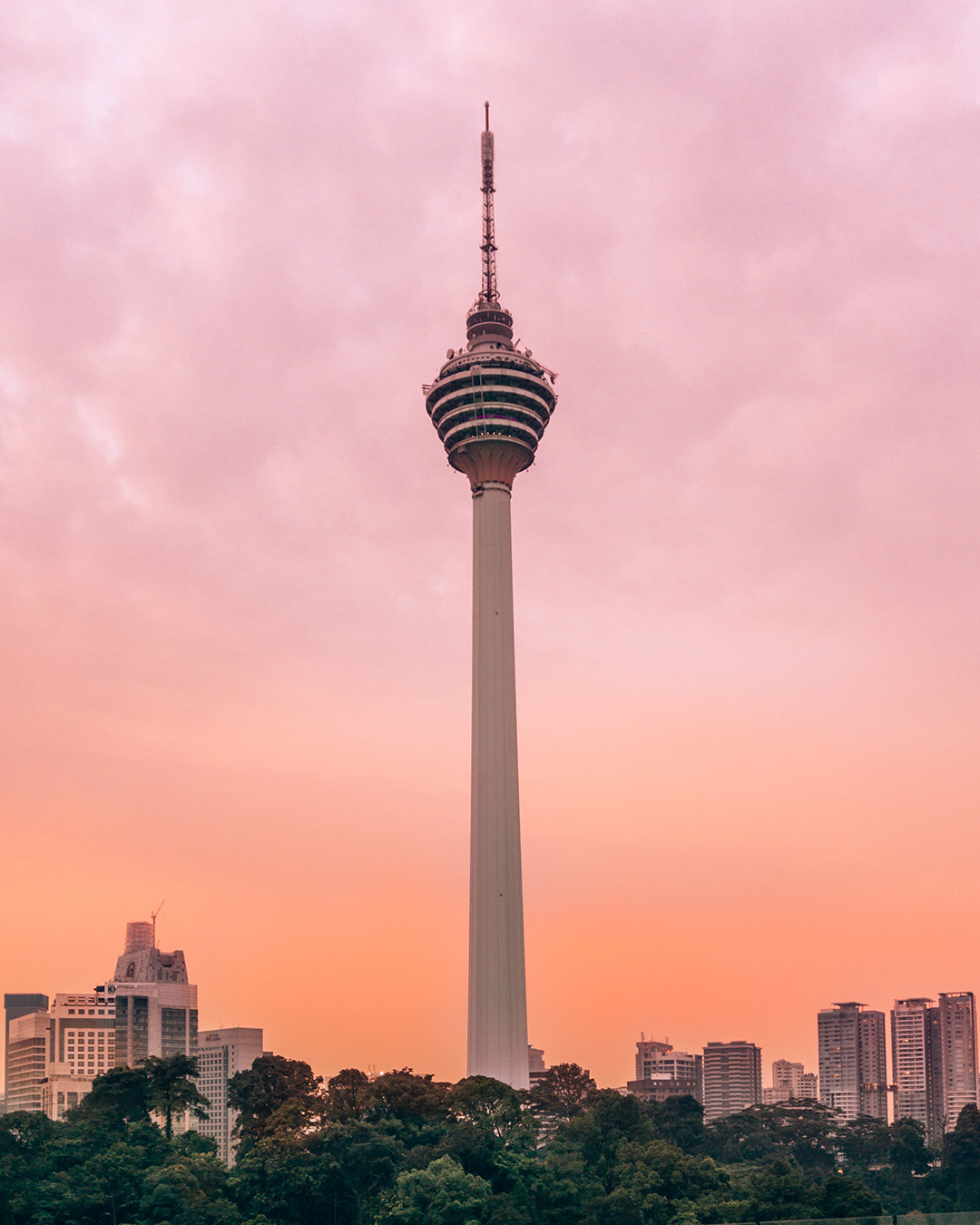 This tower stands at 335 meters and has an observation deck that offers amazing panoramic views of the city. The visitor deck is open to the public and it takes approximately 54 seconds to ascend to the top. Visit around dusk to observe beautiful sunset across the city! The entry fees to the tower cost approximately 55 MYR for an adult and 45 MYR for a child.
Wander through Petaling Street
Petaling Street, Chinatown is like Chinatown all over the world. It's crazy crowded, filled with tourists, busy but fun and a great place for photos. The Chinatown area is quick being the hipster place to be with boutique hotels and Insta-worthy cafes popping up, and is also well known for good, cheap street food.
See Colonial Moorish architecture of the KL Railway Station
This beautiful white building is an underrated Kuala Lumpur sight. Because of the mixture of Western and Moorish architecture, the KL Railway Station's stunning golden domes against the white columns are so majestic. Every side is beautiful and photogenic. It really is one of the top Instagrammable places in Kuala Lumpur.
Stroll around Little India in Brickfields
Little India in Brickfields is a bustling and colorful Indian enclave to get a taste for the Indian culture in Malaysia. There are so many things that you can do here besides sightseeing and taking photogenic shots! You may stock up on Indian textiles and spices here. The traditional food stalls are also a must-try. And of course, don't miss out on the authentic Indian banana leaf rice.
Play tourist at Astaka Morocco, Putrajaya
Astaka Morocco is perhaps Kuala Lumpur's best-kept secret as it is tucked away into the Putrajaya Botanical Gardens along the lake. The stunning building resembles the pavilions of Marrakech. Definitely a sight not to miss!
Explore stunning mosques around Kuala Lumpur
Kuala Lumpur is not short on beautiful mosques. The most famous being the Federal Territory Mosque, Putra Mosque and Jamek Mosque. Visiting a mosque is similar to visiting other religious grounds. Be respectful, quiet and dress properly. And don't forget to take off your shoes!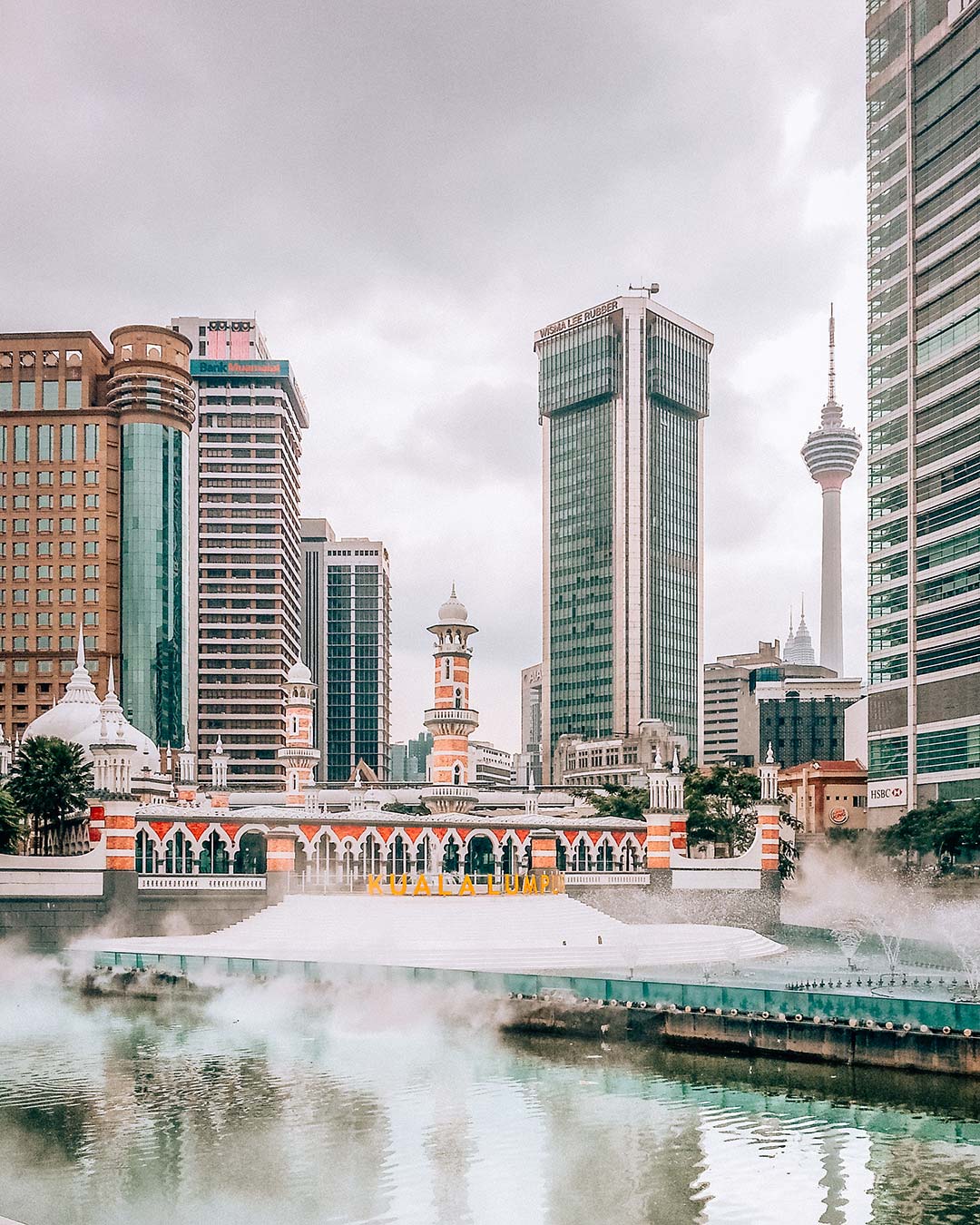 Jamek Mosque is the oldest mosque in the city. It was built in 1909 and situated at the confluence of the Klang and Gombak rivers where Kuala Lumpur derived its name.
Cultural experience at Thean Hou Temple
Thean Hou Temple is breathtakingly beautiful with many undiscovered sides that want to be captured. The main temple and courtyard is beautifully adorned with lanterns all year round. Climb up to the temple's upper decks for shots of the pretty pavilions and close-up views of the intricate mosaic. Thean Hou Temple is one of our favorite top Instagrammable spots in Kuala Lumpur!
Stroll through the Perdana Botanical Garden
This beautiful garden is a great place to hang out if you want to take a break away from the noise and busy traffic of Kuala Lumpur. You can explore landscaped gardens, a lake, even a miniature Stonehenge replica – all for free!
For more experiences and places to visit in KL, check out our 20-item Kuala Lumpur Bucket list here – complete with a download checklist.
Experience History at Sultan Abdul Shah

The Sultan Abdul Samad Building is one of the historical landmarks in Kuala Lumpur and is located just opposite the Merdeka Square Kuala Lumpur and the Royal Selangor Club. The building was inspired by Moorish-style, which makes it one of the best photo spots in Kuala Lumpur!
See the Kuala Lumpur night skyline from KL rooftop
If you are looking for a location to take a splendid photo you can simply look around you, choose a high building of your choice and see if you can get on top. Rooftop pools in Kuala Lumpur are something that you must experience while visiting the city.
Have you discovered any unique places in Kuala Lumpur? Feel free to share your favorites in the comments!
Wishing you amazing adventures!
Sue & Renesh
* Disclaimer: As an Amazon Associate I earn from qualifying purchases. Some links included in this description are affiliate links. If you purchase a product or service with the links that I provide I may receive a small commission. There is no additional charge to you! Thank you for supporting my blog so I can continue to provide you with free more each week!
OUR FAVOURITE TRAVEL ESSENTIALS
Universal Adapter – Universal All in One Worldwide Travel Adapter is the ultimate solution to all your charging needs while on the go! With its compact size and compatibility with over 150 countries, you can now travel worry-free without the fear of running out of battery or not being able to charge your device.
First Aid Kit – First Aid Only is the perfect solution for those who are always on the go and want to be prepared for any minor wound care needs, with an assortment of adhesive bandages included.
Mosquito Repellent – US Organic Mosquito Repellant is a safe and natural option, perfect for kids and those with sensitivities.
Ear Plug – Noise Reduction Ear Plugs are a must-have for long haul flights. These ear plugs are designed to block out unwanted noise, allowing you to get some much-needed rest and relaxation during your flight.
Eco-Friendly Sunscreen – Banana Boat Sport Ultra Reef Friendly Sunscreen Lotion is not only safe for your skin but also for the coral reef, making it the perfect choice for water activities without harming the marine creatures.
Waterproof Bag – HEETA Waterproof Dry Bag is a game-changer for any adventurer looking to keep their belongings dry and secure during any water activity. The durable and lightweight design allows you to easily store and carry all of your essential items while enjoying any water-based adventure. Whether you're kayaking, fishing, island hopping, or just lounging at the beach, HEETA has got you covered!
WHERE TO STAY IN KUALA LUMPUR 
Check here for a list and the latest prices of where to stay in Kuala Lumpur.
MORE ON MALAYSIA
KUALA LUMPUR TRAVEL GUIDE FOR FIRST-TIMERS
BATU CAVES AND THE RAINBOW STAIRS
---
LIKE THIS? PIN IT FOR LATER!