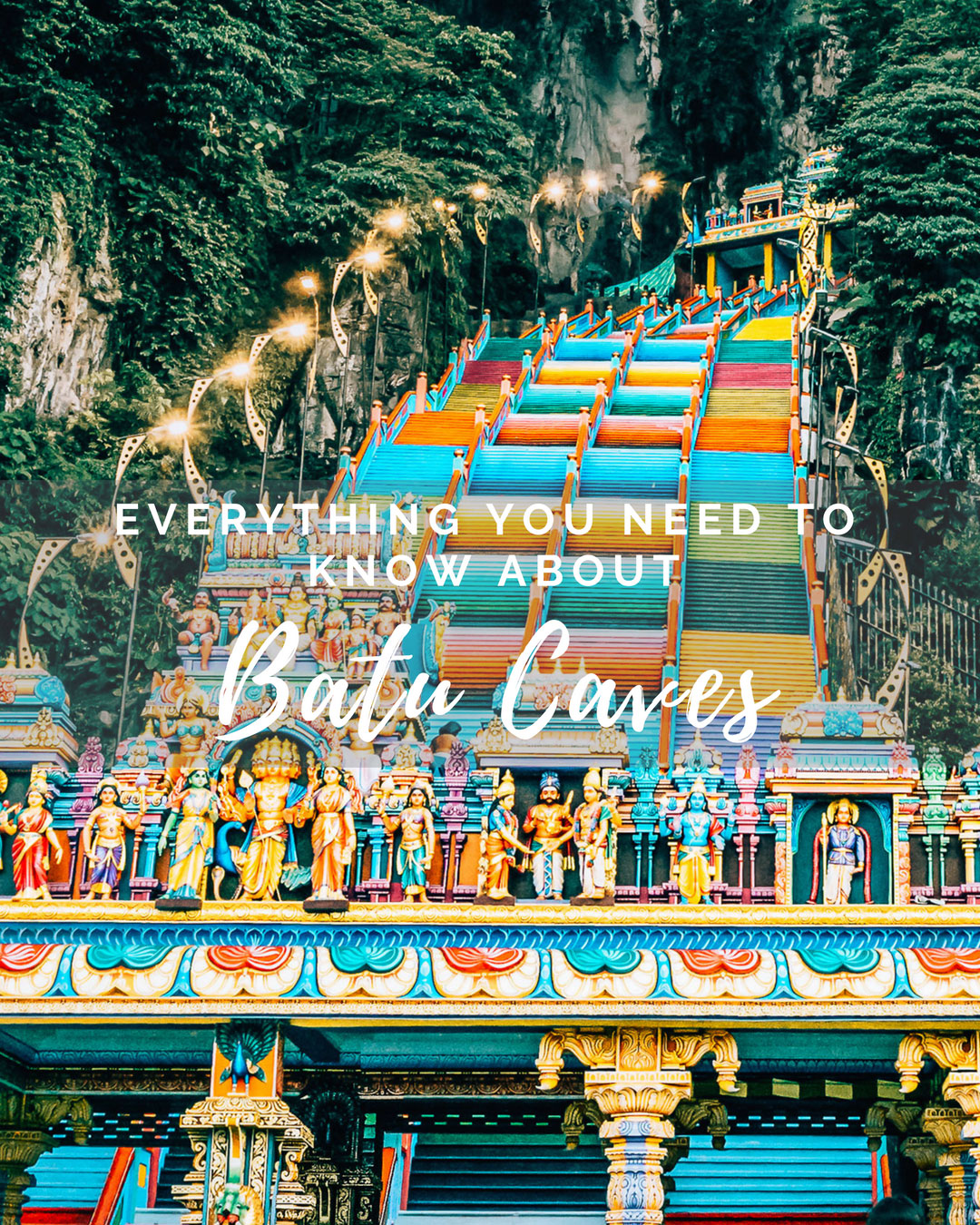 Batu Caves is a must when you're visiting Kuala Lumpur! Here's everything you need to know about Batu Caves and the Rainbow Stairs – from secret travel tips, what to expect, entrance fees, the temples, dress code, how to get there, and even monkeys!
Our Tips at a Glance
Get there early (at 7:00AM) to have the place almost all to yourself. And the monkeys are still asleep!
There is no entrance fee for Batu Caves main temple, but there is an entrance fee of MYR15-35 (USD3.60-8.50) for the the other caves.
Wear comfortable shoes since the temple is in a cave, the ground can be a little uneven. Plus you have 272 beautiful rainbow stairs to go up.
You can wear a dress or whatever you like for pictures, but to follow the dress code for Batu Caves temple, bring a sarong and/or shawl to cover your knees and shoulders.
Bring a bag with a zipper (like a backpack) that can store everything. The moneys are cheeky and like to nick whatever they can get their hands on!
Bring mosquito repellent. Surprisingly, there are a lot of mosquitoes dwelling in cave.
There are restaurants that offer excellent Indian food at reasonable prices in front of the golden statue.
About the Batu Caves
The Batu Caves is a beautiful place to explore especially with its new look! 272 steps – definitely a lot of steps to climb! The stairs are made comfortable to scale – wide and of regular height with railing to hold on to and terraces to take breaks. So climbing up was easier than expected. When you're 272 steps up, you can definitely feel cool relief from the hot Malaysian sun. The best thing about climbing to the top is you can witness the stunning skyline of the city centre. It might be exhausting, but the breeze, the view and surprisingly the fun rainbow colored steps makes the trek to the top much more enjoyable. And it's totally worth the climb!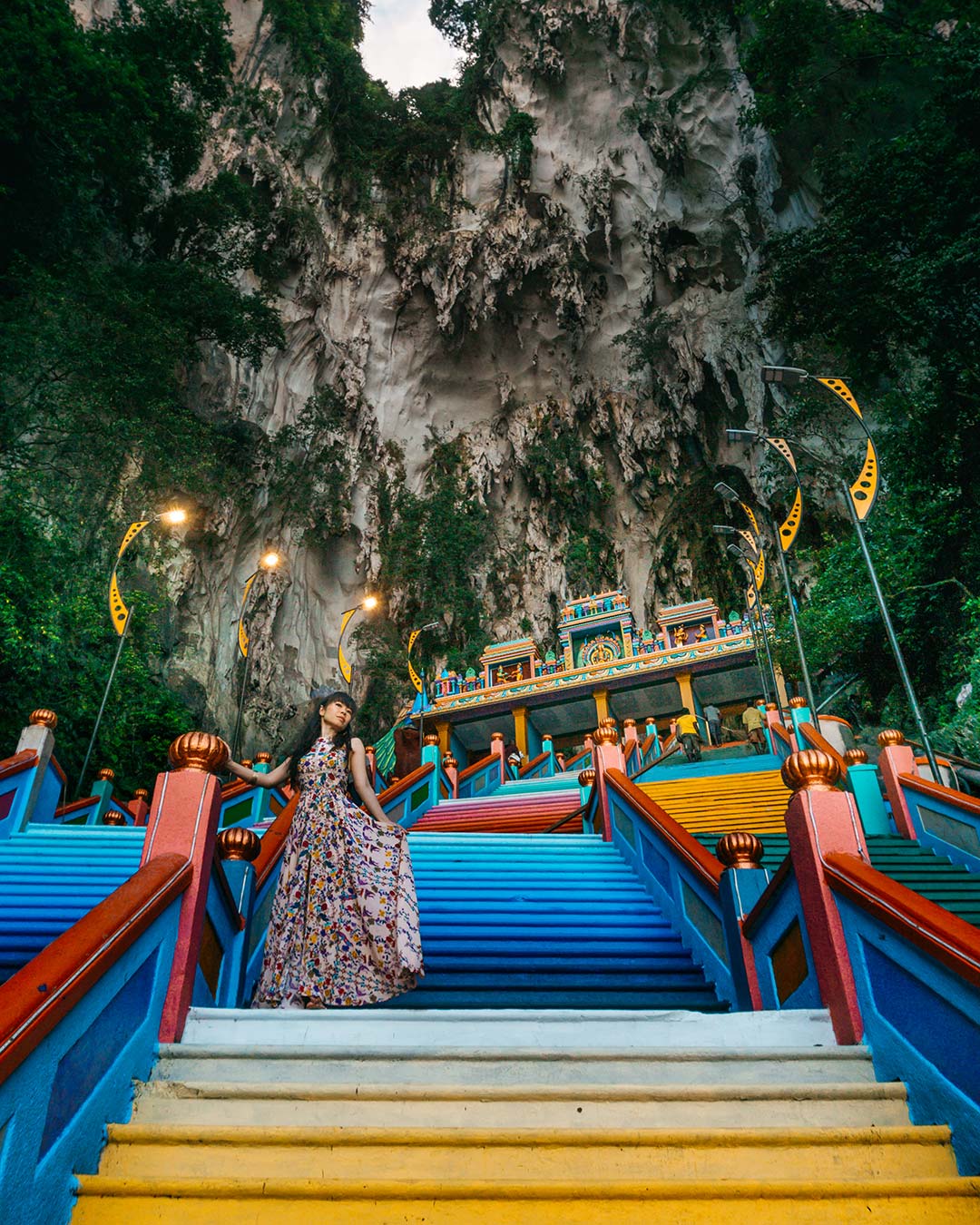 One of the most iconic features of Batu Caves is the towering 50 meter gold statue of the Hindu God, Lord Murugan, right at the entrance of the cave, the the tallest Lord Murugan Statue in the world!
Batu Caves is one of the most popular Hindu shrines outside of India and is the main stage of the Hindu festival of Thaipusam in Malaysia. Thaipusam celebrated during the full moon during the month of Thai (usually in February) and is a festival to pray to God to receive his grace so that bad traits are destroyed. During Thaipusam, devotees will perform ceremonial sacrifice and offering to Lord Murugan.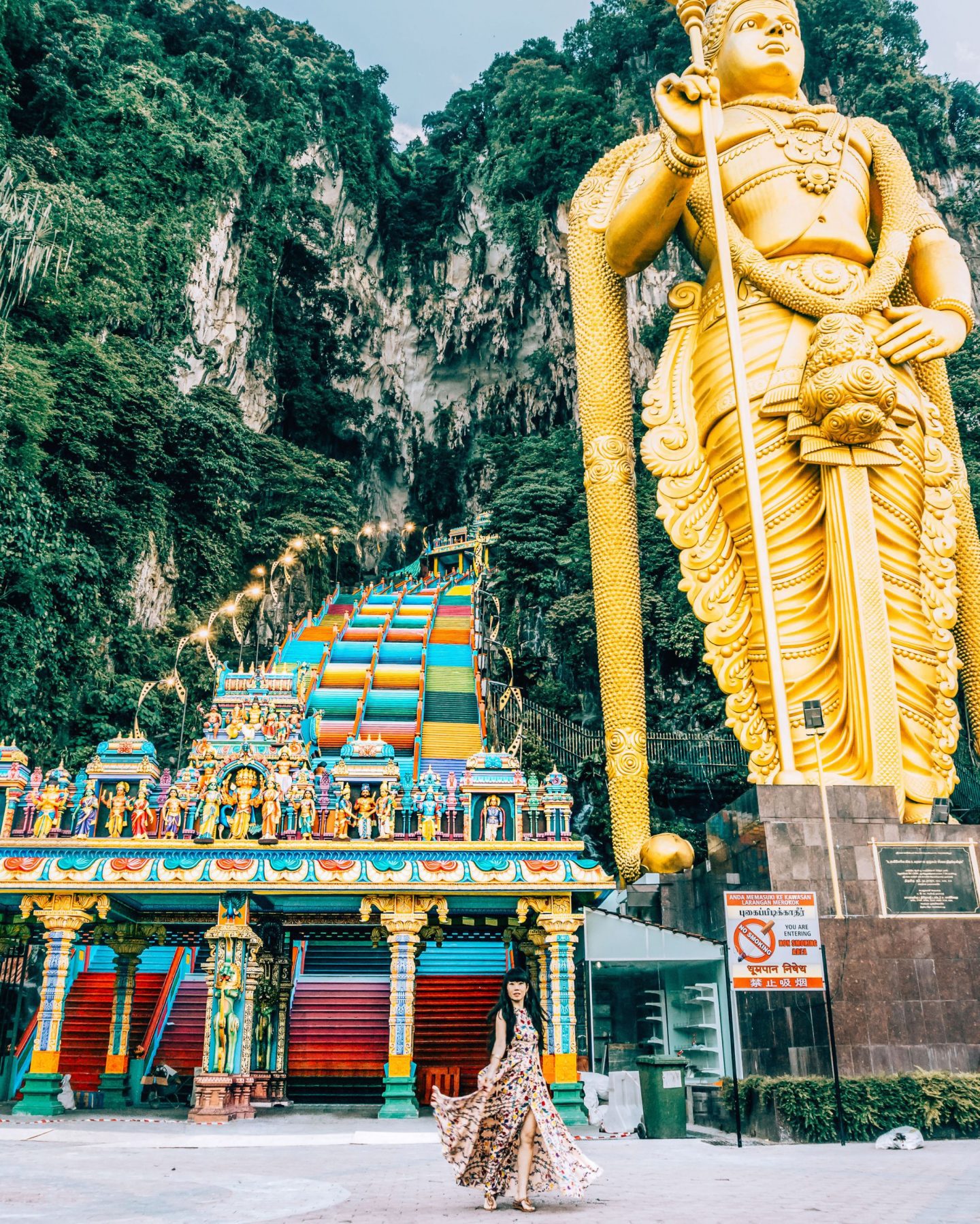 The Temple Cave
When you get to the top of the stairs, you'll head into the main and the biggest cave, the Temple Cave. There is no entrance fee for the Temple Cave. It has a very high ceiling, also with an opening at the top that makes for a dramatic and breath-taking sight. We've heard comments that the Temple Cave looks bare and empty, but when you think about how everything from bricks, concrete, statues, and even the drinking water we buy, has to be carried up a grueling 272 stairs, it does seem pretty amazing!
---
Our Secret tip: NOTE, there is no toilets at the Temple Cave at the top of the stairs so the only toilets are only available at the foot of Batu Caves! This is where you will need the mosquito repellent as there were quite a lot of mosquitoes inside the Temple Cave. Also see the section further down on Dress Code for Batu Caves to help with mosquitoes. 
---
However, Temple Cave is just one of five Batu Caves. There are so much more that you can experience at Batu Caves. The Batu Caves temple consists of three main caves and a few smaller ones.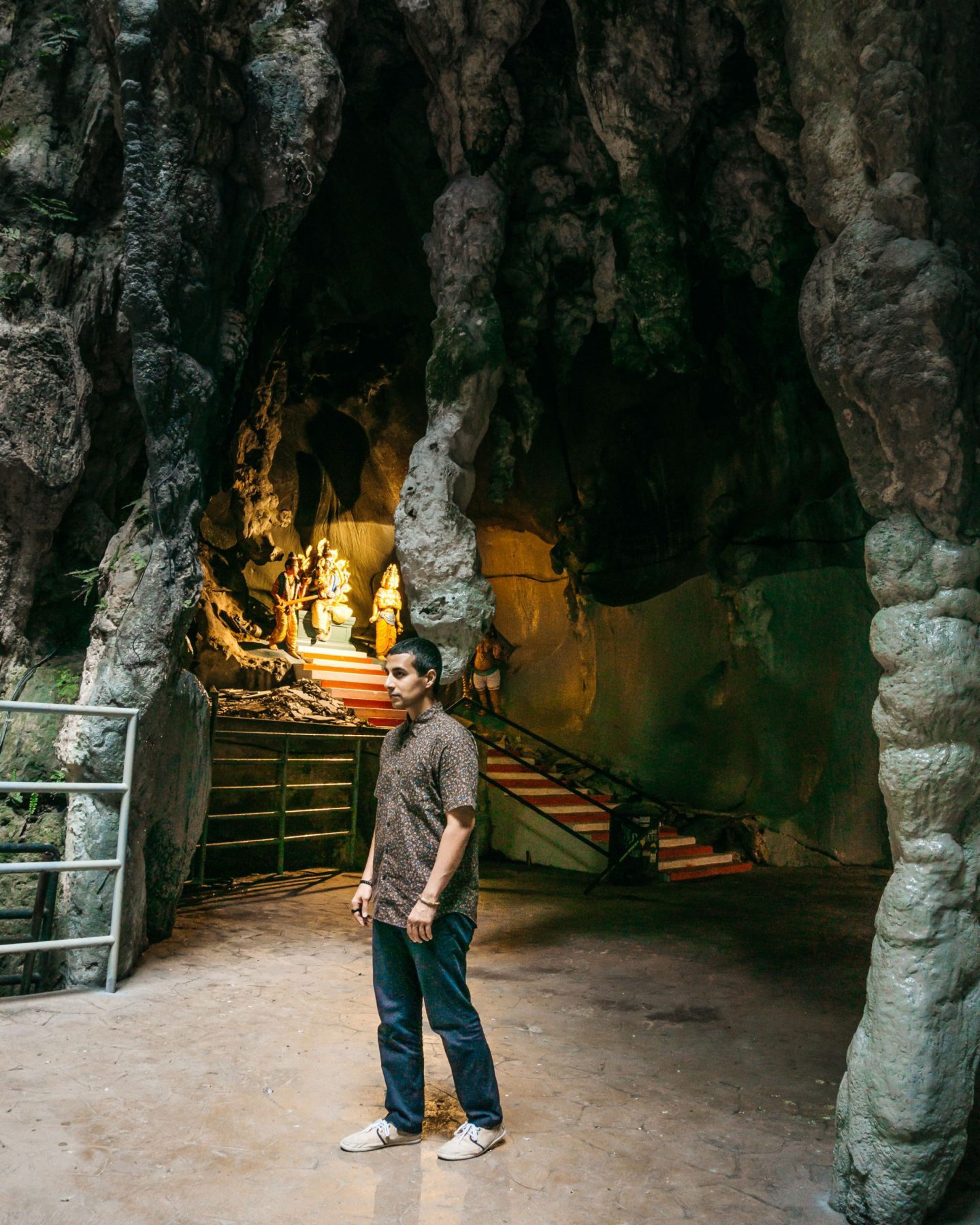 The Cave Villa
The Cave Villa is a smaller cave that is a cultural centre where you can learn a lot about Hindu religion. There are murals, sculptures, the main Gods and information tables in which you can learn about traditions and festivals practiced. Also, it has a large koi pond with artificial waterfall and bridges leading to the other entrance/exit. Entrance Fee to the Cave Villa is MYR15 (USD3.60).
The Dark Cave
Just a few steps below the Temple Cave is the Dark Cave. It is home to one of the rarest spiders in the world – the trapdoor spider – as well as to bats and various insects that are native to Batu Caves. All visitors to the Dark Cave will have guide. Entrance Fee to the Dark Cave is MYR35 (USD8.50).
---
Our Secret tip: If you're keen on the Dark Cave, avoid flip-flops or sandals. The path into the cave can get a little bit slippery and wet, so you'd be better off wearing comfortable shoes. It also gets a little chilly and wet in the Dark Cave so bring something with long sleeves to keep warm and dry.
---

Dress Code for Batu Caves
Outside the cave and up the stairs, you can pretty much wear what you want, keeping in mind to be respectful since it is a place of worship. However, at the entrance to the main cave, there is a requested dress code for Batu Caves Temple. Women will need to cover shoulders, bust, and knees and they do request that men don't wear shorts (though we didn't see that dress code for Batu Caves enforced as there were many guys wearing shorts inside the cave).
---
Our Secret Tip: Like everywhere you go in Malaysia, bring a wrap or sarong along and you should be able to cover most of the dress codes. It also helps with the mosquitoes. And if you should happen to forget, you can rent a scarf or sarong right by the staircase, though the rental prices may vary, but starts at around RM5 (USD1.20).

How to get to Batu Caves
Batu Caves is easily accessible by public transportation. Here we listed few options for you to plan your journey to Batu Caves!
By car or taxi
This is probably the easiest (and our most recommended) way for travelers. You can install the 'Grabcar' app (it's the 'Uber' of Southeast Asia) and book a ride to Batu Caves from your hotel. This is not a promo plug for the app, it's just an easier (and usually cheaper) option than even trying to get a taxi. Plus you will get a fare confirmation through the app itself. You can also book a car through your hotel. Getting to Batu Caves by Grabcar will only take about 30 minutes and costs less than RM30 (US$4.85) from the city center.
---
Our Secret Tip: Book the car about 20 mins before the time you actually want to go since there is no guarantee that you'll get a car immediately. Plus if you're trying to get there at 7am, they'll be fewer Grabcars out and about at that time. If you're getting taxi from Batu Caves, always confirm with the taxi driver that they will follow taxi meter rates before getting into the taxi. 
---
By Public Transport (Train, Monorail or Bus)
If you're feeling adventurous, the cheapest way to getting to Batu Caves is by public transport.
By KTM commuter train – hop on from KL Sentral or Kuala Lumpur station. Batu Caves is the last station and a one-way ticket will only cost MYR 2.50 (US$0.60)! You can also get on the Monorail from KL Sentral to the Titiwangsa station, then take bus U6 to get to Batu Caves.
It's a little more challenging by bus, but again, if you're feeling adventurous, you can also take Intrakota bus No 11D from the Central Market or the Cityliner bus No 69 at Jalan Pudu to get to Batu Caves.
Watch out for the monkeys!
Let's talk about monkeys. On the way up, you will meet some monkeys. Quite a few monkeys. Which visitors feed, sometimes involuntarily. They may look cute but they can be such rascals and try to grab what they can, including phones, sunnies, etc and not to be seen again!
The monkeys make great subjects for photos but beware, they may not be so friendly all the time, and they will try to take your stuff. So, make sure to keep everything hidden in your backpack. If they get aggressive or grab something from you, immediately drop it and back down to avoid a monkey bite or attack.
---
Our Secret Tip: If you want to avoid a monkey encounter altogether, start your journey up the 272 steps early (around 7am). All the monkeys are still asleep. They only started making their way out to the steps at around 9am.
---
We hope you have an amazing time exploring Batu Caves! It truly is like nothing you have seen before.
Wishing you amazing travels,
Renesh & Sue
* Disclaimer: As an Amazon Associate I earn from qualifying purchases. Some links included in this description are affiliate links. If you purchase a product or service with the links that I provide I may receive a small commission. There is no additional charge to you! Thank you for supporting my blog so I can continue to provide you with free more each week!
OUR FAVOURITE TRAVEL ESSENTIALS
Universal Adapter – Universal All in One Worldwide Travel Adapter is the ultimate solution to all your charging needs while on the go! With its compact size and compatibility with over 150 countries, you can now travel worry-free without the fear of running out of battery or not being able to charge your device.
First Aid Kit – First Aid Only is the perfect solution for those who are always on the go and want to be prepared for any minor wound care needs, with an assortment of adhesive bandages included.
Mosquito Repellent – US Organic Mosquito Repellant is a safe and natural option, perfect for kids and those with sensitivities.
Ear Plug – Noise Reduction Ear Plugs are a must-have for long haul flights. These ear plugs are designed to block out unwanted noise, allowing you to get some much-needed rest and relaxation during your flight.
Eco-Friendly Sunscreen – Banana Boat Sport Ultra Reef Friendly Sunscreen Lotion is not only safe for your skin but also for the coral reef, making it the perfect choice for water activities without harming the marine creatures.
Waterproof Bag – HEETA Waterproof Dry Bag is a game-changer for any adventurer looking to keep their belongings dry and secure during any water activity. The durable and lightweight design allows you to easily store and carry all of your essential items while enjoying any water-based adventure. Whether you're kayaking, fishing, island hopping, or just lounging at the beach, HEETA has got you covered!
Like this post? Pin it to save for later!