Looking for the perfect romantic retreat in Bali can be overwhelming with so many options available. However, after searching for private villas in Bali, luxury villas in Bali, and Seminyak private pool villas, we came across Ayona Villa. This stunning villa, located just outside of downtown Seminyak, is not only beautiful but also offers a peaceful retreat away from the hustle and bustle of the city. We were delighted to discover that Ayona Villa exceeded our expectations and provided the perfect private villa for our romantic Bali getaway.
ABOUT THE PRIVATE POOL VILLA
Ayona Villa features one-bedroom villas with a private pool and floating bathtub (you'll see what that means in photos below), and complete with kitchenette, living-lounge area, and a rooftop sun lounge! Also known as the Romantic Honeymoon Villas in Seminyak, it's the perfect setting for a blissful romantic Bali experience.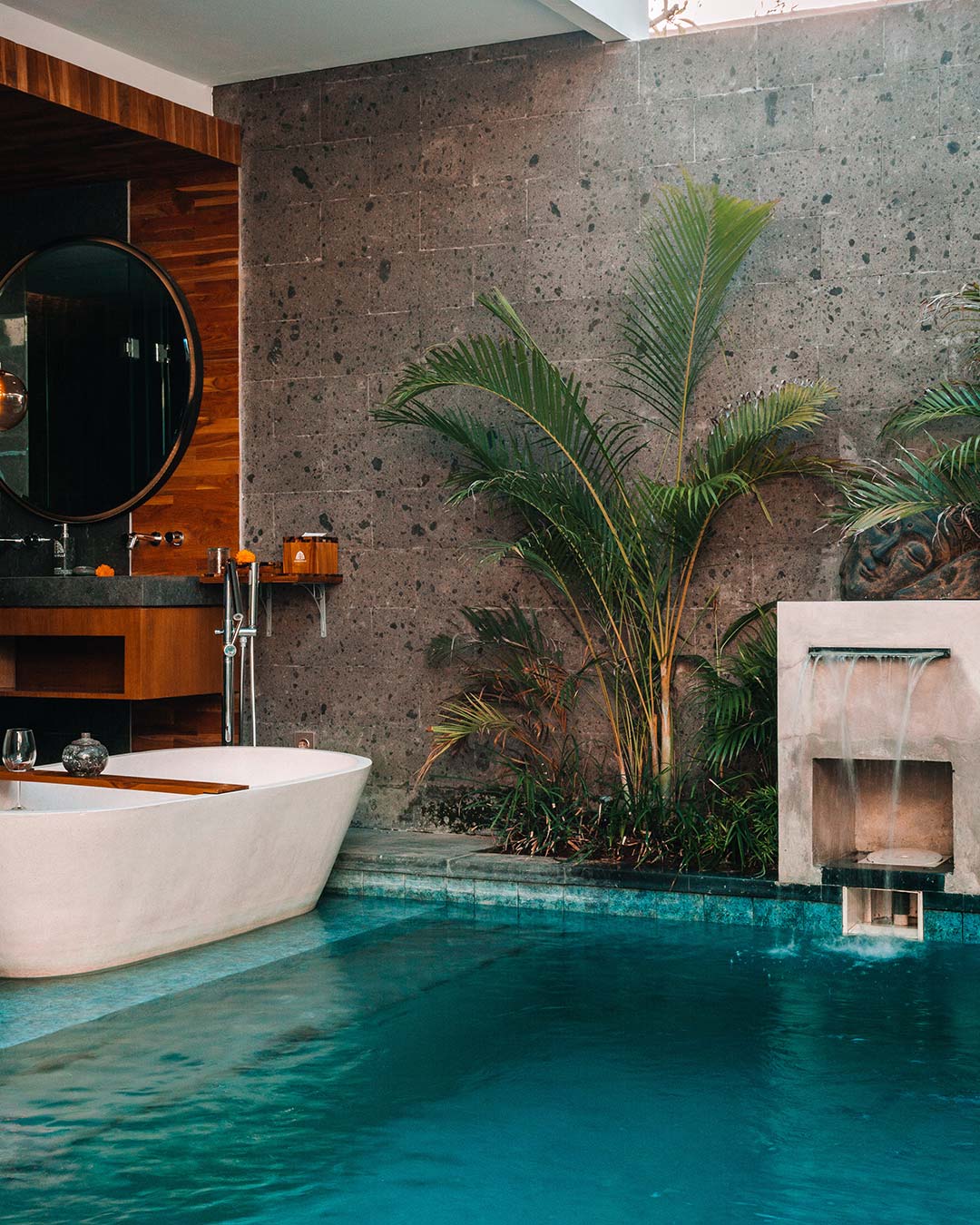 From the moment you step inside, you'll be immersed in the luxury and charm of Ayona Villa, making it the ideal destination for a romantic Bali getaway. Every inch of the villa has been thoughtfully designed and decorated to ensure that you have the most comfortable and unforgettable experience.
THE POOL 
Upon arriving at the villa, you'll be immediately captivated by the sight and sound of the stunning pool, complete with a picturesque small waterfall. It's a true feast for the senses that sets the tone for the rest of your stay at this luxurious retreat.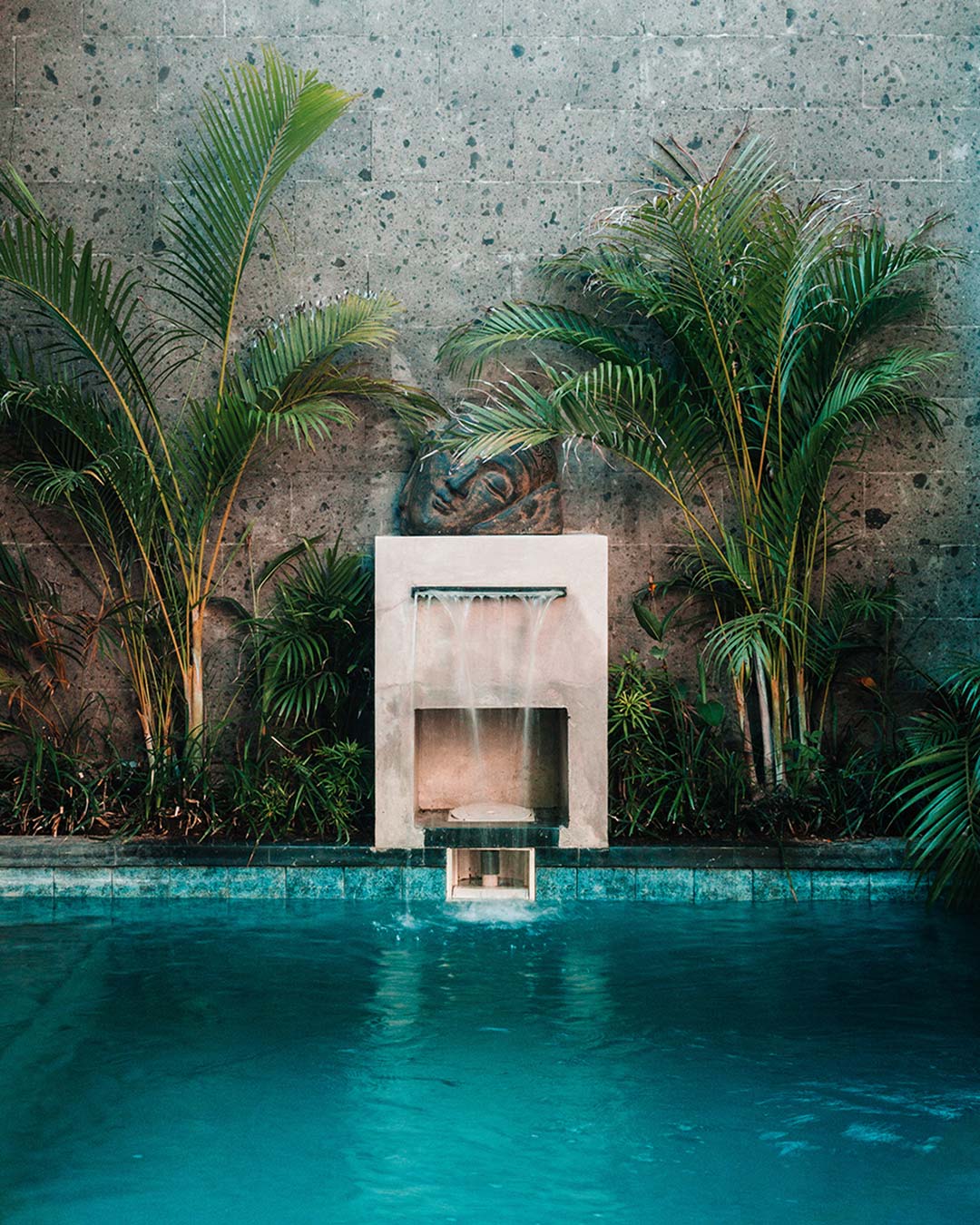 THE ROOM
During our stay at Ayona Villa, we indulged in the ultimate luxury of a one-bedroom villa complete with a private pool and an absolutely stunning outdoor bathtub.
Ayona Villas is a Bali villa resort that creates a relaxing experience by appealing to just about all your senses. As you slide open the large glass doors to your room, the spacious room and plush king-sized bed immediately relax you, giving you space to breathe. The perfect room temperature and a beautiful floral scent greet you, complemented by soft chill lo-fi music that will always remind us of our stay at Ayona Villa.
Use discount code RPT88 at checkout for a 15% discount off at Ayona Villa here
Or check HERE for the latest prices for Ayona Villa Bali
THE BATHROOM
Stunning bathrooms always need a special mention and the bathrooms at Ayona were nothing short of!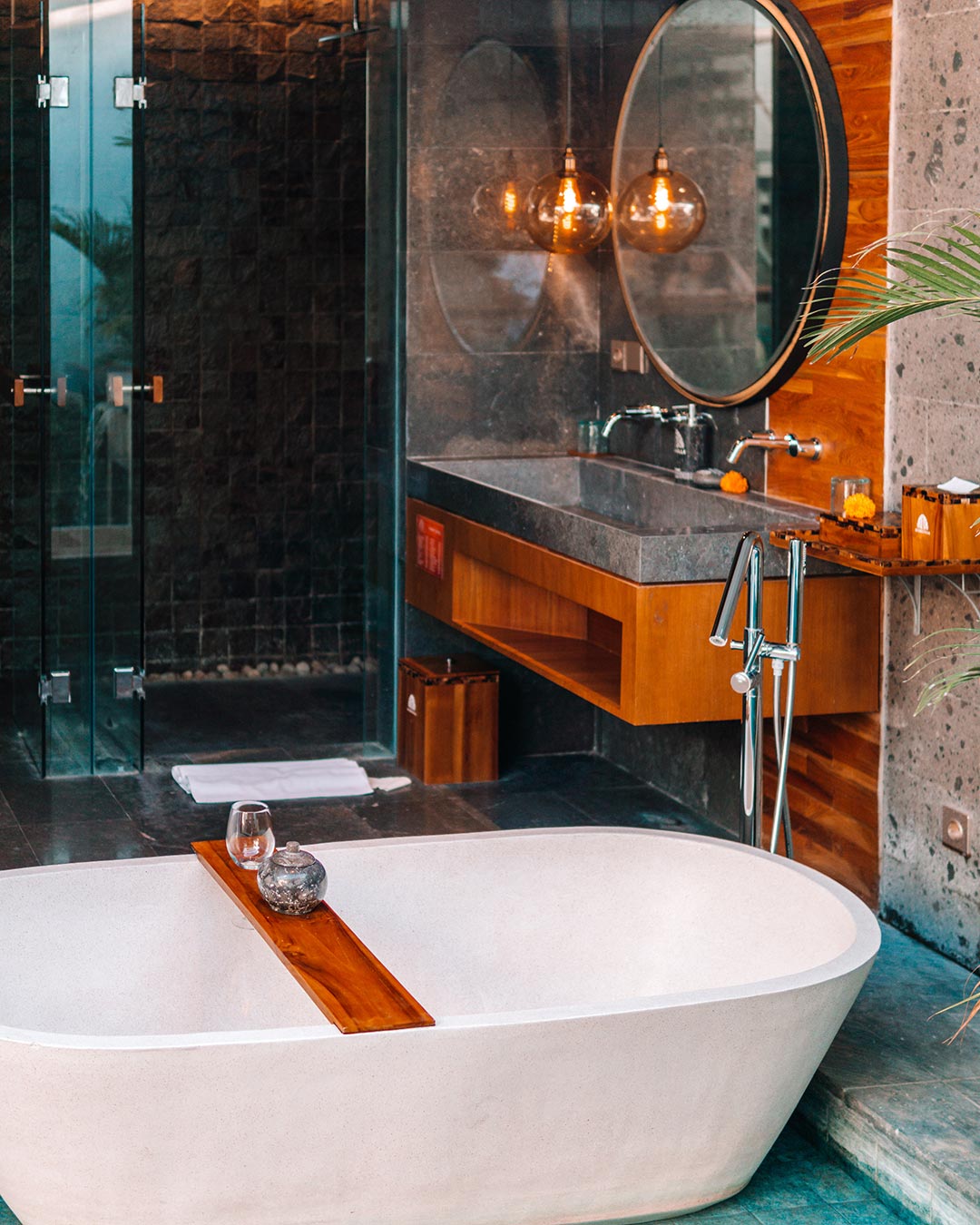 And a gorgeous flower bath
THE BREAKFAST
A delightful way to start your day is by requesting a floating breakfast during your stay at Ayona Villa.
THE KITCHENETTE & LIVING LOUNGE
We honestly loved the idea of the kitchenette but didn't think we would use it much during our stay, but we were pleasantly surprised when we found ourselves spending lazy afternoons by the pool, preparing light meals, mixing cocktails, and indulging in snacks. We now absolutely love having a kitchenette available right there in the villa!
THE ROOFTOP SUN LOUNGE
When you thought the villa couldn't be any more amazing, the rooftop lounge was the cherry on top! We were thrilled to have a prime spot to catch the stunning Bali sunsets.!
FACILITIES AND SERVICES
The team at Ayona Villa was amazing and attentive to every detail. They provide 1 free shuttle service per day to just about any location in Seminyak center. At other times, the easiest way to get around is by GrabCar. You can download the app here https://www.grab.com/my/download/ . 
THE LOCATION
Ayona Villa is conveniently located only 10 minutes away from the bustling town of Seminyak, and a short 30-minute drive from the International Airport.
One thing we really appreciated about the location of Ayona Villa is its perfect balance of accessibility and serenity. Despite being only a short GrabCar ride away from Seminyak town, the villa's peaceful atmosphere feels worlds away from the noise and commotion of the city.
First time to Bali? Check Here for our 5 Top Things To Do In Bali
and Click Here for our Bali Bucket List
When you're in your villa, everything falls away to pure serenity.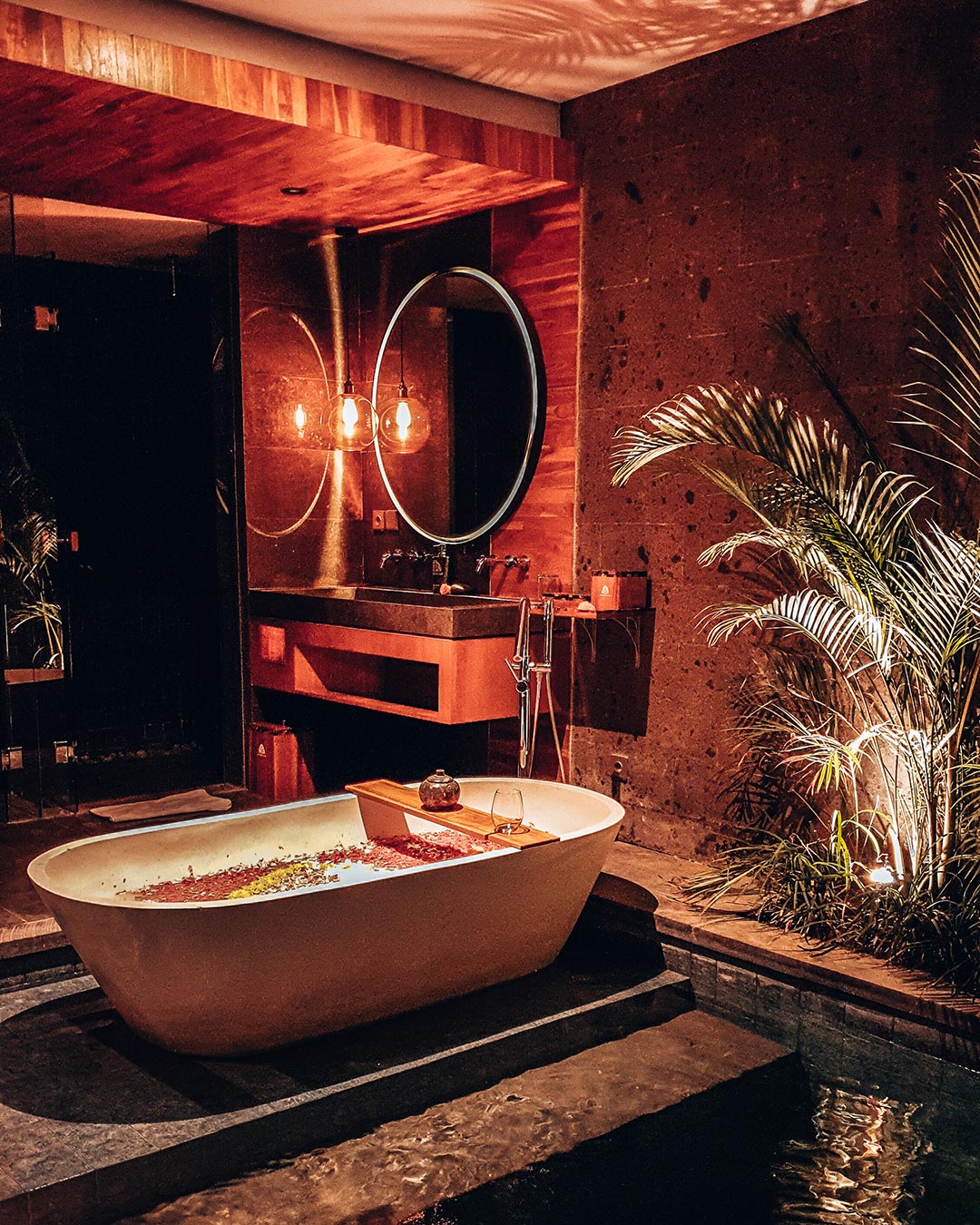 Since words cannot seem to describe how beautiful this villa actually is, we decided to post more photographs that talk about it. Ayona Villa is truly our favorite stay in Seminyak, Bali!  
Use discount code RPT88 at checkout for a 15% discount off at Ayona Villa here
Or check HERE for the latest prices for Ayona Villa Bali
Bali always holds a special place in our hearts and our stay at Ayona Villa made this particular trip to Seminyak an absolutely unforgettable one. 
Wishing you beautiful, romantic stays,
Sue & Renesh
WHERE TO STAY IN BALI
Check the latest prices or book AYONA VILLA here
Check here for a list and the latest prices of where to stay in UBUD, Bali
Check here for a list and the latest prices of where to stay in SEMINYAK, Bali
Check here for a list and the latest prices of where to stay in CANGGU, Bali
MORE OF BALI
TOP INSTAGRAMMABLE PLACES IN UBUD, BALI
GUIDE TO TEGALALANG RICE TERRACE IN UBUD
LIKE THIS? PIN IT FOR LATER!
---