The Tegalalang Rice Terrace in Ubud is probably one of the top things to do in Bali! You know how sunrise and sunset looks a little bit different in different places and countries? Some places you will remember as having the most beautiful sunsets? Well, the Bali sun brings out the most beautiful green-yellow glow on the rice fields. As the sun comes up over the massive terraces, the landscape is so stunning that you're almost left holding your breath waiting for the fairies to come out and play! The Tegalalang Rice Terrace is wondrous! We've included everything you need to know in this easy guide to Tegalalang rice terrace in Ubud – including how to get there, how to avoid the 'checkpoint' fees, and our secret tips to make it an amazing visit.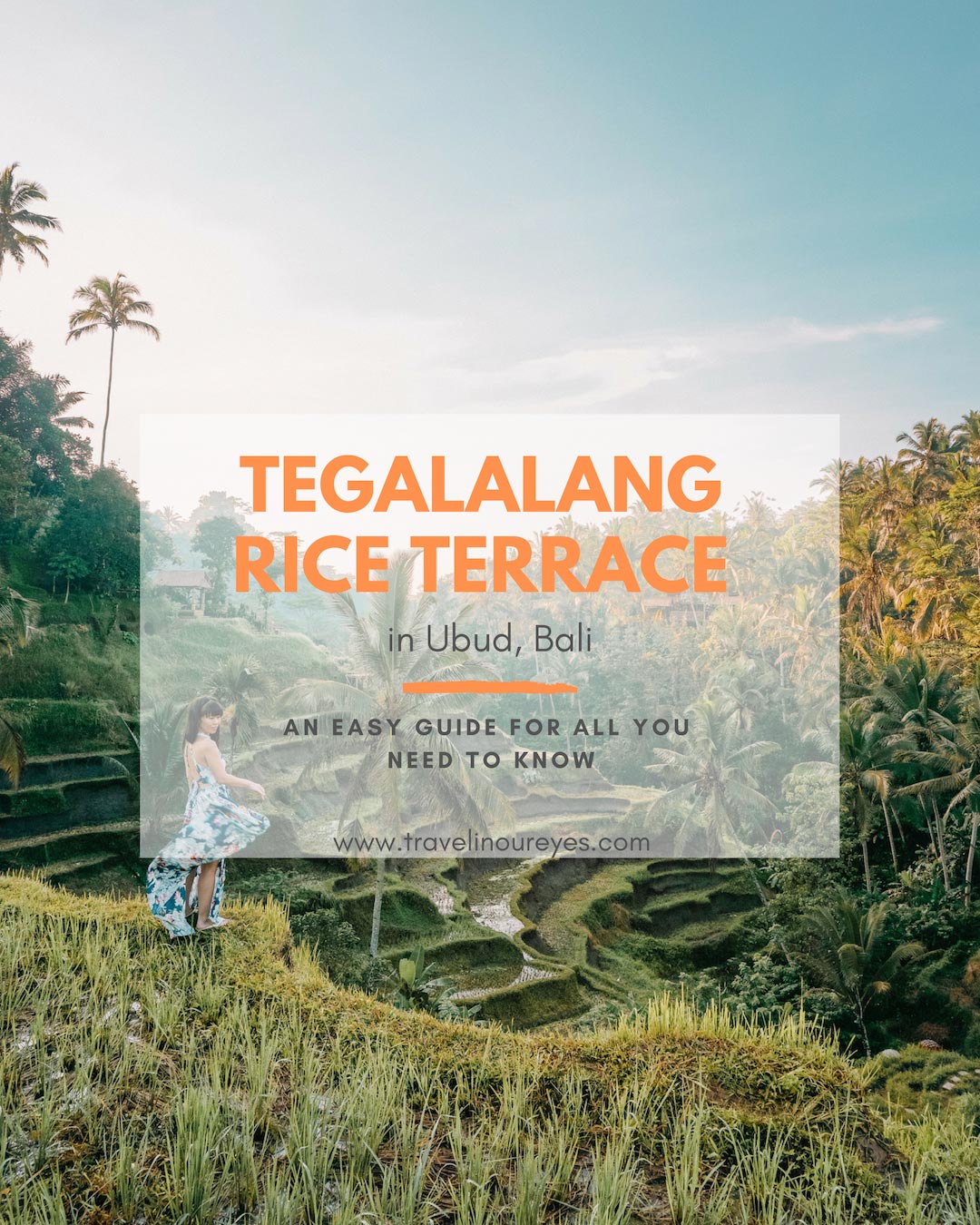 GETTING TO the Tegalalang rice terrace in Ubud
The Tegalalang rice terraces are just a 30- minute drive from Ubud town center. Arrange a taxi or car from your hotel for a few hours in the morning is the easiest way to go. We booked a car for the whole morning to take us to a few spots including the Tegagalang rice terrace and the Bali Swing which cost us IDR300,000 (USD20). Just use this figure as a guide to the Tegalalang Rice Terrace. The cost may fluctuate depending on the season you go. If you plan on getting a taxi, remember to agree on a price before getting into the taxi.
Address: Jl. Raya Tegallalang, Tegallalang, Kabupaten Gianyar, Bali 80561, Indonesia
Tegalalang Rice Terrace ENTRANCE FEE
There is no official entrance fee to the Tegalalang Rice Terrace. But, individual rice farmers own small plots of the land that makes up the Tegalalang rice terrace. Small little wooden shacks mark the 'entrance' to separate rice paddies and there usually is a small fee or 'donation' for going through their section of the rice fields. You can decide on how far into the rice terraces you want to go, or how much you are willing to pay and turn around after a few 'checkpoints'. We heard from other travelers that it's usually around IDR10,000-15,000 at each checkpoint. Just use this rough figure as an 'entrance fee' guide to Tegalalang Rice Terrace; it may be less depending on the which season you're visiting Bali.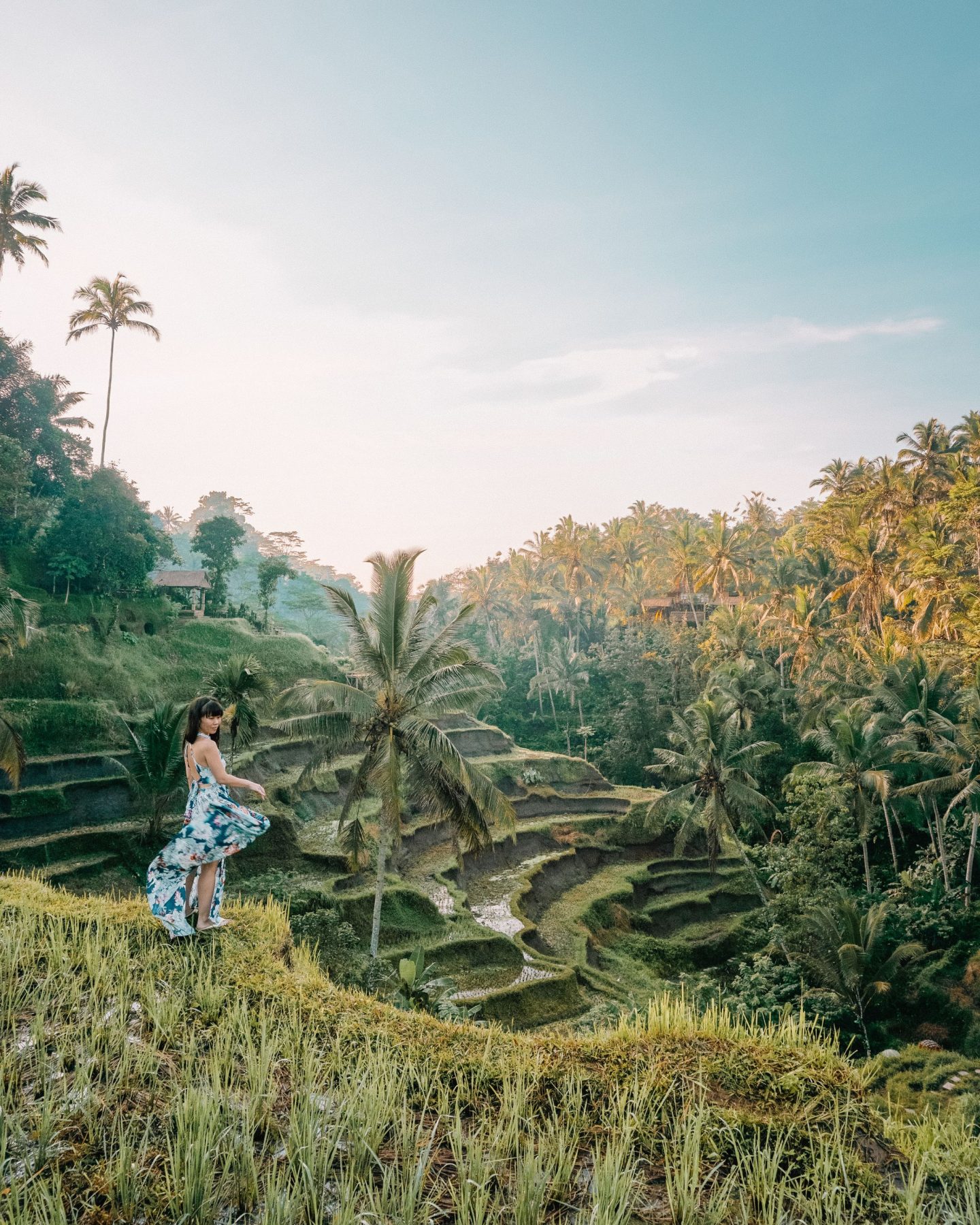 ---
Our Secret Tip – Bring small notes with you both in Indonesian Rupiah (IDR2,000, IDR 5,000 and IDR10,000) and single USD notes. If you don't have small notes, you run the risk that the farmers at the checkpoint say they don't have change and you either overpay or decide not to go further.
Also, you can try to go early. We got there just before 7am and it was even before the farmers and locals were there, so we didn't pay any fees at all.
---
Tegalalang Rice Terraces IN UBUD
The Tegalalang rice fields is a series of rice fields well known for its terraced layout just outside of Ubud. There are a number of rice terraces around Ubud, but our guess is that the Tegalalang rice terrace is popular with tourists because they're easy to get to, well maintained and very easy to photograph. Because it's positioned in a valley, the Tegalalang rice terrace has stunning lookout vantage points everywhere.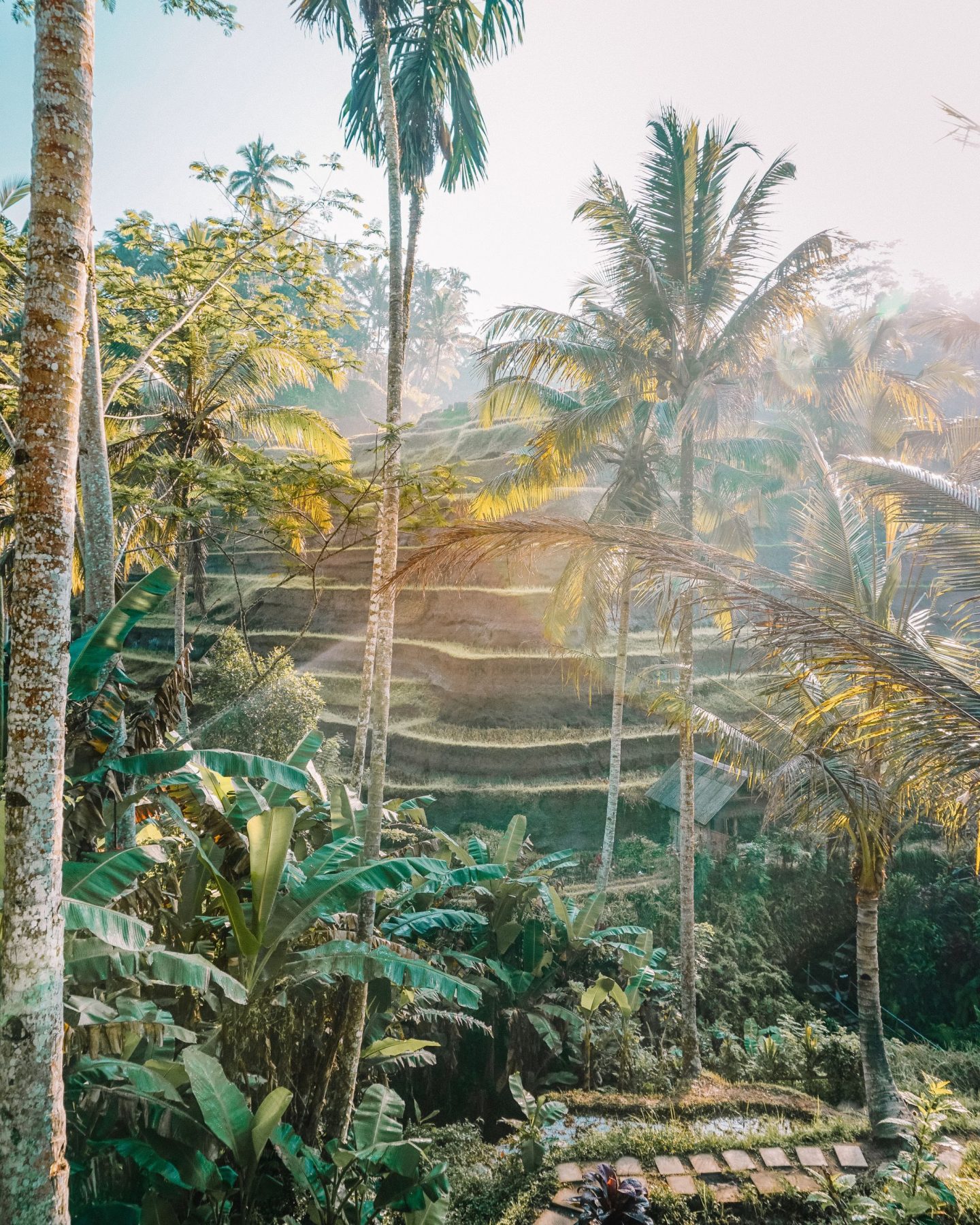 This place was magical for us. But we do have really useful tips to make your visit to the Tegalalang rice terrace much more enjoyable.
Firstly, don't go during the mid-day! We heard from other travelers that it was unbearably hot (since there's little shade) and very crowded with tourist. We went before sunrise and we had a completely different experience. It was magical!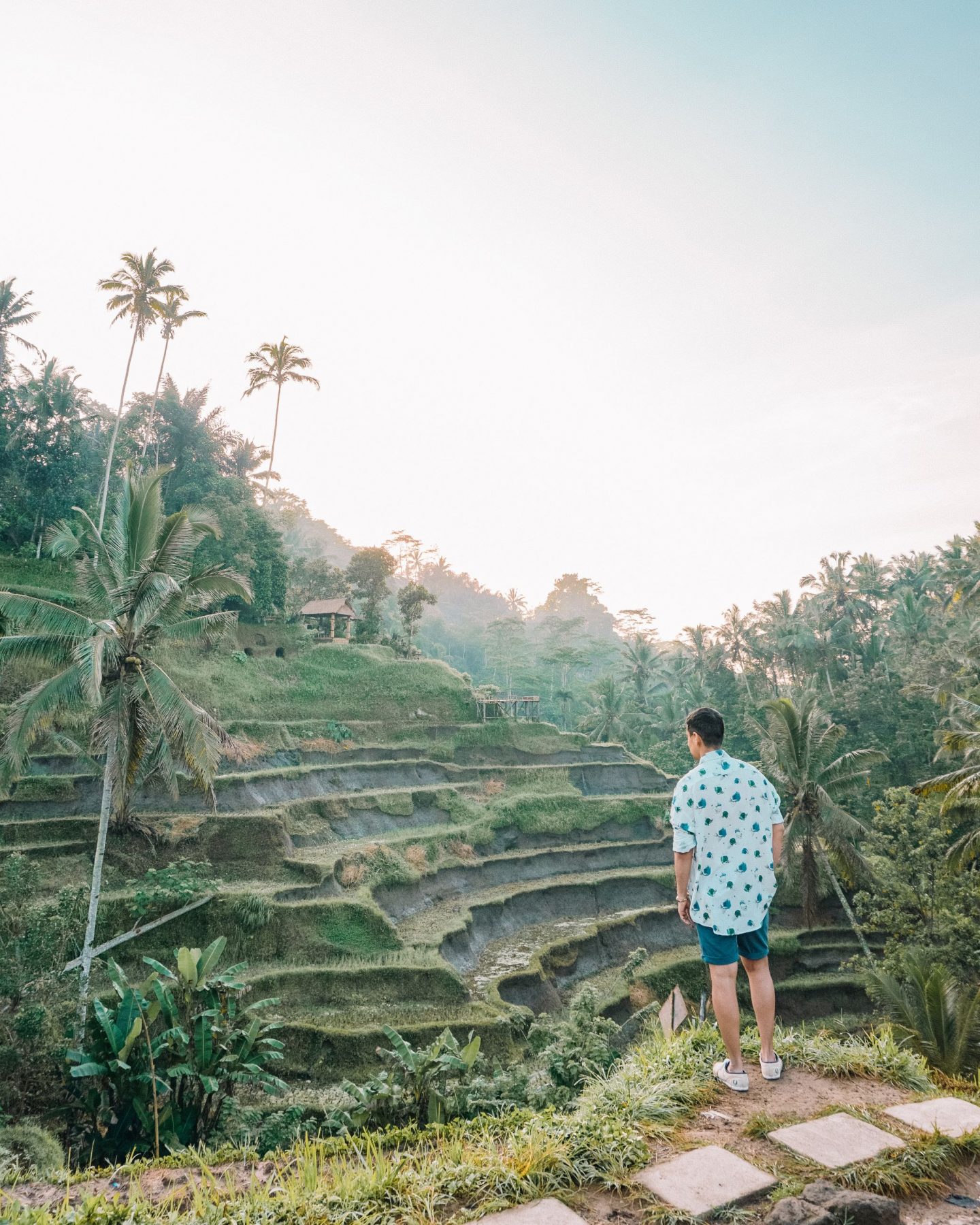 Another thing is though it's a relatively easy walk but there are quite a good number of steps and ups & downs. So if you have an injury or joint troubles, bring a brace, have good walking shoes and take it slow. Also, note this if you're going with little kids.
Bring water.
And it also gets quite muddy here so we would suggest leaving your favorite shoes at the hotel! And take care as some of the paths and steps get slippery.
---
Our Secret Tip
Get here just before 7am to escape crowds and also possibly miss the checkpoint fees as we did! There were just a handful of people there when we arrived so we really felt like we had the place to ourselves.
ALSO, the rising sun starts getting to the top of the trees at about 730am or so, so the sun rays come through at the most beautiful angle then!
---
Love Bali Swing  
And let's not forget this iconic highly Instagrammed 'Love Bali' swing! It's right at the start of the steps down the valley of the rice terraces. It's super fun colors and has a nice view of the Tegalalang rice terrace. At 7am, there was just one person just taking a couple pictures at the swing. After that, we had the place to ourselves for quite a good amount of time.
We never expected rice terraces to leave us so speechless, but the Tegalalang Rice Terrace in Ubud did just that. So much so that we don't have much else to say about it except to be sure to go (and take note of all our tips when you do go!)
Wishing you magical experiences!
Sue + Renesh
MORE OF BALI
---
LIKE THIS? PIN IT FOR LATER!