We absolutely love Bali and have an ever-growing bucket list to this amazing island of the Gods.
This is our longest Bucket List yet! We've been to Bali a couple times and we still haven't managed to tick all the boxes yet! But we think it's great to have some things still left on your bucket list so you know you'll always go back…and add more to it each time!
This Bali Bucket list was like all our past ones – complied and organized from notes scribbled on scraps of paper, napkins and scattered notes on our phone.
Every time we go to a new place, city or country, we will separately write down our bucket list for that place and put it all together. Not only does it get us excited for our trip, it really helps us to plan and organize where to stay, and when we should go where. Even if you're not much of a planner when you travel, try getting a rough bucket list down and you'll see immediately how it helps plan out your trip.
As always, our list is a dynamic list so we'll be crossing things off we go. And anything in yellow-gold is linked to a blog we wrote about the place, so click through to get the details!
Feel free to use this as your Bali Bucket List template as well; on your blog, social media, Pinterest, whatever! We would just ask for the credit mention and a tag/shout.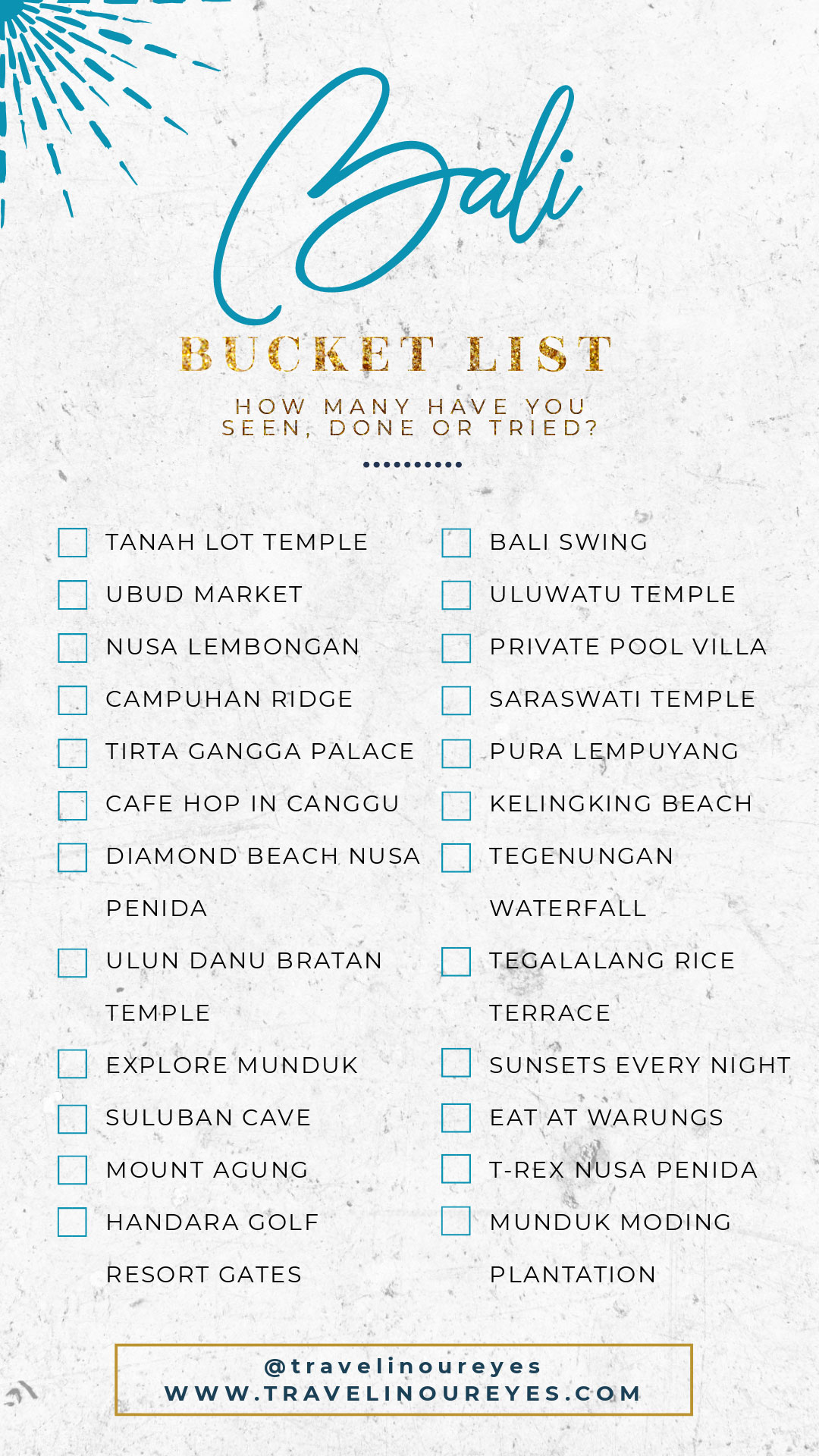 So here it is! Our Bali Bucket List! 
Tanah Lot Temple (regardless of the 'curse' Find out more about it here)
Shop at Ubud Market
Nusa Lembongan
Campuhan Ridge Walk (to do a few times!)
Tirta Gangga Palace
Café Hop in Canggu (we are real foodies)
Diamond Beach on Nusa Penida
Ulun Danu Bratan Temple
Explore Munduk
Get adventurous exploring Suluban Cave
See stunning Mount Agung (closer than a speck in the distance)
Handara Gold Resort Gates (even though we don't play golf!)
Swinging on the Bali Swings
Take in the cliffside views of Utuwatu Temple
Stay at a Private Pool Villa (check out our stay at the beautiful Purist Villas & Spa in Ubud here)
Saraswati Temple
Visit stunning Pura Lempuyang
Kelingking Beach on Nusa Penida
Tegenungan Waterfalls (probably the most accessible waterfall from Ubud)
Tegalalang Rice Terraces (check here for info and travel tips to Tegalalang Rice Terrace)
Catch the stunning Bali sunsets every night
Eat at local Warungs
See the T-Rex from the cliffs of Nusa Penida
Stunning views from Munduk Moding Plantation
Have you guys been to any of these places? What are some of your favorites? We'd love to hear what you suggest to add on to our Bali bucket list.
Wishing you amazing experiences,
Sue + Renesh
WHERE TO STAY IN BALI 
Check the latest prices or book The Purist Villas Resort and Spa here
For a list and the latest prices of where to stay in UBUD Bali, Check here.
Check here for a list and the latest prices of where to stay in SEMINYAK Bali.
For a list and the latest prices of where to stay in CANGGU Bali, Check here
MORE OF BALI
GUIDE TO TEGALALANG RICE TERRACE IN UBUD
TOP THINGS TO DO IN BALI (NEAR UBUD & SEMINYAK)
VILLA REVIEW: THE PURIST VILLAS RESORT & SPA
---
LIKE THIS? PIN IT FOR LATER!