The Hindu festival of Thaipusam is about faith, endurance and penance. Thaipusam is one of the most spectacular of all the Hindu festivals! But with body piercing a significant part of festivities in Malaysia, experiencing Thaipusam definitely isn't for the faint-hearted. Here's a travel guide to Malaysia's Thaipusam festival with 4 interesting facts. We mapped-out everything you need to know, what to expect, tips, advice and more when experiencing Thaipusam at Batu Caves.
*Viewer discretion advised. Photos may be too extreme for some*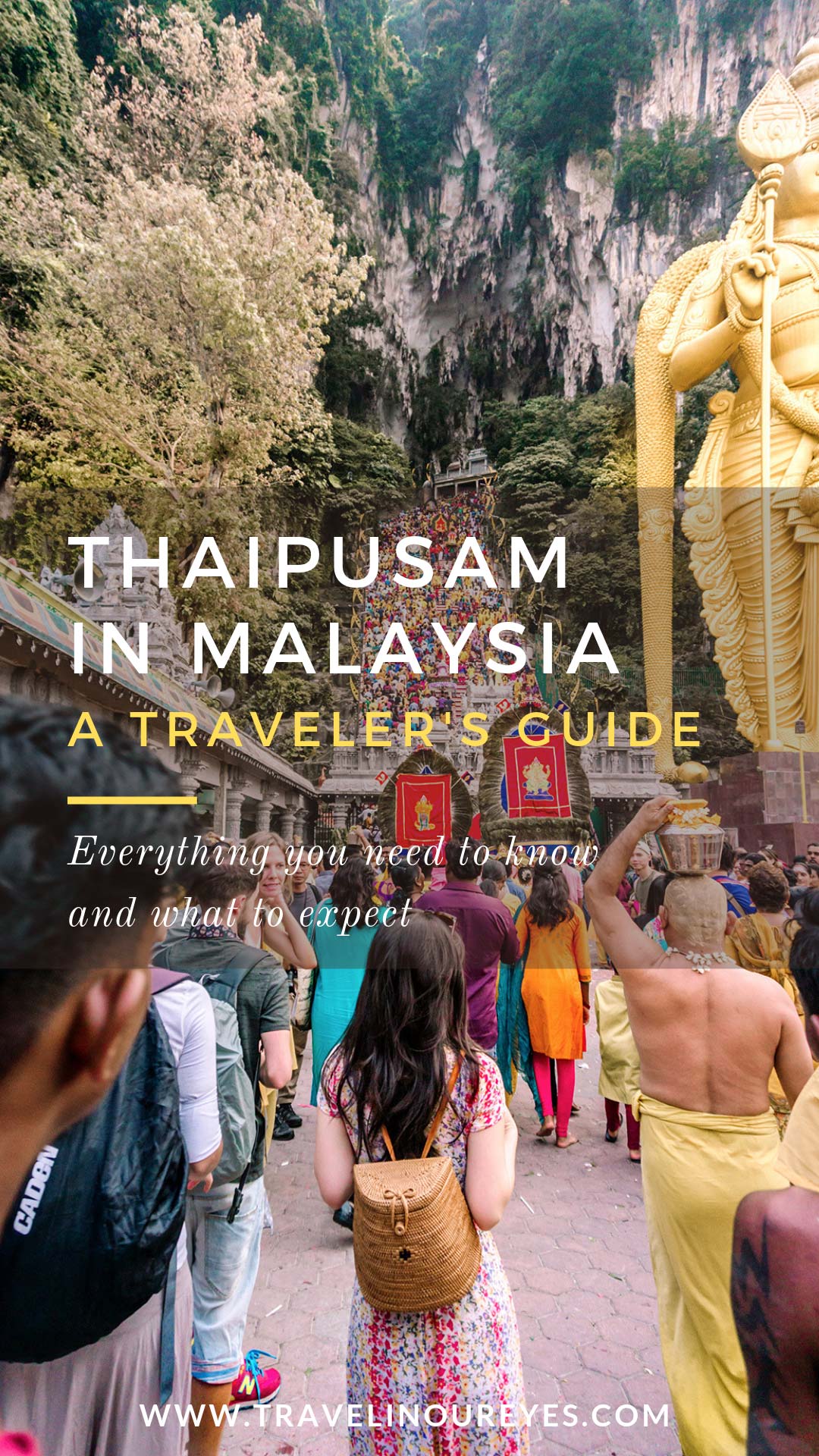 What is Thaipusam?
Thaipusam is the biggest festival for Hindus after Deepavali celebrated by Hindus. Thaipusam is a celebration dedicated to the Hindu deity Lord Murugan. It is the most spectacular of all the Hindu festivals!
But with body piercing a significant part of festivities, Thaipusam in Malaysia isn't for the faint-hearted.
Devotees dress in orange or yellow, the colors of Lord Murugan, and make 'sacrifices' in return for answered prayers and forgiveness of sins. The sacrifices usually range from shaving one's head or carrying a container of milk to piercing the tongue or cheeks to carrying a Kavadi.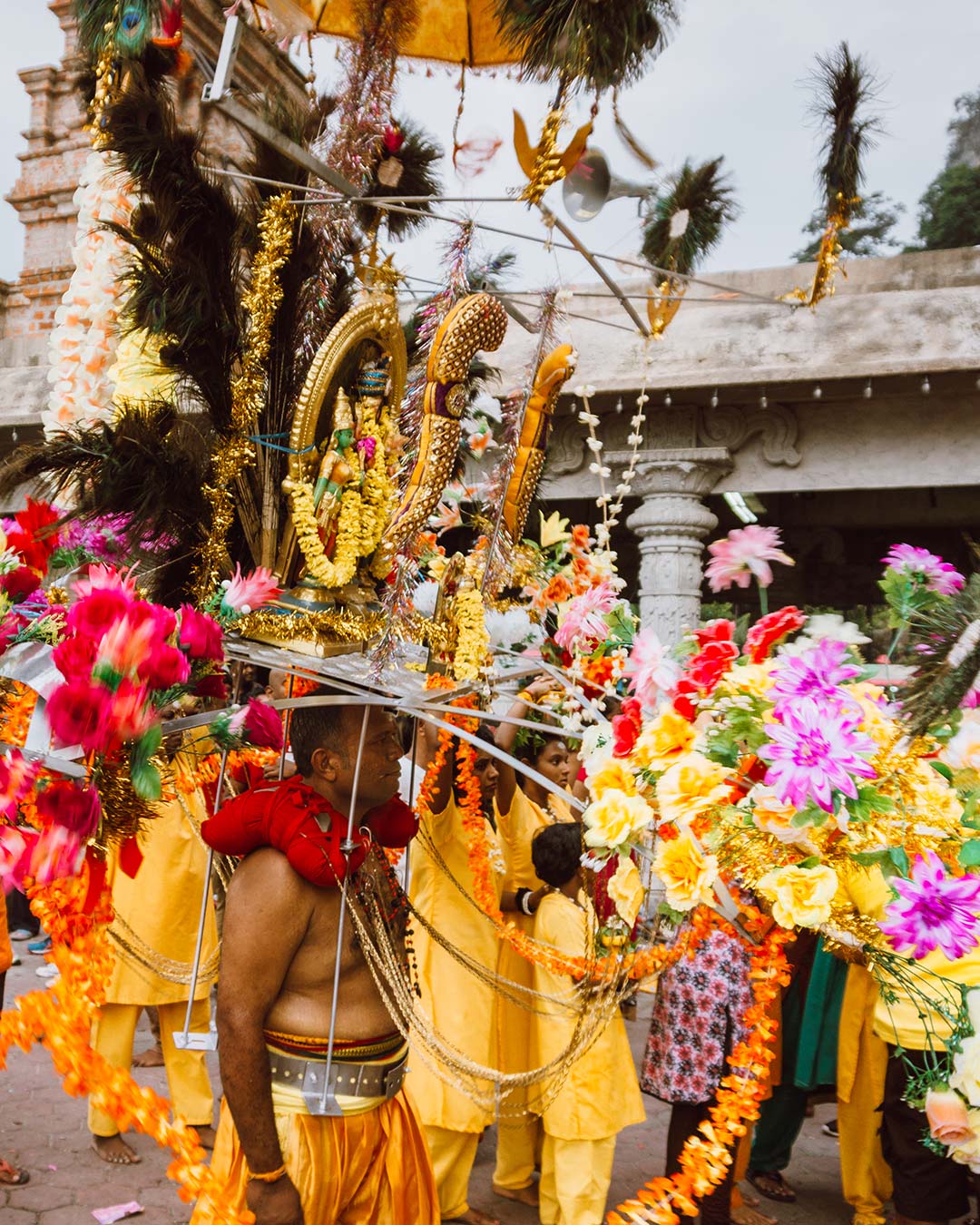 A Kavadi is a large structure that may be a few meters high and weighs from several kilograms to up to 80KG! The Kavidi's are attached to the devotee with hooks, needles and skewers.
Where is Thaipusam usually celebrated?
Hindus gather every year at various temples nationwide to celebrate Thaipusam. The celebrations take place on a grand scale at the Batu Caves in Kuala Lumpur.
CHECK HERE FOR EVERYTHING YOU NEED TO KNOW ABOUT BATU CAVES HERE
Besides the Batu Caves, they also gather at the Waterfall Hill Temple in Penang, the Sri Subramaniya Swamy Temple in Sungai Petani, Kedah and the Sri Subramaniar Swamy Temple in Ipoh, Perak.
When is it celebrated?
Thaipusam is celebrated once a year. The exact date of this important Hindu event is based on the full moon day in the month of January or February of the Hindu calendar. Only some states in Malaysia declared Thaipusam as a public holiday.
Thaipusam in Malaysia
The Thaipusam festival in Kuala Lumpur usually starts from the Sri Mahamariaman Temple in Chinatown and ends in Batu Caves. The devotees in the Thaipusam procession will depart from the Sri Mahamariaman Temple with Lord Muruga's idol heading the procession and walk a distance of 15km to Batu Caves. On arrival at Batu Caves temple, a prayer ceremony will be held at the foot of the caves.
Devotees carrying their offering, including Kavidi's, will then climb the 272 steps and offer their prayer. Those who had their body pierced with skewers and hooks will have them removed whilst the priest chant over them. Amazingly enough, there will not be a drop of blood and the wounds that will be treated with hot ash, will not leave any scar!
Check our Instagram Post @travelinoureyes or click to the next sliders above to see a quick video of the procession *Viewer Discretion*
Here's the interesting part you should not miss out! 4 facts about Thaipusam:
Thaipusam derives from two words: "thai", meaning the 10th month in the Tamil calendar; and "pusam", which translates to "when the star is at its brightest"
Thaipusam is celebrated all over the world to show their appreciation to one of their gods, Lord Murugan, the son of Shiva.
A Kavadi is a symbolic burden carried by a devotee to Murugan with the intention of receiving blessings to fulfill their wishes. Some Kavadi's have been said to be as heavy as 80kg!
Devotees dressed in yellow (auspicious color for Hindus) will walk long distances, carrying offerings, to reach the temple of the Lord Murugan.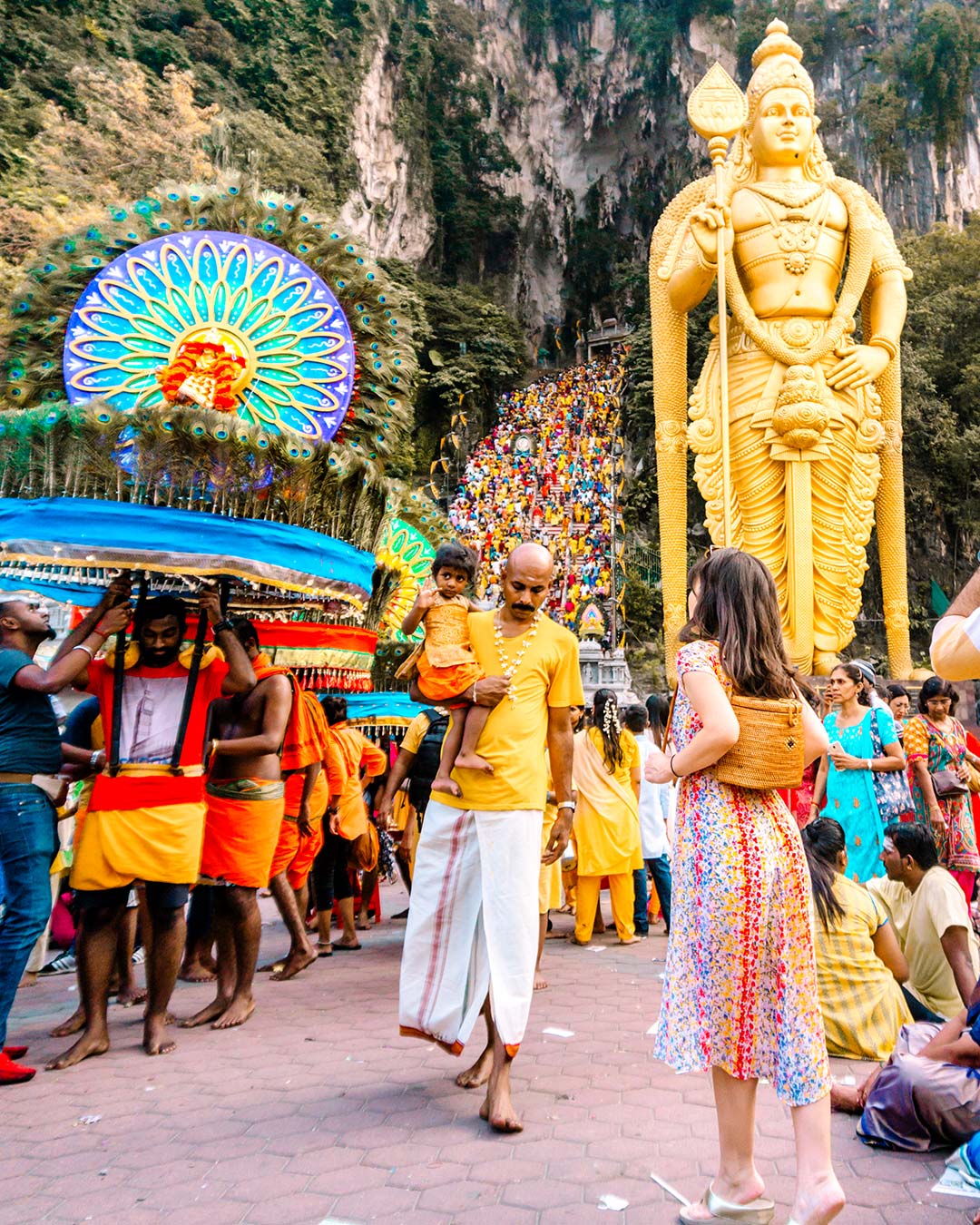 What to expect – Advice and Tips for Visitors
We wanted to focus a bit more on what to expect in this Traveler's Guide to Thaipusam at Batu Caves. 1.6 million devotees and visitors are expected to visit Batu Caves for Thaipusam this year. With that crowd, 3,000 medical and enforcement personnel are on standby to assist. But mentally prepare yourself for being in a very large crowd in heat and humidity. Since the procession starts at 5:00am, we recommend getting there at 7:00am to beat some of the crowd and avoid the midday heat.
Be up early and bring your fully charged camera-handphone or video cameras to capture the full event of Thaipusam. Remember to bring extra drinking water with you to keep you hydrated. Keep in mind that the devotees are in a trance so keep a good distance, don't startle them with sudden movements or loud sounds and don't use your camera flash.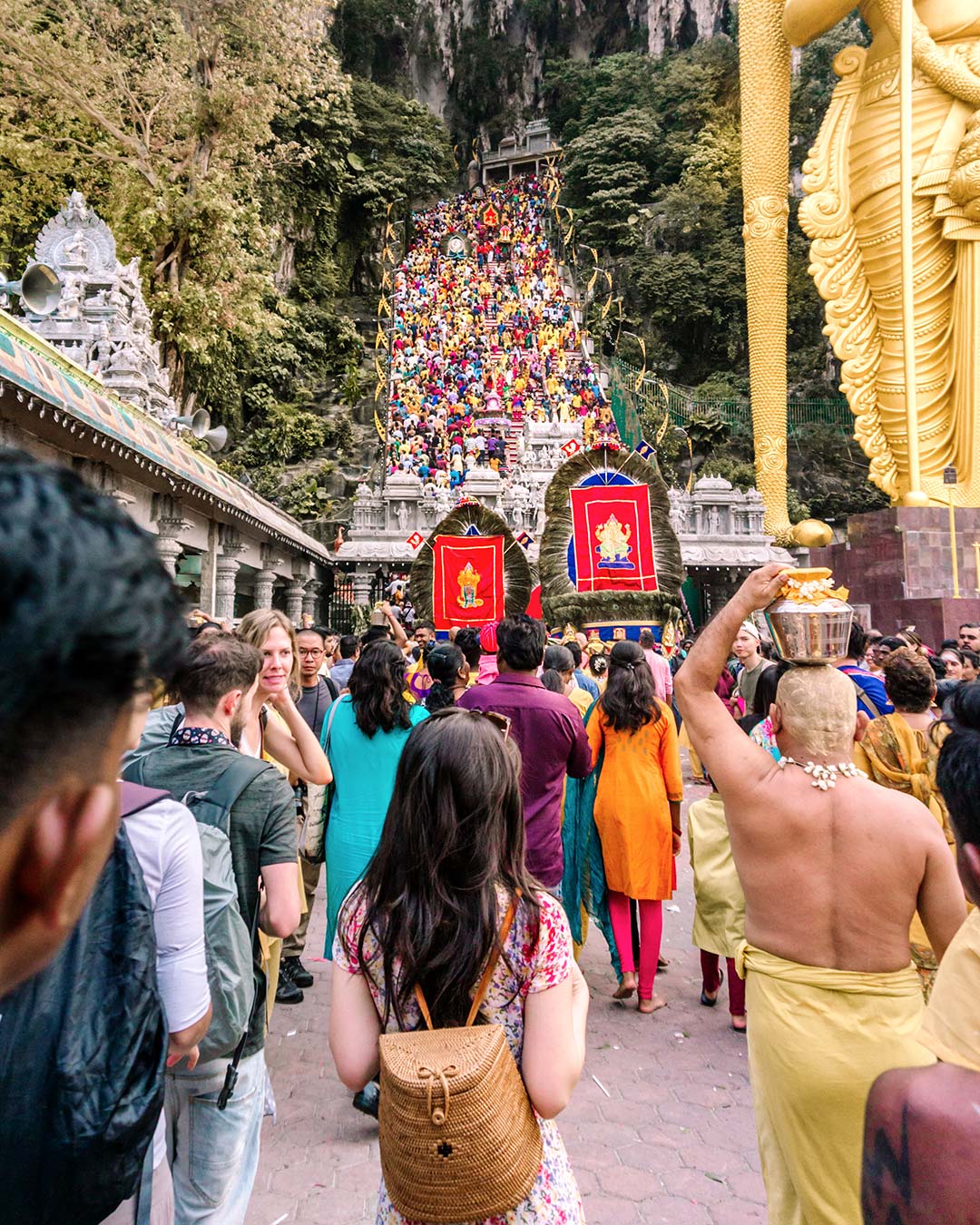 CHECK HERE FOR OUR KUALA LUMPUR TRAVEL GUIDE FOR FIRST-TIMERS for all you need to know for your visit to Kuala Lumpur Malaysia.
---
Our Secret Tips: Experiencing Thaipusam can be quite overwhelming as devotees are in a trance and can be quite startling at times. Be sure to have an agreed meeting point should you get separated from your travel partner/partners. Take note of the exit points and where the medical and enforcement personnel can be found. And as always, take extra caution of your personal belongings.  
---
Getting There
If you are visiting the celebration at Batu Caves in Kuala Lumpur the best way is to take the commuter train from KL Sentral Station to Sentul Station. Buses and taxis are the other options but may be slower with the heavy traffic, traffic diversions and road closures.
Anyone looking for the ultimate cultural experience should consider attending Thaipusam, but note that it isn't for the faint-hearted! You can always choose to visit Batu Caves any other time of year. Whether you decide to go during Thaipusam or other times of the year, Batu Caves should definitely be on your bucket list!
Wishing you many once-in-a-lifetime experiences,
Renesh & Sue
WHERE TO STAY IN KUALA LUMPUR 
Check here for a list and the latest prices of where to stay in Kuala Lumpur.
MORE ON MALAYSIA
BATU CAVES AND THE RAINBOW STAIRS 
KUALA LUMPUR TRAVEL GUIDE FOR FIRST-TIMERS 
TOP INSTAGRAMMABLE PLACES IN KUALA LUMPUR
---
LIKE THIS? PIN IT FOR LATER!