Every time we go to a new place, city or country, we will separately write down our bucket list for that place and put it all together. Not only does it get us excited for our trip, it really helps us to plan and organize where to stay, and when we should go where. Even if you're not much of a planner when you travel, try getting a rough bucket list down and you'll see immediately how it helps to plan out your trip.
We usually do our Bucket Lists based on the city or region (if it's small enough). Since many of us travellers don't actually cover the whole country, we like to do city or regional Bucket Lists to cover places and experiences that are doable within a shorter period of time. We came up with this bucket list as we were planning our trip to Taipei, and even though our travel plans changed and we had to postpone Taipei, we will use this when we finally do make it to Taipei!
As always, our list is a dynamic list so we'll be crossing things off we go. And anything in yellow-gold is linked to a blog we wrote about the place, so click through to get the details!
Feel free to use this as your Taipei Bucket List template as well; on your blog, social media, Pinterest, whatever! We would just ask for the credit mention and a tag/shout.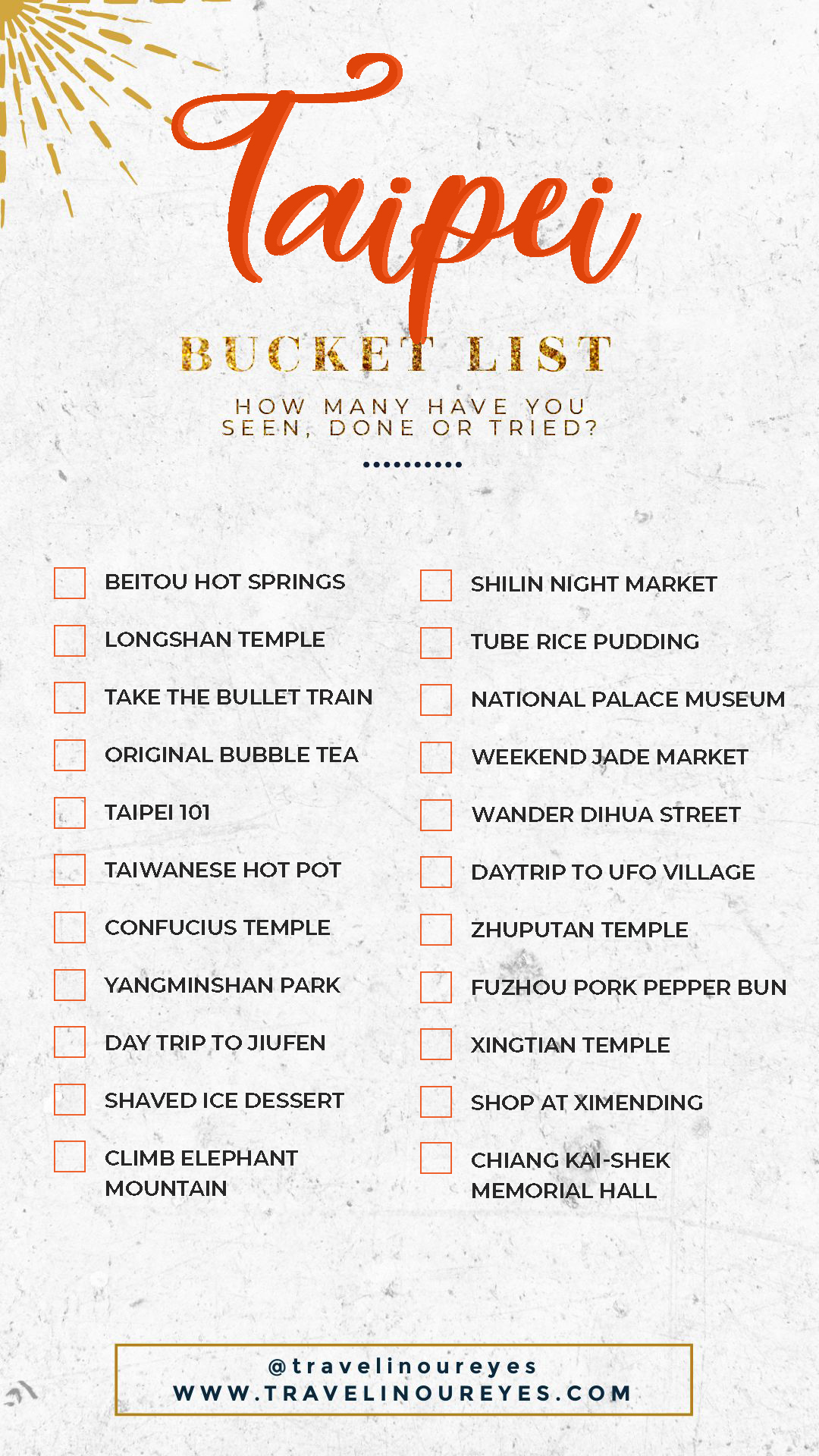 So here it is! Our Taipei Bucket List!
Explore Beitou Hot Springs
Vist Longshan Temple
Take the Bullet Train!
Try Bubble Tea from where the craze originated
Taipei 101
Fill up on Taiwanese Hot Pot
Confucius Temple (we absolutely love visiting temples, mosques, churches)
Yangminshan Park
Daytrip out to Jiufen
Have a heaping shaved ice dessert
Climb and take in the views of Elephant Mountain
Explore Shilin Night Market
Try Tube Rice Pudding (really have no idea what to expect!)
National Palace Museum
Weekend Jade & Flower Market
Wander Dihua Street
Daytrip to UFO Village
Zhuputan Temple
Try the 'must-try' Fuzhou Pork Pepper Bun
Xintian Temple
Shop at Ximending
Chiang Kai-Shek Memorial Hall
What are some of your favorites? If you have any to add on to our Taipei Bucket List, we'd love to hear your suggestions and favorite experiences from Taipei!
Wishing you amazing adventures,
Sue + Renesh
MORE BUCKET LISTS
---
LIKE THIS? PIN IT FOR LATER!